As an Amazon Associate and affiliate with other third parties, HappyGiftsForKids earn from qualifying purchases and display advertisements.
Top 100 Amazon Best Sellers Toys and Games
Amazon Holiday Toy List
Cheap Discount Toys Online (Valid until Friday 10/08/2021)
Another magic set from Marvin's that's considered ultimate magic that's been designed to commemorate the 30th anniversary of Marvin's Magic. This collector's set includes all the classic and timeless tricks that are awesomely in a special box. It's great to learn magic tricks for kids with this set.
Since it's a unique special edition set magic it contains a hand-picked selection of Marvin's favorite professional-quality effects that only has just 3,000 copies worldwide.
It includes Svengali cards the preferred tool of expert magicians for over a century, dynamic coins set which is a modern classic and precision-engineered in solid brass, authentic Himber wallet that is a staple utility device of professional magicians worldwide, magician's silk and secret gimmicks for astonishing empty-handed vanishes and productions.
Other props include professional-sized magician's cups in impact-resistant plasticized ABS polymer and classic gold finish, crochet balls, multi-purpose miracle cards for an expert mind-reading, and a lot more.
This is one of the coolest birthday gifts for 10 year old boys and girls. They could now have the best magic tricks for a kids' show!
Pros:
It's a very likable set with a lot of great tricks 
It cleverly hides the gimmickry to have more powerful effects
It includes a magician's wand in classic black and gold
It's a limited edition
It's the ultimate set of magic tricks
This set comes with a cloth-bound hardback instruction book containing over 100 amazing tricks
Cons: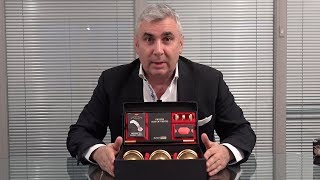 Where to buy: