As an Amazon Associate and affiliate with other third parties, HappyGiftsForKids earn from qualifying purchases and display advertisements.
Top 100 Amazon Best Sellers Toys and Games
Amazon Holiday Toy List
Cheap Discount Toys Online (Valid until Friday 10/08/2021)
Best Blow-up Wading Pool
Blow-up wading pools have their strengths and buying power since they can offer the same water fun and excitement with less the cost, fewer materials needed, lesser water, and maintenance. And, you can move them from one place to another as long it's an even level there.
Some don't want the commitment that a regular traditional constructed pools demand and entail. Others might not want to spend more and don't have space. Here comes the perfect solution, a blow-up pool! An inflatable wading pool is a perfect choice for all budget, space, and convenience issues.
These inflatable pools are easy to set-up and as well to dismantle or to take down. They require simple maintenance, and on top of that they would cost you a lot less.
Does a blow-up pool need chemicals in it?
Yes and No. For the bigger sized pools, it would be better to have chemicals in it, but if you prefer to put even in your blow-up pool, it would still be perfectly fine. There are available pool treatments like chlorine granules that could be mixed with water and then poured into the inflatable pool. 
No, because you can also change the water daily of a small-sized inflatable pool. Fill the pool with fresh water before each use. Without any chemical treatment, inflatable pools must be refilled with fresh tap water before each use always. A baby pool inflatable is the best example that does not any chemicals in it at all because they contain little water that could be changed daily.
A good technique would be filling up the pool with water early in the morning and let it warm up for a couple of hours before the children go swimming in it.
Are inflatable pools worth the money?
Yes, they are most certainly. You and your family would get to experience a great summer in your backyard that brings the same joy and delight that any regular pool would offer.
The larger blow-ups can be used by a family as an awesome bonding moment under the summer heat to refresh.
These pools are also easier to store. After draining, deflating, and folding them, they could be stored with minimal space required.
Another advantage is that, it's safer since its depth is more limited, but remember always to have adult supervision when the kids are taking a dip in the pool.
How do I ensure that the blow-up pool is clean?
Always have the effort to clean and disinfect the blow-up pool after each use. Do Drain or empty the pool after each use unless you have a cover for it and would like to use it again tomorrow. On the other hand, leaving your pool overnight with water is unsafe because it is a risk for accidental drowning and potential breeding ground for waterborne diseases.
You can also learn how to patch Intex pool inflatable ring products.
How to blow up inflatable pool toys
You could blow up inflatable toys the same way you inflate your inflatable pools.  You could use an electric air pump, a hairdryer, a manual air pump, a vacuum with a blower function. Or a plastic garbage bag.
These inflatable pool toys are quite easy to inflate as compared to other inflatable products.
Please check our article: Wading pool for a toddler
Here's a link you could watch: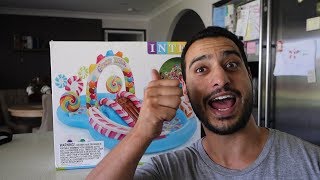 You can read more about:
If you're not decided yet to what to purchase, here are the best blow-up wading pool you might want to consider.
This is the most popular small blow-up pool nowadays. The Easy set series from Intex comes in different sizes.  This one is measuring 8 feet and 30 inches and made with a heavy-duty vinyl liner that could hold up to 639 gallons of water.
This Intex easy set inflatable pool is very in-demand and popular these days around the world.
Very easy to set-up and clean. It features an inflatable top ring, multi-layer wall construction, and it comes with an instructional. It's recommended for ages 6 years and up.
It's a nice-looking pool that looks so inviting and just the right size to a first-timer in a blow-up pool. But for its price, it's a winner! This Intex kiddie pool inflatable is worth having.
Why is it likable?
This small-sized pool comes with heavy-duty vinyl sidewalls that are highly durable for the pool to last longer and many summers.
Pros:
Perfect, not so little pool for quick dips in a compact area
The price is excellent for this size of pool with a pump
Definitely worth the purchase and all you need is level ground and you're set to go
This pool is made to have a filter outside, so there are holes in it but if you aren't using the filter you can push in the 3 rubber plugs
This pool can hold a lot of water pretty well
Super quality and a top price
Good size for about 3 to 4 people
Easy to set up and made from good quality materials
Great fun for the family 
Cons:
It does not include ground cloth and a pool cover
Where to buy:
Another blow-up pool from Intex but a slightly bigger one that's also from their Easy Set line-up. It has the Easy Set trademark look and the usual easy to set up and no tools needed from Intex.
It does come with a set-up and maintenance DVD that would show easy to have your pool ready and how almost effortless how you can maintain it. At 80% full, it can hold up to 1,018 gallons of water.
The sides and walls are made from heavy-duty 3 separate layers of material for extra strength and durability that include two outer layers of heavy gauge PVC laminated to an inner layer of polyester mesh for extra reinforcement. The signature design is its inflatable top ring that secures the pool while the water level rises.
This could be considered an Intex swim center family inflatable pool since it's right for a family of 5!
Why is it likable?
It's from a reliable manufacturer of an affordable blow-up wading pool that is perfect for the family and there is no hassle setting it up with no tools needed.
Pros:
It could be your best summer purchase ever
It accomplishes "almost" everything a real pool would
The filters can be sprayed clean and will last 6 weeks each, or longer
Easy setup
Great for cost
Great small pool to cool off in the hot summer
The pool is durable and is a nice backyard option for small children or adults who just want to cool off on a hot day
Flawless and leak-free
Cons:
It must be placed on a perfectly flat surface that even a small dip or slope will cause you problems
It doesn't come with a filter pump system and a pool cover. You need to purchase that separately
Where to buy:
Another top brand in producing great pools with lower prices is Bestway. This pool measures 10-Foot by 30-Inch and it's round in shape. It's very essential to have a level ground to put this pool on.
The set comes with a 330-gallon filter pump and filter cartridge so the pool can be used immediately after set up, heavy-duty PVC repair patch kit included. The instructional DVD is very helpful in setting it and maintaining it.
It's quick set-up, cost-efficient, and just fun! You'll not be short-changed with its heavy-duty PVC and polyester 3-Ply walls used throughout the pool will give you a durable swimming pool. After each use, you can drain and with the attached flow control drain valve. The valve can be connected to your garden hose so water can be drained quite easily as magic!
Why is it likable?
This blow-up pool comes complete with everything and for casual floating around and cooling off on a hot summer day this is an inexpensive pool for its size.
Pros:
This pool is well constructed and easily set up
Easy to maintain
If you keep the filter clean it should last a long time
It can be filled with water in lesser time
It comes with repair patches
It includes an instructional DVD which can come in handy
This pool is large and can accommodate 5 people
Cons:
It should be placed in a completely level area to avoid its bulging
You can't fill it up to its full capacity
Where to buy:
A 10" x 30 inches quick set-up pool that includes an RX330 filter pump system. Summer wouldn't be boring with this perfectly-sized ad shaped pool.
Get to splash away all those blues away all summer and have the kids have fun all season long. It also comes with a pool pump and filter cartridge with a built-in chlorinator.
Its inflatable top ring design allows for you to install it rapidly and have it ready for some fun time in the water in matters of minutes. You'll love that it's big enough for a couple of adults and kids to lay on floats too. That's something!
Why is it likable?
It's just the perfect size and depth for a small back yard. The price is affordable too.
Pros:
Easy setup and well made
Very nice pool that kids would love it
It has the right size
It works great
It comes with a good filter pump system
It's easy to maintain
Cons:
The cover for it is not that good
There might be better filters out there
Where to buy:
If you would like a bigger blow-up wading pool then this is for you. It's very easy to set up even it measures 15 feet x 36 inches that comes with a filter pump to keep the water is clean. It's designed for ages 6 years and up and can even accommodate up to a family of 4 and up.
It's durably made with tough sidewalls from 3-ply materials that are puncture-resistant and it's perfect for adults and kids to bond in this pool with 2,640 gallons of water when 90-percent full.
You'll get more accessories with the pool aside from the filter pump and it includes chlorinator, and a D filter cartridge. This pool is included in the Quick Set Ring Pools series from summer waves that also has a following of its own. Have endless fun in the water for less the price.
Why is it likable?
It's a large source of fun and thrill for adults and kids that can't get enough water dipping and swimming!
Pros:
The depth could go about 3 feet which could be great for relaxing and floating
You can actually swim side to side and even underwater in this pool
Good product for the price
An upgraded the inflatable ring material
Great pool for the money
Good quality
It can fit more people
Cons:
The air pump is not included
It would be better if it came with a tarp, stakes, and a pool cover
Where to buy:
After Thoughts
Blow-up wading pools are the ideal choice for first-time pool buyers as they are easier to set-up and much more budget-friendly. Many choices are available that could be the perfect match for your requirement and budget.
As they say, joy and happiness matter especially if you see your loved ones having te grandest times of their lives! It's what a sight and delightful moment to see your kid or family having a cool and refreshing time in the water especially on a lazy hot summer day.
Now, that's what money can't buy.