As an Amazon Associate and affiliate with other third parties, HappyGiftsForKids earn from qualifying purchases and display advertisements.
Top 100 Amazon Best Sellers Toys and Games
Amazon Holiday Toy List
Cheap Discount Toys Online (Valid until Friday 10/08/2021)
How to blow up inflatable pool float?
There are actually a number of ways to blow up an inflatable pool float. However, the fastest way is through an electric air pump. It's quite pricey compared to others, but if you plan to use inflatable pool floats often then it is quite handy if you have electric pumps with you. It can blow up your inflatable pool in a minute or two—depending on the size. Find the air inflation valve of the float and uncap it then attach the hose of the air pump into it. Turn the air pump on and then you can start inflating it. Turn it off when you have enough air.
There is also a battery-operated pump, which would be great in terms of mobility. This way, if you are going on vacation, you don't need to inflate your pool floats before you are leaving. You can inflate them at the beach or pool when you need it.
How does it work? Basically, electricity or batteries power your pump so that it can release air into the inflatables and blow it up. There are also manual pumps, which are cheaper. There are two kinds: hand pumps and foot pumps. The hand pumps are more tedious, but they work out just fine for inflatable pool floats unless they are large. If you have large inflatable pool floats then you can make do with the foot pumps to blow up the float.
What are the pump-up toys?
Pump up toys are toys that need to be inflated and pumped up with air.
There are a bunch of pool toys and products that you could pump up for the summer, and this makes it so much easier. There are a lot of air pumps that are available in the market.
How to fill air in inflatable toys
There are a lot of ways in blowing up inflatable toys. Air could be filled in using a manual and electric pump, a foot pump for inflatable pool could also be used, and other gadgets from vacuums to air dryers using the cool settings.
These are the more common ways on how to blow up inflatable pool toys. We have a link below on how to blow up an inflatable pool. All the mentioned ways could also be used in filling up air in all your inflatable toys.
Here are some of the latest compact, wireless and rechargeable electric air pumps that are taking the market by storm.
How to blow up a pool
Visit our full article on how to blow-up a pool. It could also be used on how to blow-up inflatable toys.
How to blow up Intex pool
Intex is a leading brand in manufacturing above ground pools, air mattresses, and PVC inflatable products. With over 40-year of history, they work hard to maintain their quality and name.
Here's a video showing how to blow-up an Intex pool easily.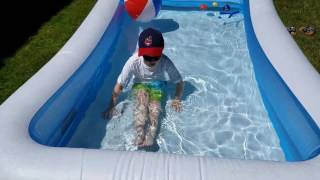 The important attachments you'll need in blowing up your inflatables are nozzles. But do you know that some smart parents have their invented attachment hacks? Yes, and it's free. Like what you've seen in the video on how to blow up an Intex pool. They use plastic water bottles that they cut in half! Truly imaginable and smart!
How to blow-up a pool fast
The easiest way to blow up an inflatable pool is by using an electric air pump. There are other simple options available like a shop-vac, air compressor, a hairdryer with a water bottle, manual hand or foot pumps, a large bag, or manually blowing up by mouth.
There is a very popular hack of attaching a bottle top to a hairdryer and using it on the cool setting that could be used to blow up inflatables.
See it for yourself to see how it goes!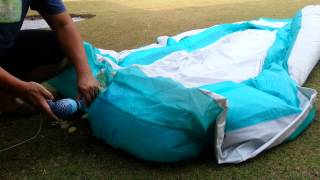 Child's inflatable chair
A child's inflatable chair is a good addition to your kids' inflatable pool toys.
Here is one cute inflatable chair for your baby!