As an Amazon Associate and affiliate with other third parties, HappyGiftsForKids earn from qualifying purchases and display advertisements.
Top 100 Amazon Best Sellers Toys and Games
Amazon Holiday Toy List
Cheap Discount Toys Online (Valid until Friday 10/08/2021)
Which Marble Run is Best?
Marble runs are one of the most loved and super fun STEM toys in the market. They come in lots of diverse shapes and heights that marbles could rollover throughout until its finished line.
It greatly helps kids to learn more about different scientific concepts when it comes to gravity, inertia, and weight. Each marble run toy can boost fine motor skills, creativity, problem-solving, and critical thinking among children.
There are different types of marble runs. Let's find out which type would suit your child best.
Plastic marble runs are the usual ones used. It's the most common in all marble types. They come in a variety of colorful designs and they have the most interlocking ramps and tubes. They also come in solid colors and clear pieces that allow each marble to roll and travel down the path.
Wooden marble runs were originally designed for the toy and they are still quite popular up to this day. Usually, this type doesn't include tubes but it has spirals and ramps instead. This would allow your child to see and follow the marble from the start to finish without any distraction.
Cubed marble runs on the other hand have interlocking cubes for a more thrilling experience for the children. It's more flexible for children to build and create different structures like buildings, animals, or anything possible. Once the structure is completed. The marble can be dropped at the start and it can be followed as it rolls through the cubes.
Magnetic marble runs have foam ramps that are magnetized and fit into a metallic surface like a refrigerator door for unique, fun, and more creative play.
As for older children, the best would be logic mazes that focus on the development of problem-solving and logic skills. They usually come with a baseplate grid, cubes, and challenge cards. The children need to use the challenge card to create a design that would lead the marble to its destination.
There are other considerations to be made in choosing the best marble run for your kid.
Size
Kids would enjoy a larger marble run since it would be more entertaining and it would have more turns and twists into it. But, remember it would also take more space.
Durability
It is durable? That's one argument that should be raised in choosing a marble run. Wooden marble run toys are generally the most durable of all the type of marble runs. There are durable plastic sets that can last for a long time as well. Just be careful that your kid won't step on those plastic pieces. It would be best to put it away after playing.
Features
There are swirls, twirls, and more turns in every marble run. All of these features would bring more fun and excitement to the kids. They are a feast to the eyes and it could help kids in the principles of engineering and other scientific principles too.
Some windmills add interesting motions when a marble strikes the paddle.
Colors and sparkles
Some plastic marble runs have sparkles and glitter-infused into them. This gives an added attraction, magic, and fun, especially for younger kids.
Extra marbles
Marble runs need marbles to complete them and to be able to use them. Some include marbles and some set doesn't. It's better to buy a marble run that includes marbles as part of the set.
Price
The larger the set, the more expensive it would be. But, these sets are made from the highest quality possible with a lot of action pack features in them. Choose the size and features you would want to consider purchasing. Compare the prices too before your final choice.
Marble runs that we recommend are the following:
Best marble run for younger kids

This is the best marble run for kids 4 years old and up. It's the perfect introduction to the marble run game and it comes with an add-on set for more building possibilities. It's not only fun but also very educational. Kids would develop their hand-eye coordination and spatial skills while putting your imagination to the test.
This is a great way to teach children about trial and error. Kids would be able to build a structure by being patient and by figuring out how to successfully build after a failure. They could build a marble run track that twists, turns, races, and spins marbles at an incredible pace!
There are a lot of possibilities with these brightly colored chutes, tubes, drop-throughs, merry-go-rounds, and spinners stack and just click them together to create hours of engineering fun. It includes 122 pieces and 22 marbles for ages 4 and up.

Pros:
It inspires so much creativity in kids
It would keep your kid trying to figure out the marble paths which is healthy
Kids would enjoy hours of fun for years to come
Awesome and educational toy
It includes 22 marbles in this set
Kids would be excited about building it and having the marbles go through the run, then disassembling and doing it again with a different set-up
It's creative and active and colorful
There are many possibilities at each play session
The mind of your kid would always work when he creates a new set-up
A great toy and gift for kids and parents alike
Cons:
Some take time to figure out how to put it all together
Where to buy:
Best marble run for older kids


This is the best marble run for older kids that contains 515 parts for building 4 fun models. It comes with a rotary funnel, 3 sound tubes, cross-over, and five 90 degree curves.


The steel balls that are inclusive in this set let the new sound tubes create melodic tones and a manual chain lift brings the balls back up to the top again. It's an action and fun-filled set that offers exciting courses and has steel balls that create new melodic sounds along the downward routes.

Other spectacular features are the rotary funnel that has a completely new way of bringing the balls onto the next rail, its balls also shoot and fly down the obstacle course through a narrow 90 Degree curves and a cross-over, its manual chain lift brings the balls back up to the top again, and the three exciting obstacle courses together with a dexterity game.

The complete set comes with a rotary funnel, 3x sound tubes, cross-over, 5x 90-degree curves, magnet holder, 8x balls, 4x flex-rails 90, 14x flex-rails 180 plus, and wonderful accessories such as Motor Set XS, sound+lights, LED set, Accu set, and power set.

Pros:
This is a well-made toy

It's precise and has sturdy tiny parts

The set can be built in at least four different marble tracks

It's different every time it's set it up so it's both creative, logical, and a great problem-solving activity

The ability to build upwards or vertically is awesome

All of the pieces are of nice quality

The instruction booklet made the 3 in 1 projects easy to understand and build

Cool toy and your kid would be busy building it

Fun and educational toy for older kids

Cons:
Some of the parts might be difficult for an 8-year-old to put together. It's best for  ten-year-old up kids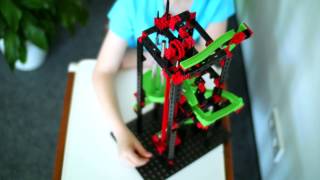 Where to buy:
Best Wooden Marble Run


This great quality wooden marble fun would offer a good bonding activity between parents and their kids. The whole family could play together in this award-winning toy. It has a German engineering design that's been inspired by Da Vinci circles with endless creative building possibilities for spatial thinking minds.


The seven differently colored blocks have a different function that's truly good for logical and engineering thinking. It's an Oppenheim Toy Portfolio Platinum Award Winner. And that says it all.

It's an investment piece that could be passed on from generation to generation. A sure heirloom toy worth of every penny.

Pros:
Durable and has cool features

The instruction book gives good picture instructions for building various runs

There is also really fun in building the creation of your own

The marble catchers are a great improvement to this set

It's a very good sensory experience after the maze is built, there are the sound of the constantly moving marbles that is very soothing, and the music notes make it even better

Very well-made

It is a creative toy as the pieces can be set up to play  with different tunes with different intervals between the notes

A good investment

A simple yet brilliantly fun set.
Cons:
It might not be good for a sensory sensitive child

Very difficult for children under 8
Where to buy:
Best marble run for teens and adults




This is the ultimate roller coaster-themed marble run for teens and adults. It's the ultimate building challenge that offers great action, fast and wild ride that would test one's mental agility.

This marble run has high-speed action that gives wild rotations, daring loop-the-loops, and spectacular swivel motions; and what's great is, it includes a battery-powered elevator that brings it to the start again. It's automatically set to begin another round!


It's an ultimate challenge for teenagers and adults that's available from level 1-9. Test your mental powers to build this intricate set that could be so much fun and relaxing.

Exercise your mind, learn something new, and feel like a kid again to satisfy your cravings for a challenging marble run!

Pros:
It has a space-aged miniature roller coaster theme

Great instructions

It's great fun

It comes with high-speed action and endless excitement

The space sphere steel ball is hoisted back to the starting position by a battery-powered elevator after finishing its wild course

Great for teens and adults

It's a challenging marble run
Cons:
The setup would take a lot of time and patience

There are not enough cables and you would need to buy extra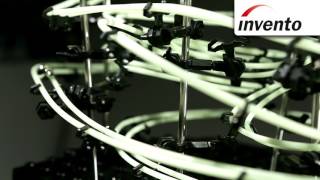 Where to buy:
After Thoughts
Those are our picks for the best marble runs that offer endless layout possibilities, fun at play, and learn about STEM and that would contribute to the growth and development of every child in their mental agility, fine motor skills, problem-solving skills, and dexterity skills.
Set up each marble run that challenges the senses to be able to build them in multiple ways to create fun, learning, and exciting play activity.
Marble runs are truly encouraging for better interaction among kids and between children and parents too. Hence, it could be tagged as the perfect playset for the old and young alike!