As an Amazon Associate and affiliate with other third parties, HappyGiftsForKids earn from qualifying purchases and display advertisements.
Top 100 Amazon Best Sellers Toys and Games
Amazon Holiday Toy List
Cheap Discount Toys Online (Valid until Friday 10/08/2021)
Popular Gifts for 3-year-old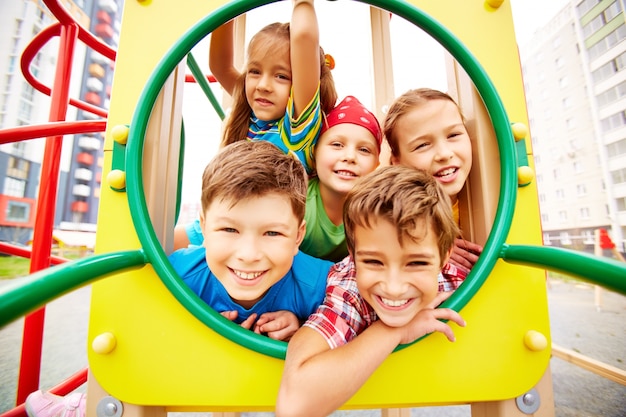 The age of three is an important age for children. It is the time when children are more inquisitive and is starting to develop certain skills that will help mold them as they grow old. This is also the age when most children start attending school and meet other kids their age. Finding the right gift for children this age is both exciting and somehow challenging. To help parents find the right gift for their 3-year-old kids, here are some tips to make buying gifts enjoyable rather frustrating.
Encourages Imagination
Kids this age are starting to build their interests and have an opinion with almost everything. This is a good time to give gifts that will help develop their imagination and creativity. Toys that allow will them to think and explore will be much appreciated by any 3-year-old kid. Toys that light up or play songs over and over again may look cute, but 3-year-old kids might outgrow them after a few times of playing.
Helps Develop Social Skills
It is important to prepare kids for the outside world, as most kids this age are now starting to attend school. Interactive toys are great options to allow kids to develop social interaction. It can start by playing with family members or with kids in their neighborhood.
Develops Motor Skills
Aside from social skills, it is also imperative to develop children's motor skills. One way to develop this is by providing toys that will help them explore and test their physical strength. This will also allow children to improve their physical confidence.
Here is a list of popular gifts for 3-year-old kids that they will surely enjoy and appreciate.




Who said 3-year-old kids are too young to ride a trike on their own? The Fisher Price Harley-Davidson Motorcycles Tough Trike us made for kids aged 3 to 5 years old. Parents do not have to worry with their kid's safety as it is stable and the handle bars are easy-grip. The tires are not only durable but are also big, plus the seat is comfortable for more time of fun.

Aside from the sleek design, it also has a secret compartment where kids can put their snacks or other gears. This is a great toy for kids to exercise their leg muscles and improve their gross motor skills, a nice way to practice and master coordination and balance.


Pros:
Sturdy
Safe for children
Helps develop motor skills
A great way to keep kids away from too much screen time
Easy to assemble
Cons:
Some customers experienced receiving incomplete parts
Design is made for boys
Where to buy:


Strengthen your kids love for animals and colors with Crayola's Scribble Scrubbie Pets Scrub Tub Playset. Children who love pets and enjoy taking care of them will find this toy enjoyable. The playset includes 4 animal figures (2 dogs, 1 bunny and 1 cat) that they can color using the 6 markers that are washable, 1 scrub brush, a scrub tub and an instructional manual.


The markers included in this playset are washable, so kids can change the colors of the animal figures each they play. They may use the scrub brush and tub to clean the animal figures and try another color that they like. This toy can be played alone or with friends for a more exciting game.


This is a nice gift for both boys and girls who are 3 years and up. The playset can help kids develop their creativity and imagination by forming different designs and combining different colors with their animal figures.


Pros:
Encourages creativity
Enjoyable
Non-toxic markers
Easy to wash
Cons:
The color does not wash off completely
More appropriate gift for girls than boys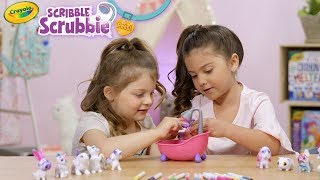 Where to buy:




Toys that promote learning and fun are the perfect gifts for children as young as 3 years old. One toy that does both is the Haba Town Maze Magnetic Game. Some of the skills that children can develop from this toy are visual spatial skills, dexterity, color recognition and counting.


The objective of the game is to help the balls find the right way to their garage. The balls come in different colors and kids should match the color of the balls with the colors of the garage. There are some obstacles that they need to overcome in order to reach the correct garage.


Pros:
Promotes STEM learning
Keeps kids busy for hours
Interesting and fun
Does not make a mess
A great way to entertain children while traveling or waiting
Cons:
The balls inside are a bit hard to move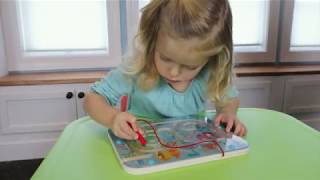 Where to buy:




Animals had been proven to entertain kids and arouse curiosity. Let children learn the names of the different animals, what they eat, where they live and a lot more with Skillmatics Animal Kingdom Write and Wipe Activity Mats. 3-year-old kids will show more appreciation with animals as they learn the interesting facts about them.

The toy includes reusable activity mats, erasable markers, an achievement certificate and duster cloth. Kids can repeat the different activities until they perfect and learn everything they need to know about these animals.


Pros:
Fun and educational toy
Develops skills like creative thinking, attention, spatial and logical reasoning
Contains non-toxic markers which are erasable
Familiarization with lots of different animals
Cons:
A bit pricey
The markers cannot be erased completely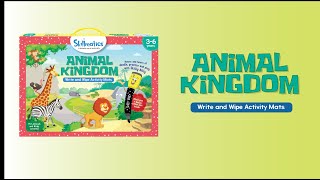 Where to buy: