As an Amazon Associate and affiliate with other third parties, HappyGiftsForKids earn from qualifying purchases and display advertisements.
Top 100 Amazon Best Sellers Toys and Games
Amazon Holiday Toy List
Cheap Discount Toys Online (Valid until Friday 10/08/2021)
How to make a marble run game
Create your marble race toy that is sturdy and exciting with your available resources at home. Your homemade marble maze run ideas would be exciting to do from scratch.
A good economical idea for your marble run is to use paper tubes from your used toilet papers.
Paper Tube Marble Run 
Save those paper tubes and turn them into an easy marble run that your kids can paint for extra fun.
You would just need these simple materials like paper tubes, school paints, tapes, glue, and scissors.
For this DIY marble run, you could start painting the paper tubes and let them dry out. Then cut some tubes in the middle for the tracks, and some uncut tubes for the tunnels. Create a base using old painted thick cardboard or carton. Place some tubes standing up and secure them.
Then connect the other paper tubes using glue and tapes. Make sure that your marble run structure is not wiggly.
There are marble runs that have activity and fun flash games in them. It means that the set includes these flashcards that could be used to build and for games with your friends. You could turn the flashcards and ask a person to pick. The person needs to build what's on the card and there could be a time limit for more fun.




The Tumble Trax magnetic marble run encourages critical thinking and STEM skills with this fun and dynamic toy.

There are endless combinations of designs that provide multiple levels of learning that includes 14 magnetic foam, 4 marbles, and 10 activity flashcards. This set is ideal for ages 5 and up.


Pros:
Great science toy
Great idea, great execution
It's imaginative and fun as well as inventive
It comes with a set of fun, run flash game ideas you can use for inspiration
It's a good game to how well the kids could follow the flash card to make a track
So many different ways to get the marbles to run down
Great for thinking, angles, and length approximation
Cons:
It might need to be more durable although it's super fun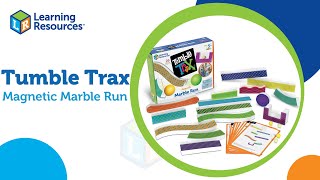 Where to buy:
There is another interesting marble run that has a cool math maze race. It simply means you have to calculate and figure out how many pieces would be needed in the tracks you'll be creating.


You could set up the Quercetti Migoga Marble Run with Elevator and direct where the marbles would go. Your kid would learn to experiment with trial and error and explore cause and effect as he or she builds a multi-layered and interconnected marble run.


You need to estimate the number of interlocking chutes, bridges, columns, spinning-wheels, spirals, and funnels that can be combined in infinite variations for long-lasting fun.

Your kid could reproduce the models pictured on the box or enjoy making his or her own designs. This toy would stimulate creativity and reasoning in design and numbers.

Recommended for ages 5 and up.


Pros:
There are many different ways of setting it up
Your kid would play with it for hours.
It's even fun for the adults to play
Great way to bond and to practice your engineering skills
It takes some skills and understanding to assemble a tiny elevator that comes with the set but the kids would feel great upon doing so
The elevator would allow making the game endless
Cons:
The regular marbles can't be used with this just with this and  just the tiny marbles that come with it
Where to buy: