As an Amazon Associate and affiliate with other third parties, HappyGiftsForKids earn from qualifying purchases and display advertisements.
Top 100 Amazon Best Sellers Toys and Games
Amazon Holiday Toy List
Cheap Discount Toys Online (Valid until Friday 10/08/2021)
Best Discovery Kids Marble Run
Discovery Toys is a premier learning toy company that produces very high-quality marble runs that are dedicated to helping early childhood development through Play.
It's a trusted brand for over 40 years, and one of the pioneers in the marble run toys.
Generations later, they continue this tradition as one of the best toy producers worldwide.
Discovery Kids marble run


Discovery toys is the original maker of marble run since 1982. This Marbleworks Deluxe marble run could be designed by you using 60 posts, 7 bases, a start gate, a finish gate, 11 ramps, and 16 marbles. Launch marbles down multiple ramps and chutes for thrilling entertainment for you.


This deluxe set includes Marbleworks Starter set and 41 piece expansion pack. Watch as the marbles race, jump, disappear and reappear, learn to predict the balls' course. You could also split your track into multiple paths and experiment with different layouts utilizing the Snake, Paddle Wheel, or Jump ramps for hours of imaginative play.

This STEM toy would improve your kid's visual tracking, practice his fine motor dexterity and coordination by dropping the balls in and stopping them along the tracks. Your kid would be able to understand cause and effect and observe gravity in motion.


Pros:
Strong, sturdy set and very well made
It comes with more marbles
Fun for the whole family
Perfect
This is the only brand to buy quality-wise.
It is easy to put together and the kids could play with it by themselves.
It stays together very well.
Discovery is an excellent toy source for fun and educational toys
Cons:
It does not work with regular size glass marbles
Where to buy:
Discovery Toys Ball Castle




This Discovery Toys Castle Marbleworks Marble Run is designed to be your kid's first marble run. It's for the younger kids  2 years and up with 3 oversized weighted chime balls and 8 large pieces to form interchangeable tracks in this oversized marble run building system.

It would empower your little kid as he or she watches as 3 weighted chime balls race, spin, zig-zag, disappear and reappear, learn to predict the balls' course.

Your kid could experiment with different layouts, or construct the castle playset for hours of imaginary play with your supervision.


Pros:
It is sturdy and great for eye coordination
Fabulous toy for a toddler
It has large marbles great for younger kids
The toy is well-made
The larger balls travel at a bit of a slower rate so a younger child can enjoy them better
The chimes in the balls add to the fun experience as your toddler has in watching and listening to them move along the tracks.
The varying curves, slopes, and funnel in bright colors are effective in building eye, hand coordination when playing, and waiting for the ball to exit the door at the bottom could be exciting.
Cons:
The tilt of each level might be angled which makes an uneven floor that could cause the balls to stall.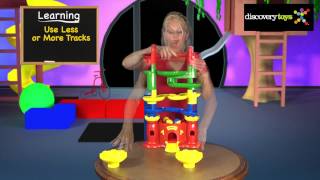 Where to buy:
Another high-quality Discovery toys marble works that's the ultra-deluxe set.




The ultra-deluxe set is the largest of all the discovery marble runs that include 85 posts, 10 bases, a start gate, a finish gate, 15 ramps, and 26 marbles. Launch your marbles down multiple ramps and chutes for thrilling entertainment for everyone.

This super-deluxe set contains a marble works starter set, 41 piece expansion pack, and 41 piece booster pack.


It meets or exceeds all required US safety standards. Made of non-toxic, BPA-Free material that is safe for the kids.

Pros:

Does not keep falling down
These marble works are phenomenal
This is the Mercedes Benz of marble runs
Wonderful toy
Kids would love to play with it and make different configurations
The plastic is not flimsy and is quite durable
The pieces fit snugly together
Once you set it up it is very stable
The possibility for designs is endless
So much fun and
Definitely worth the cost.
Very high-quality marble run!
You'll not regret spending the extra dollars for this marble run
Cons:
It only takes the really small marbles and does not use normal-sized marbles.
Where to buy:
Discovery toys marble works instructions are always included in each set. And lastly, we have the Discovery toys marble works starter kit.


Design your own marble works starter kit with 8 different exciting marble actions. Connect colorful tubes, chutes, and bases in different ways to create an infinite number of raceway configurations. As the marbles speed through the course, children learn about the laws of gravity, object permanence, and cause and effect.


This starter set would inspire girls and boys to pursue higher education in the fields of engineering, math, and technology.

It's made of high impact polystyrene, which is durable, impact resistant, and produces a nice glossy look. The set includes a start gate, finish gate, standard ramp, bumper ramp, paddlewheel ramp, funnel ramp, snake ramp, maze ramp, split track, jump chute, landing ramp, 5 bases, 30 posts, and 10 marbles.

It's suitable for 5 years and up.


Pros:
Best marble run you could buy
Good quality
It has sturdy construction with thick plastic
There are lots of different pieces that could be made into different marble runs each time it's played.
Worth the money
Great toy
Very educational for your kid's reasoning and logical thinking
A very stable marble track
Cons:
It does not work with most regular sized marbles
Where to buy: