As an Amazon Associate and affiliate with other third parties, HappyGiftsForKids earn from qualifying purchases and display advertisements.
Children love to roleplay. Many times, they follow what the adults are doing. If they see their parents typing away on their laptops, they want to do that, too. So, when mom and dad are away, and the laptop is open, there is a big chance that the child will steal the time to type on the laptop. Playing make-believe is actually a good exercise for the kids. It helps develop their capabilities. With LeapFrog's My Own Leaptop, you don't have to worry about your children messing with your computer anymore.
This electronic learning toy is great for children two to four years old. This is when kids learn the basics and My Own Leaptop has everything that a child should learn. First off, the alphabet. Children won't know words unless they master the alphabet. The alphabets are also linked to animals, which is yet another lesson important for youngsters. There is also music and rhythm. It is important that children are also entertained while learning, and music will certainly attract them more to the toy. Other things they learn from the Leaptop are media literacy and pretend play. This toy will also broaden the child's vocabulary.
It's no surprise that this is a well-thought-out product. LeapFrog has been in the business of creating innovative technology for children for over 20 years. The company's goal is to help expand every child's knowledge as well as imagination. The company has received several awards over the years.
Pros:
Fun & educational
Allows children to copy adults
Will last the child a few years
Large screen
Cons:
Warranty is only 3 months
May be simplistic for older kids
Screen doesn't have backlight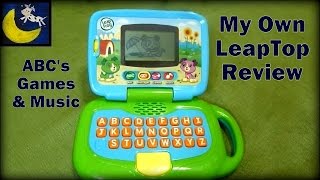 Where to buy: