As an Amazon Associate and affiliate with other third parties, HappyGiftsForKids earn from qualifying purchases and display advertisements.
What kid doesn't like robots? ROYBI Robot is easily going to be a child's best friend. What is truly special about this electronic toy is that it will actually grow with the child—not physically, of course! There are 500 plus lessons that the robot will teach children. The robot is, in fact, the child's teacher. The hundreds of lessons range from those appropriate for three-year-old children to seven-year-old kids and even older. The child will be talking to the robot, which will help in advancing the child's vocabulary. It carries over 70,000 vocabularies, after all. At age three, your child will have around 200 words already. Imagine how much that will increase with the ROYBI robot.
Another thing you should know about ROYBI robot is that it was TIME's Best Invention smart toy particularly because of its advanced lessons. Children will learn STEM (Science, Technology, Engineering and Mathematics) after all. Most toys will offer you the ABCs, but ROYBI prefers the advanced lessons. Don't worry; it's not about stringent lessons. There are also self-care topics so the child will become well-rounded. Since children will definitely enjoy having this portable teacher with them, you will be curtailing their screen time—whether you are talking about the TV or the smartphone or tablet.
ROYBI has been featured on various publications like TIME magazine, Forbes magazine, and CNBC World, among others, for being an innovative gadget for children. It merges what kids want (robot) and what their parents want (education).
Pros:
Fun way to learn for children
Lessens screen time for children
Advance learning
Provides 500+ lessons
Features 70,000 vocabularies
Teaches different languages
Cons:
Slow to reply to child
Limited buttons for options
Pricey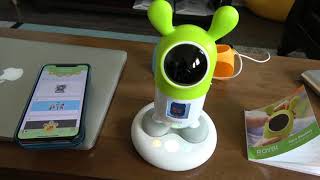 Where to buy: