As an Amazon Associate and affiliate with other third parties, HappyGiftsForKids earn from qualifying purchases and display advertisements.
Writing is one of the most difficult activities to teach children. Between the ages of three and four, children start to write. This is when they already develop grip and understand the appropriate way to hold a pencil in order to write properly. In some cases, they might not be able to get the grip right, but they are still able to write or draw or scribble. It's kind of hard to teach them how to write, though. It could really test your patience.
The Vtech Write & Learn Creative Center is actually a fun writing teacher. The electronic learning toy features animated demonstrations on how to write properly. The tech will teach children the proper strokes to make a letter—both upper case and lower case. When the child is tired of learning letters, then they can move on to the drawing. They can start with simple lines and progress to shapes. This will give your child a head start on learning, especially writing.
Vtech Kids is a company that specializes in making electronic toys that are fun while also encouraging children to learn.

Pros:
Good writing teacher
Provides step-by-step instructions
Features music, too
Zero waste (children don't need to draw on papers anymore)
Amazon's Choice
Cons:
Flimsy battery compartment
Low volume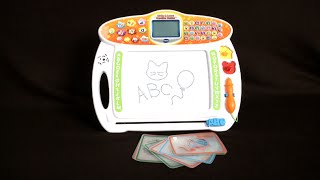 Where to buy: