As an Amazon Associate and affiliate with other third parties, HappyGiftsForKids earn from qualifying purchases and display advertisements.
It doesn't look very much like an electronic toy, but it is. It looks simple. In fact, the child may be able to learn how to operate this by themself. It's an interactive electronic learning product that allows children to learn the basic lessons: 123s and ABCs. They can then progress to learning words, spelling, colors, and shapes, among others. There are also lessons on animals, emotions and weather. The child will also enjoy some music with the Inno Pad.
There are 16 interactive lessons that can be learned from the set. These lessons are in eight plastic learning cards. The child will basically insert the learning card into the pad. This means that the child will have a choice on which card they want to learn and interact with. That will definitely empower them as they practice their decision-making skills.
You know this is a good product since it has received various awards: Family Choice, Mom's Choice Gold Metal, Tillywig Parents' Favorite Products Award Winner 2018 and Creative Child Media of the Year Award Winner 2019. Best Learning was founded in Taiwan in 1984. The company believes in education, and so it created educational toys that are also fun for children.

Pros:
Simple to use
Automatic shut down after 2 minutes
Adjustable volume
Lightweight
Received various awards
Cons:
Learning cards seem weak
No lock for the cards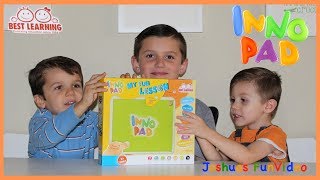 Where to buy: