As an Amazon Associate and affiliate with other third parties, HappyGiftsForKids earn from qualifying purchases and display advertisements.
It's a doodle board of sorts that toddlers will love, but it's also a great way for four-year-olds to start writing or drawing. Learning how to write is pretty boring, but the mess-free touch-lights is anything but boring. This will also help children develop their creativity. This is a self-contained toddler tablet. It lights up and produces sounds that toddlers will surely enjoy. There are 12 different light colors and six songs. For preschoolers, this is the time that they will discover their creative ability.
There is actually no need to teach children how to draw. It is better that they discover that ability by themselves through the tools provided for them. That's why this is an appropriate gift for children who are four years old. Don't worry, this is a mess-free learning toy, which would be good news for the parents. Crayons and pens are dangerous gifts as children may start drawing on walls and other areas of the house.
The Touch Lights is a Toy Award winner. It's an electronic learning toy that children will enjoy at home and during travel. With this tool, you are essentially empowering the child's ability to create.
Pros:
Tool to develop a child's creativity
Great for children with learning disabilities
Colored art without the mess
Cons:
Hard to draw details on it
How to properly draw on gel needs getting used to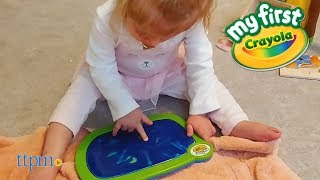 Where to buy: