As an Amazon Associate and affiliate with other third parties, HappyGiftsForKids earn from qualifying purchases and display advertisements.
Nobody likes to take quizzes, but if it's as fun as the Best Learning EduQuiz, then it seems that no one will mind. Of course, this is more appropriate for children three to six years old. It is a portable interactive set that will quiz preschoolers with various topics. There are 60 activities to enjoy with 30 lesson cards. Among the subjects are the following:
Animals
Colors
Comparisons
Math
Numbers
Patterns
Profession
When you look at the topics, you'll notice that the electronic toy is not limited to basic learning. Math and profession are pretty advance. Not only will you be giving them an educational tool, you are also offering entertainment. The EduQuiz is also a great companion for children during long drives and plane rides.

This toy has a number of awards under its belt: Tillywig Toy Awards, Mom's Choice Awards and 2019 Top Travel Fun of the Year. Moms definitely love this electronic learning toy because it encourages children to develop critical thinking.

Pros:

Fun companion during long commutes
Provides advance learning
Received various awards
Develops critical thinking
Cons:
Should have a lid to keep cards in, especially when mobile
Hard for young children to enjoy this since instructions have to be read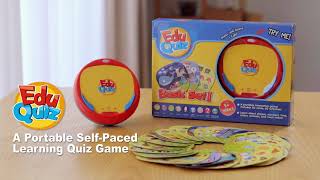 Where to buy: