As an Amazon Associate and affiliate with other third parties, HappyGiftsForKids earn from qualifying purchases and display advertisements.
There are close to 100 countries in the world reflected in this world map. Even adults will have a hard time memorizing these countries and their capitals. A lot of adults can't even point to the location of a lot of the countries on the map. So, acquaint your child with the world map so that they won't be called ignorant about world geography in the future. The best part about this iPoster is that it is interactive. This world map makes it easier for children to know their geography, including the official names of the countries around the world, their capital cities and national flags. Other information provided by the map includes populations, languages and popular landmarks. There are also some fun facts thrown out.
Look, even adults will have a grand time using this map. It could even be a bonding experience while the parent and child wager on who will name the facts first. This electronic learning toy will definitely enhance the child's memorization skills. They will also help develop concentration. It would also be great if the child will also be encouraged to love their environment. The iPoster is also an award-winning product. Among its accolades are the following: Family Choice & Tillywig Brain Child Award Winner 2018 and Creative Child Kids Product of the Year Winner 2019.
Pros:
Interactive
Child's introduction to geography
Good for adults, too
Develops memorization skills
Cons:
Many countries are not reflected in the map
Some countries don't have audio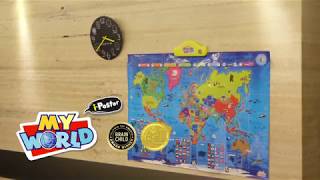 Where to buy: