As an Amazon Associate and affiliate with other third parties, HappyGiftsForKids earn from qualifying purchases and display advertisements.
Top 100 Amazon Best Sellers Toys and Games
Amazon Holiday Toy List
Cheap Discount Toys Online (Valid until Friday 10/08/2021)
Best Electronic Learning Toys for 6-Year-Olds
We live in a digital world, so it's expected the kids in today's generation have a lot more options when it comes to toys. There are many toys available now that were not available a few decades back. Electronic toys abound, for obvious reasons. As we live in a digital world, innovation sets in, and that is no limited to professional settings. Toys are also getting more sophisticated. Even dolls are no longer as plain as before. They now talk and even move. Today's children have the best of both worlds. They can enjoy classic toys like Barbie and Lego, while also being entertained by today's electronic toys and even smartphones and gadgets.
But is it the right time to give children smartphones and tablets? Parents and experts are torn about the right time to give children smartphones or tablets. But the lack of smartphones and tablets doesn't necessarily indicate that the child will have a hard time assimilating in the current digital world. Smartphones and tablets are not the only electronic devices available for children. There are many others. The important thing is that what you choose is appropriate for your child. And even if you decide to give them those, at least you monitor their activities, especially if they are online.
So, what are the appropriate electronic toys for a six-year-old? First of all, at age six, the child will have fast growth in terms of mental ability. That means that the appropriate electronic toy for them would be something that would challenge their mental capacity. That's why an electronic learning toy is appropriate. To help you with finding the right one, here are three of the best electronic learning toys for 6-year-olds in the market:
There are close to 100 countries in the world reflected in this world map. Even adults will have a hard time memorizing these countries and their capitals. A lot of adults can't even point to the location of a lot of the countries on the map. So, acquaint your child with the world map so that they won't be called ignorant about world geography in the future. The best part about this iPoster is that it is interactive. This world map makes it easier for children to know their geography, including the official names of the countries around the world, their capital cities and national flags. Other information provided by the map includes populations, languages and popular landmarks. There are also some fun facts thrown out.
Look, even adults will have a grand time using this map. It could even be a bonding experience while the parent and child wager on who will name the facts first. This electronic learning toy will definitely enhance the child's memorization skills. They will also help develop concentration. It would also be great if the child will also be encouraged to love their environment. The iPoster is also an award-winning product. Among its accolades are the following: Family Choice & Tillywig Brain Child Award Winner 2018 and Creative Child Kids Product of the Year Winner 2019.
Pros:
Interactive
Child's introduction to geography
Good for adults, too
Develops memorization skills
Cons:
Many countries are not reflected in the map
Some countries don't have audio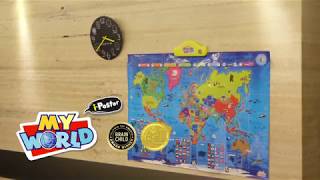 Where to buy:
During middle childhood, which is between six and eight years old, children start to think about their future. Don't you think it's a great time to introduce engineering to them? The Snap Circuits Beginner is like a child's introduction to engineering. It is fun and very interesting for a six-year-old. There is a manual that will allow the children to build FM radios, AM radios, doorbells and recorders, among others. One, it will test the child's ability to follow directions. Two, it will develop the child's critical thinking. Three, the child's problem-solving skills will be put to the test.
You know this electronic toy is good because it has been endorsed by various educators. Snap Circuits has been patented because Elenco knows it has done something amazing here. Elenco originally made convergence generators. The people behind the company love engineering, which is why it is a major part in each of the toys manufactured by the organization. This toy has also received various awards, including Toy of the Year, ASTRA's Best Toys for Kids, Good Housekeeping's Best Toy and the first-ever Seriously STEM award & KAPi Award, among others.
Pros:
Develops the child's problem-solving skills
A child's first introduction to engineering
Fun and colorful
Lasts a long time
Instructions are understandable for children
Cons:
Annoying sound
Quite small
Where to buy:




Are you undecided whether you should give your child a smartphone or a tablet? If you are thinking along those lines, you should try this LeapFrog LeapPad Academy. It is a tablet, but it is a tablet made for children between that age of three and eight. This means that the available activities on the device are all appropriate for children within the age range. This is a real tablet, and it has been loaded with 20 educator-approved apps by LeapFrog. These apps range from math and problem-solving. There are also activities to develop or improve a child's writing and reading skills. Plus, there is even an activity that will teach the child the basics of coding.

The tablet has a shatter-safe screen. After all, children can be unpredictable or just outright, not careful. The tablet also has parental controls to ensure that the children are navigating the tablet within what's appropriate for them. And if the child has mastered the available apps, there are more apps that can be downloaded in the App Center.


Pros:
Kid-friendly
Many activities
Teaches children how to use a tablet
More apps can be downloaded
Rechargeable battery
Cons:
Sometimes slow to function / download
The screen is not very clear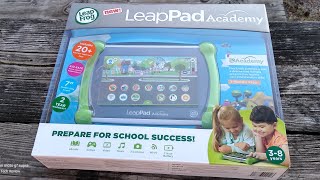 Where to buy:
Related articles: