As an Amazon Associate and affiliate with other third parties, HappyGiftsForKids earn from qualifying purchases and display advertisements.
Top 100 Amazon Best Sellers Toys and Games
Amazon Holiday Toy List
Cheap Discount Toys Online (Valid until Friday 10/08/2021)
Best Electronic Learning Toys for 9-Year-Olds
Do you have a nine-year-old? Then you are definitely seeing some changes in your child—or are they still considered a child? Nine-year-old children are at the start of major changes in their lives. Their bodies change as they slowly move towards adolescence. According to experts, puberty in girls is between eight and 12 years old while it's between nine and 14 years old for boys. Based on that, it's quite obvious that nine is a very crucial year for your child.
One of the advantages of children at this age is that they tend to be more independent. They can go on with their day with little supervision. If you are looking for an electronic learning toy for someone at this age, it should be something that can challenge them. Easy learning toys will bore them. That's why it's best that you actually contemplate your options before you decide what to give a nine-year-old.
To make it easier for you, here is a list of three of the best electronic learning toys for nine-year-olds:
It's never to early to introduce your child to a microscope. And the AmScope Beginner Microscope was created especially for kids. It's a real microscope, which means that children can study small organisms in this tool. However, it's not made from the same materials as those used in actual laboratories. This means that it's not as expensive and definitely not as heavy. It's still made with durability in mind, especially with the metal arm, stage and clips. The beginner microscope has the following magnification: 120x, 240x, 300x, 480x, 600x, and 1,200x.
The actual microscope is not the only thing that comes with this STEM (science, technology, engineering, math) set. It's a whole activity for children actually. For example, the set includes a small bottle of brine shrimp eggs. This will allow your child to have real hands-on experience on how it is to be a scientist. They could put the brine shrimp egg on the clips themselves and observe how it looks in the microscope. The whole set comes with 49 accessories that are safe for children yet useful when they do their own experiments. The whole set is packaged in a case so that children can take it with them wherever they want to go. They can look for their own organisms to study, too. This is definitely a fun activity that a nine-year-old can do on their own.
Pros:
Interesting for kids
They will learn practical matters
They will do hands-on work
Durable
Features six magnification levels
Portable
Adults love it too
Cons:
Focusing the microscope is a challenge
Directions aren't very easy to follow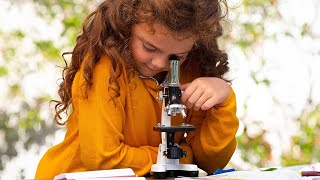 Where to buy:
Game night sounds fun, right? This is definitely one electronic learning toy that will foster bonding among all members of the family. There are various topics for game night, and most of them are pretty advanced. This could truly give a real challenge to nine-year-olds. If parents are busy, it's fine. The child can use the starter kit on their own. While parents are ambivalent about giving their children tablets, the Osmo Genius Starter Kit seems like a great reason to allow children some screen time. This starter kit needs either an iPad or Fire tablet to function. Don't worry; they will not be spending all their time with the tablet. The tablet will merely showcase videos or reflect while the child will be doing. The child will mostly do the activities with their hands.
So, what will the children learn from this starter kit? There will be tangrams that children need to solve. This will develop their critical thinking skills. When the child is bored with that, it's not all academics here. They can also draw. This is a great kit to supplement what your child is already learning in school.
Pros:
Good balance between technology and hands-on exercise
Many activities to enjoy
STEAM (science, technology, engineering and math) learning
There is drawing, too
Fosters family bonding
Cons:
You will need a tablet to enjoy this
Not complementary to all iPad models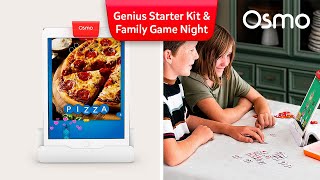 Where to buy:
At nine, children are already in school. But sometimes, learning within the four walls of the classroom could be quite boring. Sometimes, they might not be able to completely internalize what they learned in school. So if you could supplement that learning, then you should! However, you don't want to make it seem like you giving your child more work. When children come home from, they want to relax or have fun. They don't want to do more work. Not to worry, though, since the Think Gizmos Interactive My Body Discovery barely constitutes a homework. It's just a fun way to learn about a human being's body. The set comes with four different posters showcasing different compositions of the anatomy: physical body, organs, muscles, and bones.
It's fun because it's interactive. They can press a body part and learn about how it functions. After learning the parts of a person's body, the child can take a quiz—not the mentally draining one they experience in school. The child can choose between two levels of difficulty for the quiz. These four interactive posters can be decorated on the walls of your child's room, or they can be placed on the table or on the floor. Learning should always be this fun.
Pros:
Children learn important knowledge about the body
Fun quizzes
Child will use their body to learn
Cons:
Sheet could be torn easily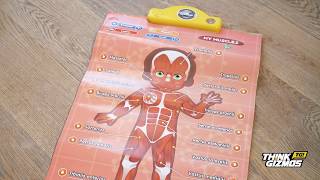 Where to buy:
Related articles: