As an Amazon Associate and affiliate with other third parties, HappyGiftsForKids earn from qualifying purchases and display advertisements.
Top 100 Amazon Best Sellers Toys and Games
Amazon Holiday Toy List
Cheap Discount Toys Online (Valid until Friday 10/08/2021)
Best Electronic Learning Toys for Preschoolers
Preschoolers are those between the ages of two and five. They are still too young to go to regular school. That doesn't mean they are too young to learn. Some parents send their children to a toddler program at one and two, then send them to preschool at two or three. At this point, children are taught about basic things but interspersed with play. This makes learning fun for them.
However, not only children at preschool age will be enrolled in the program. If they are not enrolled, then they should be given the best electronic learning toys for preschoolers because these allow children to start learning the basics: ABCs, 123s, colors, animals and simple words. If children are enrolled in a program, at least their knowledge will be supplemented with learning toys at home.

What are the best electronic learning toys for preschoolers? Here are four products that your preschooler might enjoy:
This is definitely an appropriate product for preschoolers. If your child is enrolled in a preschool program, then you can feel like they are still in school but with a more fun desk and chair. If they are not enrolled in a program, then your preschooler will feel like they are already in school with this activity desk. It has five activity pages featuring different subjects that your child can do. It's also a real desk with storage where the child can store their papers, pencils and coloring materials.
If your child is about to outgrow the lessons, you can always purchase expansion packs for more advanced subjects. You know what else? You can transform the desk into an easel and chalkboard. There's also actual play involved as the desk also holds a telephone. There is also a music player attached to the table.
Pros:
Actual desk with lessons
The desk can be transformed to an easel and chalkboard
Many activities to do and lessons to learn
Actual play is involved
Expansion packs are available
Easy to assemble
Cons:
Stool is not very sturdy
Activity pads are not locked in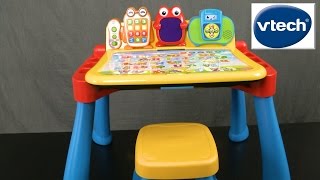 Where to buy:
Young preschoolers don't know how to write yet. But at the age of two, they will most likely mimic the act of writing. Their hands are not yet strong enough to hold a pencil properly. But that doesn't mean that you shouldn't encourage them to write or scribble. LeapFrog's Mr. Pencil's Scribble & Write looks like the perfect agent to help preschoolers start writing. First of all, it looks like a fun electronic toy. Preschoolers and even young elementary kids will enjoy this product.
Mr. Pencil is the character in this electronic toy that will teach children how to write. Mr. Pencil will explain the process of writing and then encourages the child to trace the letter or number on the screen using the stylus, which just happens to be Mr. Pencil. The main lesson is writing, but children will also learn about drawing and spelling. This product also received the Tillywag Toy Awards for Brain Child.
Pros:
Child's introduction to writing
Lots of activities
Fun
Affordable
Cons:
Batteries get drained easily
If a certain letter or stroke is missed, child has to start from the beginning
The screen is so small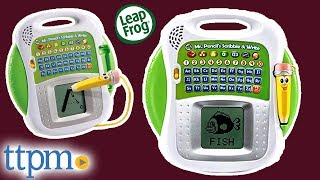 Where to buy:
This is an interactive learning toy that acquaints children with technology—in an educational and fun manner. The Inno Pad set comes with eight plastic learning cards containing, each containing two interactive lessons. The child will insert a plastic learning card into the Inno Pad to learn a specific lesson. That process will ready the child for the complicated world of technology without introducing screen time. What does the child learn? There are lessons in numbers, alphabet, colors, shapes, and time, among others. Don't worry; it's not strictly about lessons, and there is also music.
Best Learning has a whole section for preschoolers featuring learning toys that are appropriate for children between the ages of three and five. This product has the perfect balance between playing and learning. It's a great product for children, and more importantly, parents approve. It has received various awards: Creative Child Awards 2019 Media of the Year Award, Mom's Choice Awards, 2018 Family Choice Award, and Tillywig Awards' Parents' Favorite Products.
Pros:
Fun and educational
Features 16 activities
Child can play / learn on their own
Great alternative to tablets
Award-winning product
Cons:
Plastic learning cards are not locked in
Plastic cards are easily scratched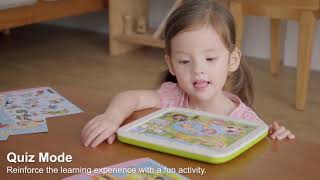 Where to buy:
A tablet for a preschooler? Well, this is a no-guilt tablet as there is no actual screen time for the child. They will, however, learn so many things. There are a number of educational games that children will surely enjoy on this interactive tablet. There are five modes: spell, songs, spelling quiz, Where Is? and study. Children will want to stand and dance with the song. They will also enjoy the stimulating game of Where Is? to check if the child really understood the lessons.
The volume is adjustable, which is great if you want your child to take this with them during a trip. They won't disturb other passengers, especially if you are on a plane, bus or train. This is really a perfect first tablet for your child.
Pros:
Balance of play and learning
Tablet without the guilt of screen time
Adjustable volume
Age-appropriate tablet
Doesn't need WiFi
Cons:
Batteries are easily drained
Some buttons are hard to push
Where to buy: