As an Amazon Associate and affiliate with other third parties, HappyGiftsForKids earn from qualifying purchases and display advertisements.
Top 100 Amazon Best Sellers Toys and Games
Amazon Holiday Toy List
Cheap Discount Toys Online (Valid until Friday 10/08/2021)
How to blow up a paddling pool without a pump?



A paddling pool could so much fun and economical for your kid at home. The only thing you need to do is to blow it up since most of them are inflatables.

Although paddling pools are smaller than other kiddie and inflatable pools, it would be best not to use your lung power by blowing it using your mouth. Some might not also have electric or manual pumps, but there are other means that you find in your home to blow up your paddling pool without a pump.


These two things are mostly present in any homes, which are a vacuum cleaner and a hairdryer that you could use to blow up your paddling pool.
How to use a vacuum cleaner to blow up a paddling pool?
Begin with putting duct tape on the end of your vacuum hose and funnel. This would ensure that the air would not escape from the funnel. You could also use a water bottle as your attachment. Cut the bottle in the middle and use the top part.
Then insert the end of the funnel into the inflation hole that you need to open or remove in your paddling pool. You might also like to wrap it with duct tape too to doubly ensure it's fitted snugly. 
You could now turn on your vacuum cleaner. Wait until your paddling pool is fully inflated without overinflating it. When you're done, turn off your vacuum cleaner and close the inflation hole of your pool.
Watch in this video below how it's very easy to use a vacuum cleaner to blow up your pool.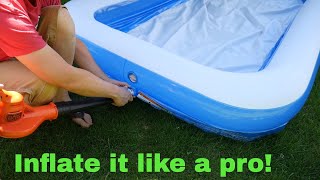 How to use a blow dryer to blow up a paddling pool?   

This is the easiest hacks to inflate your pool. Again, you'll be needing a plastic bottle that you need to cut in the middle. Use its top part and tape it to the end of your hairdryer.  Use duct tape, and the top part of the bottle would serve as your funnel for the air from the dryer to be safely transmitted to the pool's opening.

Set your dryer to its cool setting. Put your dryer to the inlet valve of your pool and turn on your hairdryer.

Wait until your pool is fully inflated, then turn off your dryer and close the cap of your pool's opening.

Take a look at the video below on how it's also amazingly easy to use a hairdryer to inflate your paddling poo.