As an Amazon Associate and affiliate with other third parties, HappyGiftsForKids earn from qualifying purchases and display advertisements.
Top 100 Amazon Best Sellers Toys and Games
Amazon Holiday Toy List
Cheap Discount Toys Online (Valid until Friday 10/08/2021)
What kind of glue to patch the Intex pool?
It's always good to have an Intex pool in your backyard since it's an innovative piece of product out there.
Inflatable pools have evolved big time, and they are more durable and comes in a lot of types and models. They are not flash in the pans or just a trend, but they're here to stay. These Intex pools give a lot of fun and enjoyment as well as benefits without costing you a fortune.

One thing but you must be careful with an inflatable, is the tendency to be ruptured or punctured with a sharp object. Despite their sturdier materials, tearing might occur, or damage might happen, which is sometimes beyond our control.
But, let's be calm and rejoice since there are repair kits available from Intex to save our day too. It would be better to have a repair kit that's also from Intex since they know what their pool needs in case of any leak or leaks caused by rupture, puncture, or tearing.
Intex pools could be patched even on the outside as well as in the inside, even with water. You don't need to empty your pool.
Their patch kits come with their glue, and it includes clear vinyl, blue vinyl, and exterior patch material.
A vinyl cement pool glue is your best solution in patching or sealing the hole or tear on your Intex pool.  The kit includes the adhesive, the vinyl patch, and an applicator to be used during the repair.
Patching an Intex pool is easy as long as you follow the instructions correctly.
This Intex pool repair kit is designed to repair your Intex vinyl swimming pools, inflatable air mattress, and floating toys.
It comes with a two-part heavy-duty repair kit of 2-3/4-Inch x 7-3/4-Inch vinyl sheet and cement glue.
The patch material comes in a roll of about 3 inches wide and you just need cut it to your desired size and glue it on.
Pros:
Easy to use and the patch could hold well
It could seal a hole perfectly
These patches could fix every hole and a small tear and within 48 hours the kids could swimming again
It works very well
Very affordable
Cons:

There's only a Limited amount of glue that could  only fix 1 or 2 small holes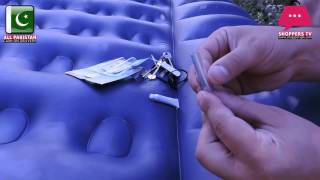 Where to buy:
Total Time: 15 minutes
Gather the necessary tools and materials
Most Intex pools come with a patching kit and fabric that you can use to fix holes and tears when they occur on your above ground pool. Locate them and get a pair of scissors too.
Inspect your Intex pool
Find the part/s of your pool that will require patching. Determine if these holes can be fixed using your patching kit or if they're too large already that you might need help from a pool professional.
Prepare to patch
It's advisable to cut your patching kit circularly and make it at least an inch larger than the tear or hole you need to cover. This means if the diameter of the hole on your pool liner is about an inch, your patch should be 2 inches in diameter.
Put the patch on your pool
If you're putting a patch on a filled Intex pool or underwater, then you must put a small amount of patching adhesive from your kit onto the backside of your patch, then fold it in half to spread the adhesive. Wait for at least 10 minutes for it to cure, then immerse it into the water while you keep the patch folded. When you're near the tear in your pool liner, open it, and place it over the hole. Make sure that you press firmly to ensure that the patch covers the hole or tear properly.
When you're patching the above the water line or a hole in your inflatable ring, you should squeeze a pea-sized adhesive to your patch and the surface you need to put it on, wait at least 10 minutes, then start placing the patch, put pressure on the center and work your way toward the edges. Also, if you're going to patch the ring of your Intex pool, make sure it's inflated so you can properly cover all its holes.