As an Amazon Associate and affiliate with other third parties, HappyGiftsForKids earn from qualifying purchases and display advertisements.
Top 100 Amazon Best Sellers Toys and Games
Amazon Holiday Toy List
Cheap Discount Toys Online (Valid until Friday 10/08/2021)
How to clean kinetic sand off carpet?
Kinetic sand is branded as mess-free sand and offers effortless clean-up.  But for some moms, that could not be enough for them. One is for sure, though; it's way too easy to clean compared to regular sand.
Kids and adults are both into kinetic sand, and cleaning it might be quite different, but anyone could do it. And to satisfy the neat freaks out there, here are the easy ways to clean the kinetic sand of your carpet first.
Kinetic sand is very easy to clean your treasured carpet. There might be bigger pieces on it, and it would be best to pick them all out. As for the nitty-gritty ones, you could use your vacuum cleaner.
There's no need for any water cleaning solution at all.
As for the stubborn ones embedded in your carpet, then that's a different story.
Remember, avoid water as much as possible. 
So here are some of the methods that you could use to clean kinetic sand off carpet.
Use a sweep
Use a sweep as much as you can to remove most of the kinetic sand lying deep in the surface or fibers of your carpet.
Use a natural vinegar solution
In a spray bottle, combine distilled water about 2-3 cups and just 1/3 cup of white vinegar. It would also be great to eliminate the stickiness in your carpet as well as the color residues of kinetic sand. Just spray it over the affected areas and wait for the dirt to loosen. Wipe with a rag or paper towel.
Use a detergent solution after the vinegar mixture
Mix 1 cup of water and a few drops of your household dishwashing liquid to make the solution.
Put it in a spray bottle too, and spray all the affected areas once again. Repeat the process as needed. To finish it off, wipe it with a rag.
Rinse your carpet
Use only a small amount of water to remove any traces of the vinegar and detergent solutions. Wipe it again using a paper towel or a rug.
Let your carpet dry fully
You could let it air dry or directly focus a fan to it to help it to dry faster.
Use a vacuum cleaner to wrap up cleaning your carpet
Just use an ordinary vacuum cleaner for your carpet. Start vacuuming your carpet in straight directions only. Make sure you thoroughly vacuum it to clean it completely.
How to clean kinetic sand?
For the easy clean up of your kinetic sand, just form a ball of sand and dab the remaining sand with the ball to pick it all up!
Watch the video below that would show how easy and convenient it is to clean up kinetic sand.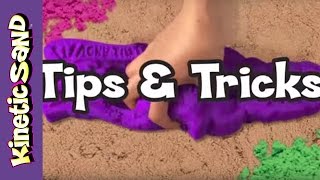 After Thoughts
It does look and sound easy on how to clean up kinetic sand. Cleaning it off your carpet is just how normally you clean it. It demands or entails no special cleaning methods or processes.
It could even be just a part of anyone's normal cleaning routine. As you could have seen in the video it could easily be picked up and gathered and stuck back together again.