As an Amazon Associate and affiliate with other third parties, HappyGiftsForKids earn from qualifying purchases and display advertisements.
Top 100 Amazon Best Sellers Toys and Games
Amazon Holiday Toy List
Cheap Discount Toys Online (Valid until Friday 10/08/2021)
Are Baby Yoda's for Sale?
The Child, aka Baby Yoda, gained a huge following after its appearance in Disney+ Mandalorian in Season 1.  There are many Baby Yoda available from established toymakers like Mattel and Hasbro and some more variants from other toy manufacturers.
Baby Yoda has a huge following, and it is considered now as the number marketable character in the whole history of Star Ways.
Disney, as of this time, has its own line of licensed Baby Yoda toys. After Baby Yoda became an instant sensation, the demand for its toys is mounting.
At one point, Disney agreed to hold off on merchandise to keep Baby Yoda's reveal in the Mandalorian pilot a secret with the request of Jon Favreau, its director. But now, The Child is out of the bag, and everyone wants a piece of him!
Yes, there are Baby Yoda's for sale, and you could choose from a bunch of them. We picked some of the best Baby Yoda's that are available in the market today.
The next on our list is Mattel's The Child Plush Toy, which is an 11-inch Baby Yoda that would capture the hearts of Star wars loyalist with its adorable figure with green skin, big ears, and large eyes that truly resembles this enigmatic character.
This toy plush has a soft body with a sturdy base filled with beans that's awesomely perfect for cuddling or just a part of your precious Star Wars collection.
The character wears his robes, as seen in Disney+ The Mandalorian. Made with Polyester. Take the role of The Mandalorian Bounty Hunter and take care of Bay Yoda, aka The Child, under your wings.
Pros:
The Child is very well made
The clothing is nicely done and soft
It's very detailed, and it even has fingernails
This toy is adorable and, although feetless, is still awesome
It stands on its own without needing the feet
It's soft and inviting
Cons:

Baby Yoda is so cute; however it doesn't have feet.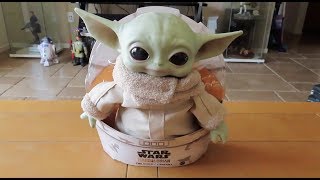 Where to buy:
This is another Baby Yoda from the Star Wars store made by Hasbro. This is added to the collection as a cuddly version of The Child as an electronic plush toy.
It could produce 10 sound effects by just squeezing The Child Talking Plush Toy's soft body for you to hear the adorable vocal sounds from the character featured in the Disney Plus series The Mandalorian.
It also comes with live-action TV series-based character-inspired accessories that would enable all the fans and collectors to imagine their favorite scenes from the Star Wars galaxy vividly.
Its attire is so much like after the pop culture phenomenon from the Disney Plus series, Mandalorian. A super cuddly toy to keep beside you any time.
Pros:
He's the cutest thing you would lay your eyes on
He's the perfect replica and version of The Child
He has a soft body with a vinyl head, hands, and feet.
Its sounds are clear and easily heard.
It has  little hairs on his head that are painted on rather than actual hairs that make him look babyish
It sounds cute and gives him a more baby-like quality
This one has feet
Cons:
It might have a strong plastic smell that could be overpowering that might take time before it disappears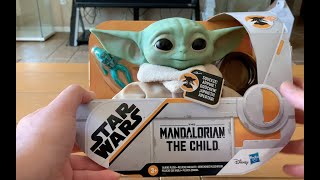 Where to buy:
One of the cutest toy ever. This Child Animatronic edition would make your heart melt. It's super cute! It comes with series-inspired sounds by just touching the top of Baby Yoda's head. You'll hear and activate his famous Mandalorian sound of happy and excited, giggles and babbles, tired and sleeping, and Force effects sound.
It has motorized movements such as its head could move up and down, its ears could move back and forth, and his eyes could open and close.
This is designed for all Star Wars lovers from 4 years old and up, and it does make an awesome gift for just about anyone who loves Baby Yoda of all ages.
Its head needs to be patted three times to raise its arms, close its eyes, and sigh as if it's using the Force. And you could have it take his Force nap by just laying Baby Yoda down.

Baby Yoda's outfit and get-up is a Mandolarian inspired robe made from premium soft material, and it comes with his removable Mandalorian pendant necklace as well.
Pros:
Baby Yoda's face and animation are topnotch, and his body rocks with heart-wrenching facial movements
You just have to switch it on to play, and you could turn it off
The Child would look at you, wiggle its ears, and would giggle
When you lay it down, it would close its eyes and makes snoring sounds
It does his magic hand gesture
It is worth it, and he is so cute
He's so realistic and adorable
You could tap his head, touch it, and he is very interactive
Cons:

Some might expect something a little bigger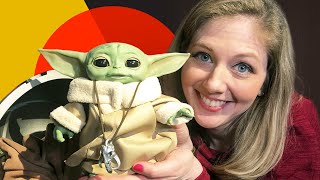 Where to buy:


Here is for the Funko Pop collectors out there. This Chid with a necklace is an Amazon exclusive. The Child with Pendant is a 2020 Fall Convention Exclusive that could only be availed on Amazon.


The stylized collectible measures 3 ¾ inches tall and a wonderful addition to any collections of any The Mandalorian fan! This Pop Vinyl.


Funko seems to capture the charm and essence of Baby Yoda.

This one gets high points for a new head sculpt from the first baby release, and the mouth, ears are different. Its paint jobs are surprisingly good too.

Pros:
This is a nice variant of The Child
It's highly detailed, which is great
It comes in a horizontal box
Looks good
One of the best versions of the Child
This figure is adorable
The necklace is a nice touch
Cons:

The might be more seam line under the chin for a few
Where to buy:
This plush Baby Yoda is from the renowned Jay Franco store that's made with 100% Polyester. This cuddly pillow buddy is 16 inches long and your perfect bedside ally at night or even in the car or anywhere.
It's a well-made Baby Yoda huggable pillow that's easy to care for by just spot cleaning it. Your playtime, naptime, and bedtime best friend is here to stay for a long time. There are other collectibles to complete your kid's nighttime pleasure with the Star Wars The Mandalorian products, such as the coordinating bedding and accessories available are sold separately.
This is also fun and awesome for all ages that would make each day happier and enjoyable.
Pros:
It's super soft and cute
Well worth the price
It has pillow softness
Loveable
It's bigger than you could imagine
It looks just like baby Yoda.
Great huggable size
Cons:

It might not be as soft for a few
Where to buy: