As an Amazon Associate and affiliate with other third parties, HappyGiftsForKids earn from qualifying purchases and display advertisements.
Top 100 Amazon Best Sellers Toys and Games
Amazon Holiday Toy List
Cheap Discount Toys Online (Valid until Friday 10/08/2021)
Best Robot Toy for 2-Year-Old
Should you give a two-year-old child a robot toy? Yes, you could! If you think toy robots are too complicated for toddlers, you are mistaken. There are appropriate toy robots for two-year-old kids. These toys will serve as the child's introduction to robotics.
At two, the child becomes more active. They like to run around and ramble on. The robot is a great companion for them. Most robots can walk. Some can move faster, while others can also talk. Every toddler will love to have their very own robot.
If you're looking for the best robot toy for 2-year-olds, it's important that you find one that is appropriate for that age. What does this mean? Don't give children toy robots that might have small parts.
At this age, they are fond of putting things into their mouths. Small parts are choking hazards, and you will realize that most toys for toddlers don't have tiny pieces.
Here's a real advantage of robot toys: less screen time. It can't be denied that today's children are very well acquainted with mobile devices. If possible, children shouldn't be allowed to play with mobile devices. But if they do, toddlers should only have a maximum of an hour a day.

If you have the best robot toys, then these toddlers wouldn't have to crave some screen time.
Here are some of the best robot toys for two-year-olds in the market:
There is no such thing as too young to learn about STEM (science, technology, engineering and mathematics). You can introduce coding to two-year-old kids through the Code 'n Learn Kinderbot. The child will have control over what the robot will do by entering codes. The robot toy lights up while also teaching children about colors and shapes. There are also math lessons in there.
It's interactive, so you know toddlers will love it. It's a great toy for toddlers to learn basic numbers, letters, and colors. This toy is basically preparing toddlers for school. It also develops the child's critical thinking skills as they have to solve different challenges.
The child won't outgrow this robot as the challenges gradually increase in difficulty.
Pros:
A good way to introduce coding to children
Durable
Fun lights and sounds
Encourages children to follow directions
Cons:

Depletes batteries quickly
Not too many activities on it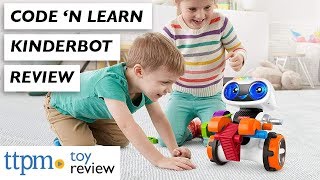 Where to buy:
Based on the animated series, Transformers Rescue Bot Academy, this set features four characters: Hoist, Hot Shot, Wedge the Construction-Bot, and Whirl the Flight-Bot. Each toy is about 4.5 inches tall, which is great as they are not small enough for toddlers to swallow. The Transformers are also the quintessential robot, so children will really enjoy this set. The experience is even better if they actually watch the show.
If not, then they will enjoy transforming the products from robot to vehicles and back again. Children can also be imaginative with their playtime. They can imagine going on a rescue mission with the bots, and they have to transform quickly to save the world in time.

This is also a good set to start off a child's collection as there are other characters in the Playskool Heroes Transformer Rescue Bots Academy.
Pros:
Encourages children to be imaginative
Easy to transform
Starts off a collection
Affordable
Cons:

Not made of high-quality material
Not totally the same as the series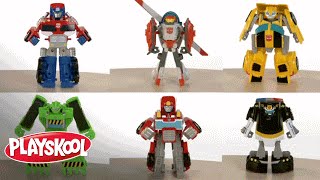 Where to buy:
This robot will keep the toddler active. It rolls along and moves around. It has 360-degree mobility for the child's enjoyment. But there's more. Toddlers can choose from six games on this robot. There are three gaming modes to choose from.
Movi, the robot, also prompts the kid to develop critical thinking. Movi also has some moves on the dancefloor. He also has over 60 different faces to show off children during the game. No wonder children can't stop cracking up when they are playing with Movi.
You should know, you can never go wrong with Fisher-Price. It has been in the business of making toys for 90 years. Since 1993, it has been a subsidiary of Mattel. It was like a match made in toy heaven as both brands are popular toy manufacturers.
Pros:
Fun
Easy for children to use
Adorable-looking
2 volume modes
Durable
Cons:

No collision sensor
Batteries don't last very long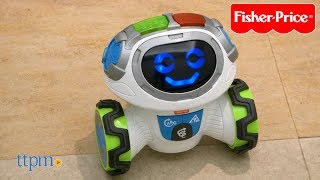 Where to buy:
It is exactly what it sounds like, a dancing robot. Who doesn't want one? It's so much fun. It is a smart robot, too. It dances based on the music. It's part of the algorithm that it moves according to the sound it receives.
It is also a wireless Bluetooth speaker. It plays the audio from any app that you have. The truth is, adults will also love Dancebot. However, for children, you can play nursery rhymes. It makes learning more interesting for children. You can also play an audiobook here. This way, you don't have to read to your children every night—not that it's not a good thing.

The Wall Street Journal recommended this product as one of the best tech gifts in 2018. It was recognized as the best tech robot toy for children. That alone would merit this dancing robot in our list of the best toy robot for 2-year-olds. Not only that, it has passed industry safety standards.
Pros:
Cool gadget
Works as Bluetooth speaker, too
Safe for children
Easy to set up
Great sound quality
Cons:

Children could easily lose interest in it
Falls over when surface is not flat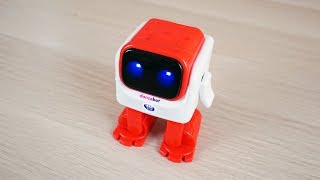 Where to buy: