As an Amazon Associate and affiliate with other third parties, HappyGiftsForKids earn from qualifying purchases and display advertisements.
Top 100 Amazon Best Sellers Toys and Games
Amazon Holiday Toy List
Cheap Discount Toys Online (Valid until Friday 10/08/2021)
Why were Nerf guns invented?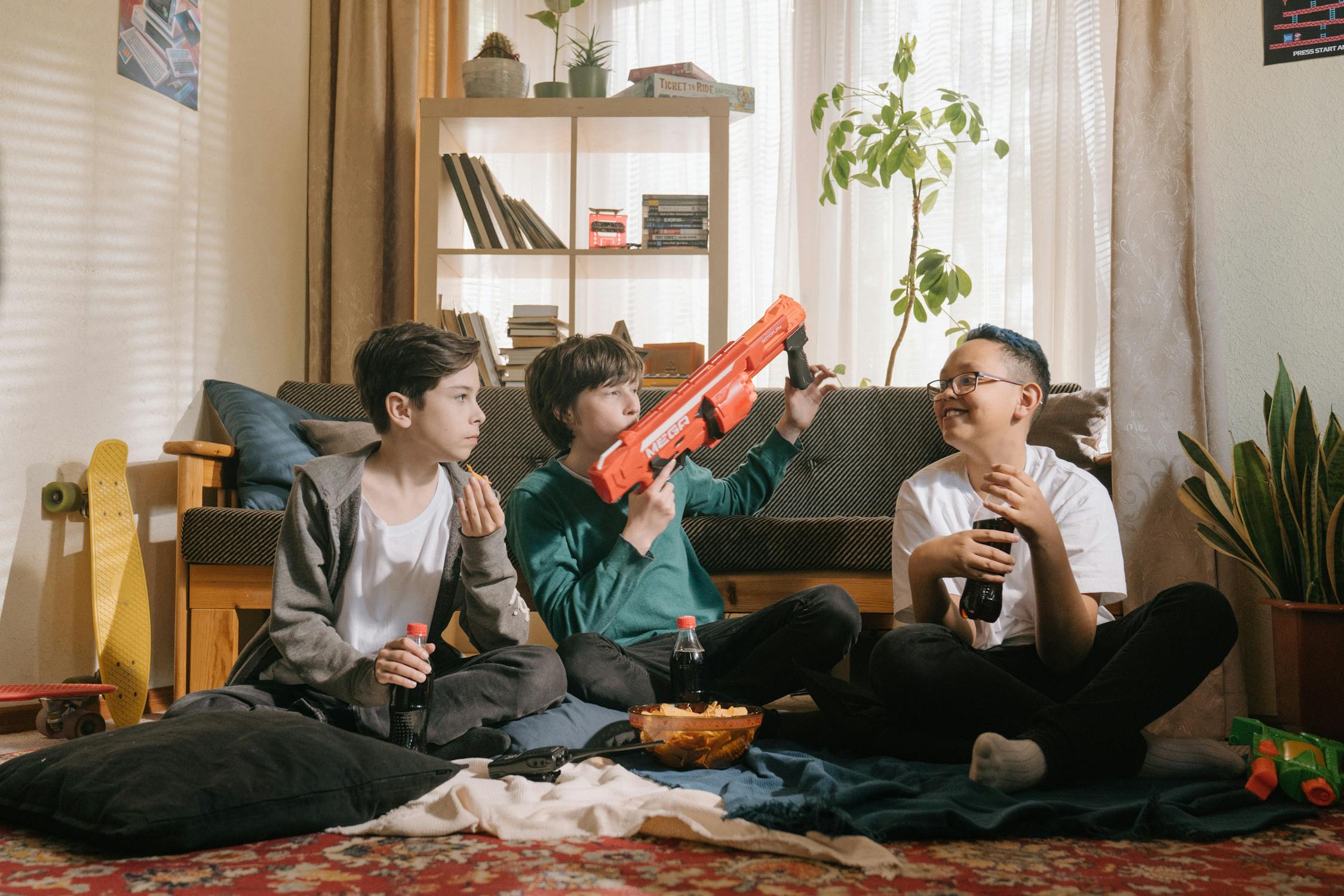 The Nerf balls were introduced more than five decades ago, while the Nerf guns have been enjoyed by kids and adults for over three decades now. All Nerf products though, share one thing in common. They have been giving so much safe foamy fun!
It was an accidental invention, to begin with, that started with the Nef balls in 1968. It was intended to be a volleyball game. Reyn Guyen was also responsible for bringing to life another successful toy, The twister. He started conceptualizing and developing another game which was a caveman-themed game under his Winsor Concept company in 1968.
The game supposedly had a lot of rocks made from foams. One of the members of his team bounced the foamy rocks over the net. This gave the designers the realization that something big could come out of it. From there on, they began product development of a whole line of a new game featuring the foam balls. They shaped the foamy rocks into balls instead of into the game.
Guyer, on his end, took the game to Milton Bradley, having been successful with his Twister game with them. Unfortunately, Milton Bradley wasn't sold on the idea of the game with foam balls.
He came to Parker Brothers next, and although they liked the foam balls, they weren't keen on the game set. So, they decided just to market the foam balls instead and sold them as balls that kids could play indoors safely.
In 1969, Nerf balls were introduced in the market made from polyurethane foam. It was dubbed as the world's first indoor ball. It was a huge success, and Guyer was commissioned by Parker Brothers to make more games using foam materials.
There was the Super Nerf Ball in 1970, a Nerf football in 1972. Nerf balls were made by Parker Brothers by spinning the foam on a lathe and cutting it with a piece of hot wire. They made some technical changes with the Nerf football as it included being poured with liquid foam into its mold that resulted in having a thick outer covering that made it function as an ordinary football.
In the 80s, Parker Brothers had started making other products under the Nerf brand like Nerf Pool, Nerf Ping Pong, and Nerf Table Hockey. The company even had a line of Nerful action figures that resembled human-like Nerf balls.
It took 20 years for the first Nerf gun to come out in the market and was invented to further the existing products in the Nerf line since some spin-offs were not as successful as the Nerf football.
In 1989, The Blast-a-Ball came out as a Nerf Blaster, and it's considered the first-ever Nerf gun. It was a single fireball blaster gun that was marketed as a double pack and shot one ball every two seconds type of armory.
Right after this, the Nerf Blast-a-Matic was released, which could fire several balls before reloading. These two models were very successful and were available in almost all retail stores from 1989-1993.
In 1987 Tonka Toy Company purchased Kenner Parker Toys, the owner of the Parker Brothers brand which has the Nerf line under it. In 1991, Hasbro bought Tonka, and Hasbro, up to the present, manufactures and owns the Nerf brand and helped it flourish to its fullest potential.
After Thoughts
As they say, "It's Nerf or Nothin'!" as Nerf guns captured the hearts of millions. Its introduction of foam balls had paved the way for more wonderful, amazing products for Nerf.
Nerf guns now have an array of finely crafted toy guns that uses foam darts and foam balls ammunitions and still offer even the best fun and entertainment in active play.
Who says war games and attack blasting couldn't be safe? With Nerf guns, they are!