As an Amazon Associate and affiliate with other third parties, HappyGiftsForKids earn from qualifying purchases and display advertisements.
Top 100 Amazon Best Sellers Toys and Games
Amazon Holiday Toy List
Cheap Discount Toys Online (Valid until Friday 10/08/2021)
What Nerf Guns are Worth Money?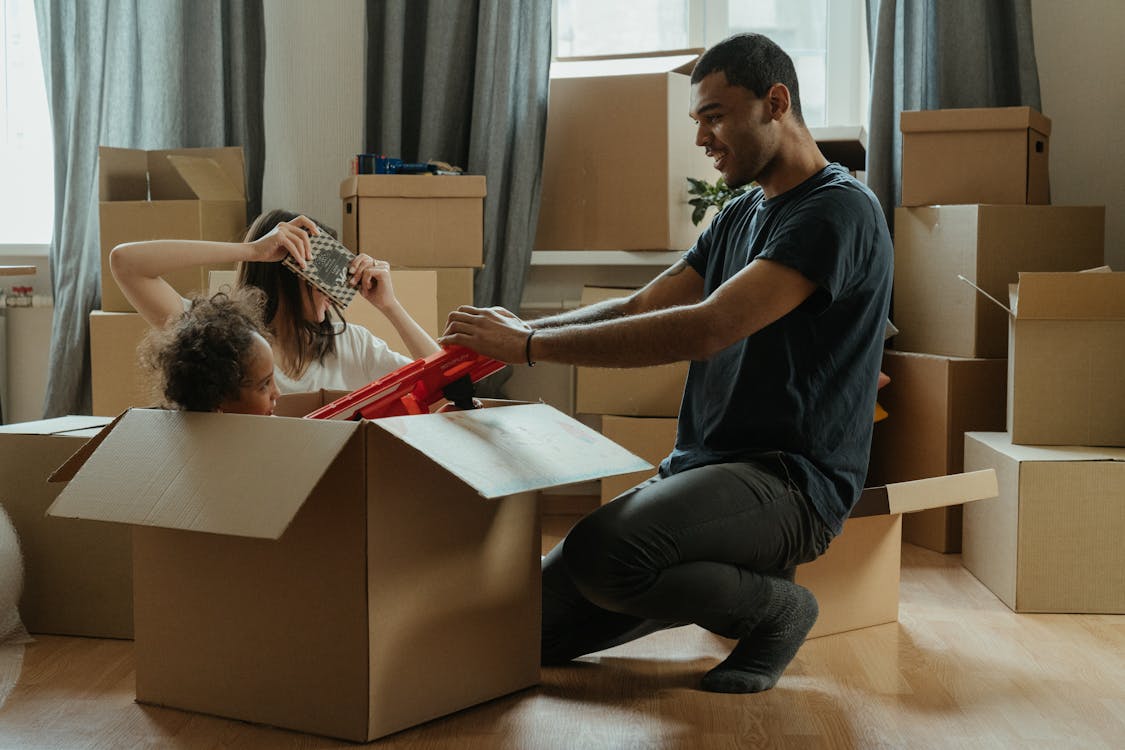 Nerf guns are one of the most saleable toy guns in the market for how many decades now. It has sold the most guns with its $2 billion per year revenue for Hasbro. That's a lot of Nerf guns sold every year!
Nerf guns sell a wide variety of toy guns under 21 categories, and their prices range from cheap to expensive ones.
The longevity and staying power of the brand mean that some old Nerf guns have become collectibles and that the most expensive Nerf guns are now worth a lot of money. And as far as their value is concerned, the newer models might worth more, but older Nerf guns could still cost more for their rarity and demand.
Nerf guns have a huge following as it's the number one in their turf and most avid fans own multiple guns.
What makes a Nerf gun a collectible one and worth money?
There are several reasons why Nerf guns are worth money. Here are the factors to make Nerf guns expensive.
Its original price. If it cost a lot when it first came out in the market
It has great features and functionality
Its playability is superb
The length of time on the market could affect its desirability in the market, especially if it's a rare edition
The packaging and the gun is in mint condition
It should be an original, functioning, and unmodified or unaltered gun
The preserve Nerf guns could fetch a good sum of money if they possess these qualities.
Here are the top five Nerf guns that are worth the money.
| | | | | |
| --- | --- | --- | --- | --- |
| Name | Cost | Age Recommendation | Ammunition / Year released | Special features |
| N-Strike Vulcan EBF-25 | Expensive | 8 years and up | 25-dart belt, 25 Whistler Darts / 2008 | It's an electronic belt-fed Nerf blaster under the N-Strike series with also a tripod and ammo box |
| N-Strike Longstrike CS-6 | Expensive | 6 years and up | Quick-reload clip, 6 Clip System darts / 2011 | The longest Nerf blaster  and it features a barrel extension and flip-up sight for better accuracy as you shoot your darts up to 35 feet |
| Terrascout Recon RC Drone | Expensive | 8 years and up | Thirty-five dart drum, and thirty-five Elite Darts / 2017 | It's a fully-automatic, clip system, a remote-controlled, blaster-like drone that can fire darts. It comes with a 720p video camera that could be equipped and viewed through the remote on an integrated LCD screen that could double as a portable aiming device. |
| N-Strike Whiteout Series Deploy CS-6 | Expensive | 8 years and up | Six dart clip and six Streamline Darts / 2011 | You could convert this pump-handle blaster into a flashlight when you need to track your target in the dark or at night |
| Nerf Max Force Manta | Expensive | 8 years and up | 4 Mega Darts / 1996 | The Max Force Manta was Nerf's first, and only, true shield/blaster hybrid |
The N-Strike Vulcan EBF-25 is a big and bulky belt-fed dart blaster released in 2008 that looks like a machine gun and could fire 3 Elite darts per second. It has a removable tripod that could be folded for easy transport and a quick escape from enemy fire. The tripod helps to improve aiming efficiency too.
It's fully automatic with the look and feel of a machine gun with its belts with 25 darts each. It also has a top handle for convenient carrying.
It's discontinued by Nerf, making it one of the most expensive and desired guns nowadays that could cost more than 500 dollars. Like the CS-6, it's also discontinued by Hasbro.
Pros:
It has an outstanding concept and outstanding design
It's a heavy-duty machine gun
All of the exterior components are made from hard plastic
The construction is solid throughout with no hanging parts and nothing flimsy, thin, and shaky
This is a cool toy, substantial and well-made
Easy to set up
User friendly and easy to carry
Cons:
It's not too good for long-range snipe shots because the gun is not accurate and doesn't shoot very far despite the 6 D batteries
The mechanism flaw is it does not properly advance and align the following shots
Where to buy:
The N-Strike Longstrike CS-6 is one of the rarest Nerf guns around if you're looking for one that's still in the box and mint condition. It could now demand up to 600 dollars for the collectors. It's the longest Nerf blaster made back in 2010.
It's a sniper rifle dart blaster that comes with a barrel extension for longer ranges and a flip-up sight for better targeting accuracy. It has a range of 35 feet, and even if your target is moving, you don't have to worry about ammo since your blaster could store two quick-reload clips.
Its stay on the market was cut short since it didn't work out as envisioned because of issues in its bolt-action mechanism that was hard to use and was prone to malfunctions that upset many players. But after that, this model became so hot and became one of the most valuable from a collector's standpoint and that it boosted its value to a whopping 600 dollars nowadays.
It's very popular in the modding community, where people replace its spring with stronger ones to shoot the darts significantly farther. Older players also repaint this model to darker colors.
Pros:
It's a rare model that was discontinued, but it became in-demand
One nice feature is that the front barrel comes off easily and would allow even a smaller kid to use it easily
The gun is very well made and, as it turns out, a lot of fun for the adults too
It's the longest Nerf blaster with even  a barrel extension and flip-up sight for better accuracy and to shoot your darts up to 35 feet
The Longstrike is one of the best looking Nerf guns
It's a collector's must-have
Cons:

Although it looks cool, and the assembly is great, it has a  major issue in the firing mechanism due to its spring that make it not fire as expected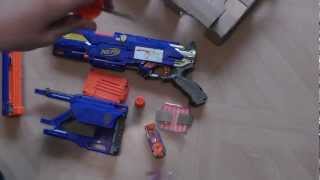 Where to buy:
The Terrascout Recon RC Drone is truly an awesome Nerf blaster that was released in 2017. It was under the N-Strike Elite series. It requires four AA batteries to be able to use it. The included drone is another first for Nerf.  It comes with a remote that has a rechargeable battery and charger. This Nerf gun includes a thirty-five dart drum and thirty-five Nerf Elite darts.
It is a Toys "R" Us exclusive that was also sold at Amazon. It's an amazing Nerf gun on tracks that's very advanced. Kids could record battles with the all-terrain except in wet conditions using this dart-blasting TerraScout RC drone.
It's a remote-controlled tank drone that features a live video feed so kids can view out-of-sight targets with the LCD screen. The TerraScout tank drone could turn 360 degrees.
It had a limited release, and with its technologically advanced functions, its value increased to more than 350 dollars today. This product has also been discontinued.= that makes it in demand.
Pros:
It's got multi-terrain tracks, single and rapid-fire blasting
It comes packaged with a 720p video camera that could be equipped and viewed through the remote on an integrated LCD screen, making it a portable aiming device
It also features four switchable channels that would allow multiple TerraScout units to work simultaneously
The TerraScout is all-terrain except for wet conditions for indoors and outdoors.
It was the most expensive Nerf gun that came out in the market
Cons:

Some clip sizes might be too long or too heavy for the TerraScout that might lead to some movement problems like angling upwards or downwards for firing.
The exposed clip might bump into indoor furniture
Where to buy:
The Whiteout Deploy CS-6 is an orange and white Deploy CS-6 that was released in 2011 under the Whiteout Series that was a Walmart exclusive, but it was also sold on Amazon. Is package also comes with a six dart clip and six Streamline Darts but without a carrying strap like the original Deploy.
It's equipped with a pump handle mechanism that includes six round quick-reload clips for fast and accurate shooting. Its pump-handle could also be converted to a flashlight when used at night or in the dark. Its design could make other players want one for themselves. It's very rare nowadays as it's been discontinued too and it's very hard to find. The price tag of this gun today is around 300 dollars.
Pros:
The gun in almost perfect shape that works well
This is a fun Nerf gun
You pump the mechanism between each shot
It uses Streamline darts
For even more fun and faster reloads, you could get a Nerf N-Strike Flip Clip Dart Refill.
It is fun and durable and still a favorite.
You could convert this pump-handle blaster into a flashlight when you need to track your target through dark areas or at night
It has a quick-reload clip and 6 Clip System darts
Cons:

It's hard to find nowadays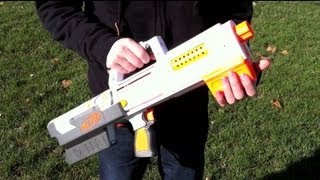 Where to buy: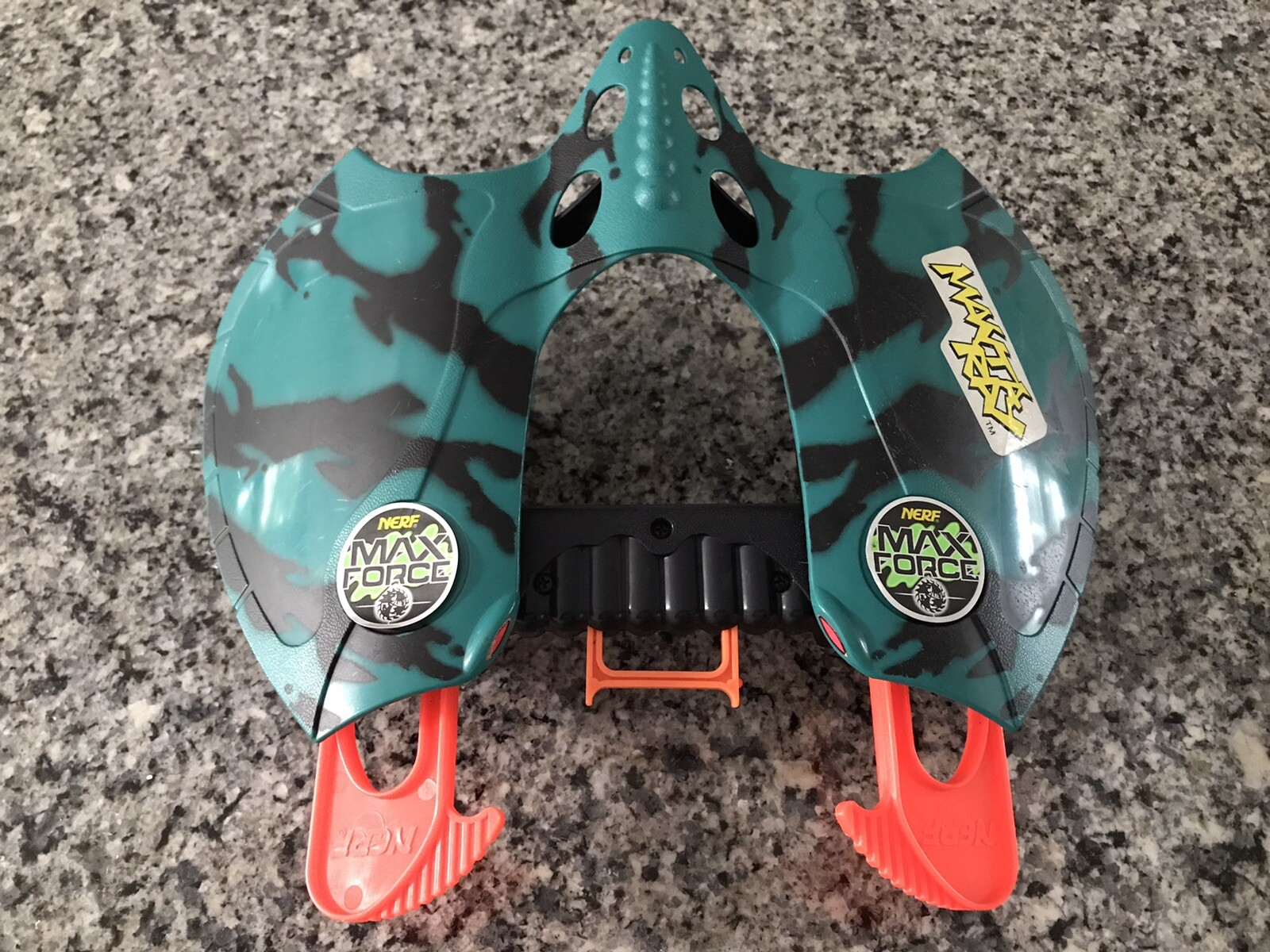 Where to buy:
Are Nerf guns worth money?
The first dart blaster from Nerf came out in 1992 as the Nerf guns with ball blasters came in first. It proved to be the biggest hit of the brand, and millions of them were sold. Nerf blasters are incredibly popular and have even started to gain some collectible value. Some guns are still unopened in their original boxes could go for hundreds of dollars.
The reasons why Nerf guns are worth money are their timeless designs, uniqueness, and quality. Also, you could choose your Nerf gun to either use a combination of air and spring power or electric spinning fly-wheels to launch their darts. A standard Nerf gun could also yield high speed with their foam darts ammo. It wields 400 PSI of pressure that makes its speed possible.
That could be of good monetary value for its notoriety and novelty, rarity, condition, and if the toy is still unopened from its original packaging.

After Thoughts
It's already been a long journey since the foam ball. Nerf brand is already synonymous with all Nerf guns and blasters all over the world. It has made history in the world of toys, with dart blasters becoming synonym with Nerf guns. They're the standard and the leader when it comes to those kinds of toys.
One of the proof is Nerf guns are now highly collectible, and some could fetch hundreds and hundreds of dollars. They became very valuable for their functionality and playability plus rarity.
Nerf guns could be your treasure especially if you collect some spare guns of your favorites and keep them unopened. You'll be surprised how much they could cost in the future.