As an Amazon Associate and affiliate with other third parties, HappyGiftsForKids earn from qualifying purchases and display advertisements.
Top 100 Amazon Best Sellers Toys and Games
Amazon Holiday Toy List
Cheap Discount Toys Online (Valid until Friday 10/08/2021)
Nerf guns that you can control
Nerf guns generally come as manually operated, semi-automatic, and fully automatic. There are only two Nerf guns that were manufactured by Nerf that you could control using a remote control.
These are high-quality and affordable remote control Nerf guns you could still purchase in the market, although both are already discontinued being produced by Nerf. They became highly-collectible nowadays.
Here are two remote-controlled dart gun by Nerf.
This Nerf TerraDrone is a remotely controlled dart shooter that could walk over all kinds of terrain that resemble the look and stance of a spider. It's a robot-inspired drone that could fire up to 12 Elite Darts at targets up to 45 feet away.
Its head is movable and could rotate 360 degrees and moves up and down and it contains an adjustable blast angle. It comes with 12 Elite Darts.
It's a new way to battle with the TerraDrone dart shooter! It's been designed to be your ultimate battle drone, and it would walk right into battle at your command like a heavily armed spider. 
It could withstand any kind of terrain with its sturdy legs and have a precise aiming shot as its head could be moved up and down, and it could be turned 360 degrees to fire darts in any direction your desire. You could also change the drone's blast angle.
You're in control of your game as you could send it into the battle and action and rapid-fire up to 12 Elite Darts to hit targets up to 45 feet away from the drone's head! Take your N-Strike missions to the next level and take command of the field with the TerraDrone dart shooter.
Pros:
This Nerf Combat creature is the first remote nerf gun
The remote control operates all its functions as you could turn the gun head and direct where it's going, makes it go, and fires the bullets
This TerraDrone is a cool piece
The remote is very sturdy and easy to use
The TerraDrone makes some great sounds on the various operations, and it can really get the Nerf darts moving across the room
Its darts are capable of flying farther, faster, and straighter than those for other nerf guns
It's now a collectible item
Cons:
It  might be slow for some and might not shoot particularly far or with exceeding force, but it's great for an 8-year-old to have fun and enjoy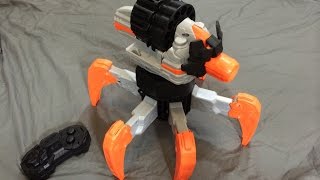 Where to buy:
The other remote-controlled Nerf gun is via the N-Strike Elite TerraScout Drone.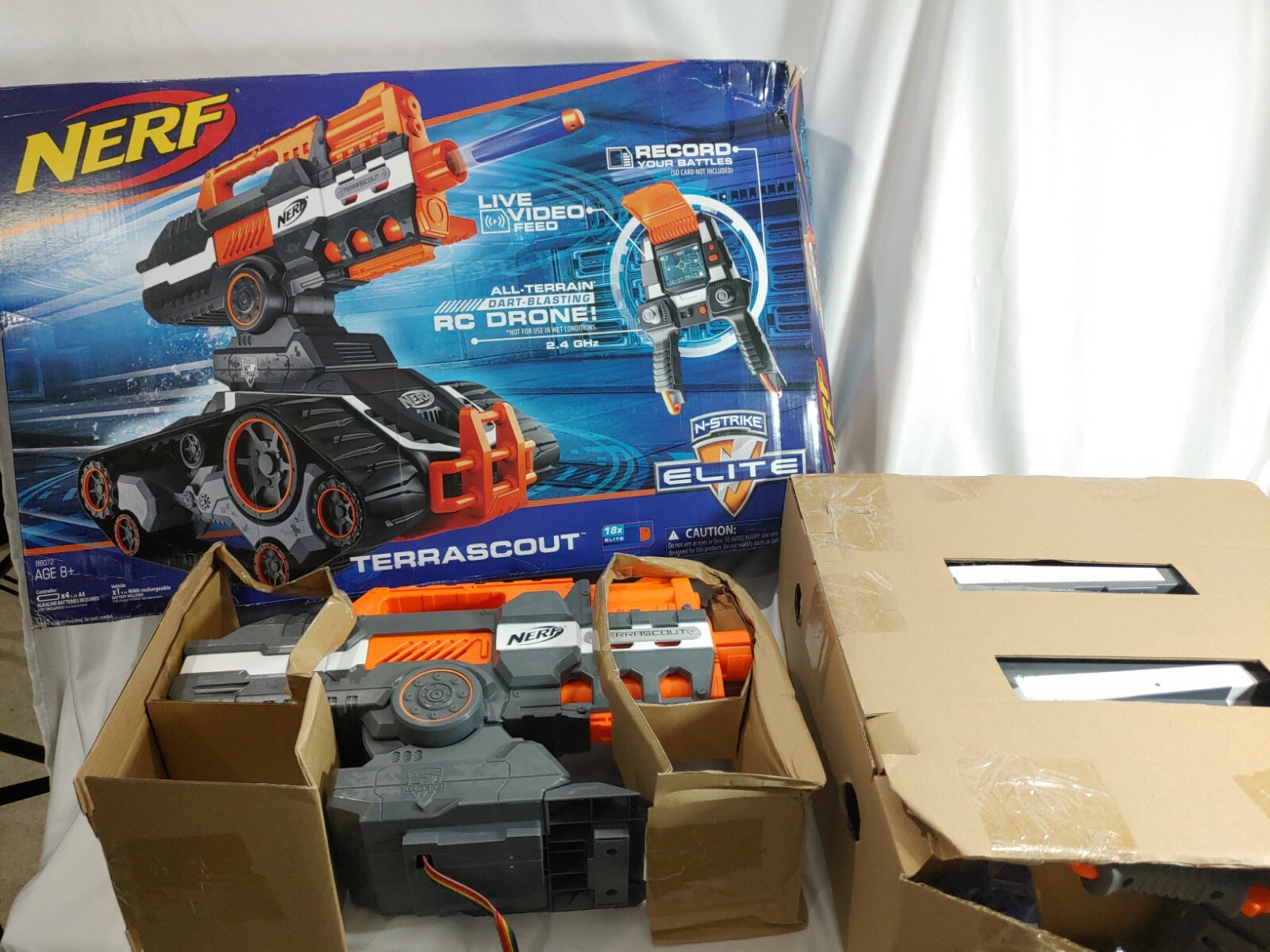 The N-Strike Elite TerraScout drone is your Nerf mobile shooter that's remotely-controlled. You'll have the advantage in every battle since it's suitable for any terrain, plus you can view the action on the remote's LCD screen through the camera mounted on the drone. Footages could even be recorded. The Terrascout fires kid-safe, soft Nerf darts.
This is one cool way to spend those afternoons in battle with this awesome motorized vehicle that doubles up as a tracked drone with the capability of firing nerf bullets.  
Pros:
Works great
It is fast, durable, fun to drive and fires nerf darts quickly and quietly without jamming.
Its camera with a screen on the remote is a cool feature. 
Simply awesome
Works for a couple of hours before you need to charge it
It's very cool overall
Cons:
The visual quality of the LCD might be a little low, but it works great as a whole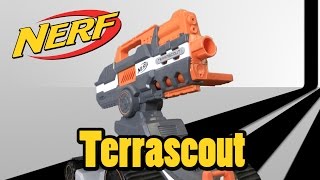 Where to buy:
You could customize your Nerf guns since you have limited choices for Nerf guns you control.
All you need are the following:
Makeblock Orion microcontroller
Makeblock BLE Module for Orion
Extra Motor Module for Orion
A 5v mini-solenoid
A Nerf Stryfe blaster
12 hole beam
5 hole beam (2)
Various screws and nuts
Mini Breadboard
Jumpers
The first thing you need to do is to prepare your Nerf gun, particularly a Nerf Stryfe gun. Unscrew all the screws of the outer part of your gun, then look for the capacitator, which you could find in a circuit board, and it's the disc that pokes out. You could see a few wires that come out that lead to the launcher of the dart.
This small circuit is responsible for regulating the flow of electricity to the launcher. You need to cut the wires of that circuit. After doing that, take out the dart launcher. You could still keep the remains of the blaster if you want, but you won't need it.
The next step is to assemble the launcher. Get the 12 holes and the two 5 five hole beams. Then, you need to count up to 8 holes high on the 12 hole beams and attach the 5 hole beams.
Using a zip tie, attach the solenoid towards the front of the five-hole beam stack.
Again, using a zip tie, attach the nerf launcher in a 1/4 inch of the length of a nerf dart distance from the solenoid.
Set up the Orion and the modules by wiring the BLE module to port 5 and the motor module to ports 1 and 2. The next step is to wire the solenoid and the launcher to the make-block motor module.
It's now time to mod your Nerf gun. To do so, you could mount your cannon to a Bluetooth controlled tank frame. By making this, you could build a tank. Another probable set-up is to add a handle to the launcher for it to become a hand-held gun.
There are many ways to be creative and to have DIY projects to make your Nerf guns remotely controlled for you to be in-charge and in-control in playing your Nerf games.