As an Amazon Associate and affiliate with other third parties, HappyGiftsForKids earn from qualifying purchases and display advertisements.
Top 100 Amazon Best Sellers Toys and Games
Amazon Holiday Toy List
Cheap Discount Toys Online (Valid until Friday 10/08/2021)
Which Nerf gun is the most accurate?
Not all Nerf guns are created equal or for the same purpose. Some are made for short-range distances, while some are for long-range firing. Others might be well for mid-range shots or to be sprayed fire. But one thing remains that shouldn't be compromised-its accuracy.
Seasoned Nerfers attested that the blasters have no impact on accuracy but rather the ammo used. In this perspective, Hasbro continues to improve on its ammunition. 
Nerf guns are regularly updated to be equipped with integrated scopes, high-capacity magazines, trigger lock systems, and elite foam darts to enumerate some.
How to choose the most accurate Nerf gun?
Nerf guns with high-capacity magazines would allow several rounds of ammo that would help to increase your shot accuracy, and it would give you better chances of hitting your target more accurately. 
Choose a Nerf gun that has the right fit for you so you'll feel comfortable, and it would be easy for you to use it. Check on the trigger placement and grip of the gun for comfort.
For a younger child, single-shot guns are awesome, while rifles with high-performing capacities are better for older children, teens, and adults.
The most accurate Nerf gun should have a lot of launching power in terms of how much air it can compress, and battery-operated Nerf guns are your best bets for those accurate distance shots.
Some of their most accurate and powerful ammo is made of condensed foam that comes in high-impact foam rounds with a lot of power and was created for users that are at least 14 years old under the Rival line-up. 
Choose a battery-powered blaster that would allow you to shoot farther and faster than spring-loaded blasters. Also, foam darts were designed to have more inertia as they travel in the air, although, in comparison, high-impact rounds are more accurate than foam darts. 
With this issue, Nerf has also reformatted its Elite darts to have better accuracy. They now adjusted it and included a hollow tip to give them a more accurate performance. 
The Mega darts, also by Nerf, might not always have a dependable flight, but they are still more consistent than other foam darts.
The Nerf AccuStrike darts are the same size as typical Nerf darts, and they could work on older Nerf firearm models to improve their accuracy. You could depend on its compatibility of your chosen Nerf guns.
These are two accurate Nerf guns. The first is the Nerf Halo MA40.
Please visit our detailed review on this model in the link below.
https://happygiftsforkids.com/54476-NERF-Halo-MA40-Motorized-Dart-Blaster-reviews
Where to buy:
The next is the N-Strike Elite Firestrike.
Be able to fire accurate shots with a Firestrike even in the shadows. It's a compact blaster that's equipped with a that would give you a precision light beam to help you target with a laser-like focus even in low-light conditions.
The light beam trigger would let you zero in on targets up to 15 feet away, plus it could launch Elite darts up to 90 feet!  You could also enhance it through its tactical rail to add some  N-Strike tactical rail accessories that you need to purchase separately for you to be more ready in Nerf battles.
Do you aspire to hit your target in just one shot? You could accomplish this with a Firestrike!
For 8 years old and up and you need 2 AAA batteries to use this awesome Nerf gun.
Pros:
So much fun with excellent power
Very sturdy
This one works well
Great for adults and kids
Very accurate brilliant Nerf gun
You could enhance it with Nerf accessories
Cons:
The laser sight might be a bit weak and would only work well in the dark or at close range
Where to buy:
Which Nerf gun is the most powerful?
A high-powered Nerf Guns that could hit 70MPH is considered powerful. The Nerf Rival Zeus MXV 1200 is a high-powered gun, and it could hit 70MPH. What more, it has round foam ammo that's high-impact.
The Rival Zeus MXV 122 is a motorized blaster that comes with 12 high-impact Nerf Rival rounds. It has an easy to load ammo magazine, trigger lock, jam clearing door, 2 tactical rails for Nerf accessories, and flip-up sights. 
The precision and power of the motorized Zeus MXV-1200 blaster will put you ahead and in charge of all your blasting battles. It truly has the power and intensity of a reliable Nerf gun that won't fail you.
This blaster needs 6 LR44 batteries to operate it. The age recommendation for this Nerf gun is 14 years old and above.
Pros:
The gun is easy to load, clear misfires or jams, and so much fun
This nerf gun is a beast and awesome
Great buy
Super fun to shoot
The automatic feature is awesome
It has much more power than you could ever imagine
It has a pretty powerful motor but super comfortable to wield
Great blaster with wonderful round foam ammo
Cons:
It might be kind of noisy, though, for a few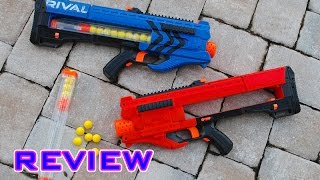 Where to buy: