As an Amazon Associate and affiliate with other third parties, HappyGiftsForKids earn from qualifying purchases and display advertisements.
Top 100 Amazon Best Sellers Toys and Games
Amazon Holiday Toy List
Cheap Discount Toys Online (Valid until Friday 10/08/2021)
Which Nerf guns shoot the farthest?
It's very rewarding and satisfying to have a Nerf gun that could shoot the farthest. Alongside being able to shoot great distances is a Nerf gun that could also fire darts accurately. Have that combination, and you have a winner!
There are Nerf guns made to be able to fire great lengths and even more than 100 feet. 
Here are some of the best guns that could be shot the farthest and accurately, and we have the best one that's the farthest shooting Nerf gun ever.
Which Nerf gun shoots the farthest?
The N-Strike Elite series has the guns that could be shot the farthest. It is the 
Nerf's N-Strike Elite line-up is the farthest-shooting toy guns in their products that could be shot 75 to 100 feet distance.
The guns under this series emphasize more on the tactical aspect that offers long ranges that could be customized with Nerf's accessories. Most blasters under this line have tactical rails and attachment points for barrel extensions and shoulder stocks. The series has the clip system introduced in the N-Strike series.
The N-Strike Elite series range could go farthest up to seventy-five feet to ninety feet or even more. This is possible largely due to its direct plunger firing systems and the Elite Darts.
The N-Strike Elite blasters that were released in Australia, New Zealand, Brazil, China, Japan, Thailand, and the Philippines do not have a seventy-five-foot firing range to conform to their safety standards. As a result, they have lower performance and gray triggers and only have a firing range of fifteen meters. 
What Hasbro did was all its direct plunger were fitted with weaker springs while the flywheel guns were fitted with a limiter to prevent them from being too fast. They would need Voltage mods on the flywheel blasters so the range would be on par with the seventy-five feet versions.
Both N-Strike Elite released on all territories have the same internals that any modifications were done to fifteen-meter blasters would result in the same performance to the original seventy-five feet Elite blaster.
What Nerf gun shoots the farthest?
This blaster makes it to the top of the best long-range Nerf gun because of its mega darts and mega distance. When it's fired from its barrel, it will travel a mega distance. Can you imagine hitting your opponent some 100 feet away?
The Nerf N-Strike Elite Mega Centurion is the farthest blasting Nerf gun ever that features bigger darts structured to fire farthest than the rest.  When you fire the Mega Centurion blaster, you'll witness the Mega Whistler Darts scream with sound through the air.  Everyone would hear the power of the Mega Centurion blaster when you aim and eventually fire it.
The farthest blaster measures 40 inches long, and it comes with a 6-dart clip and 6 Nerf Mega darts designed for power and speed. You'll have a folding bipod to help you to stabilize shots and have those perfect shots in long ranges. 
It can fire darts up to 100 feet since it's powered by bolt-action priming with no batteries required.
Pros:
Super fun blaster
It is a pretty big and great Nerf gun
The Mega darts would come out with considerable force
It got the range
Its darts would shoot a very long distance
Darts also whistle, which is fun when they go whizzing and could be heard
It is astoundingly accurate for a Nerf gun
It's capable of shooting a long way
Cons:
Its priming might be hard for the smaller kids because the charging handle need to far back farther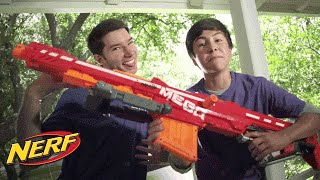 Where to buy:
Check the other N-Strike Elite Nerf guns that boost of far ranges.
After Thoughts
Come out victorious in your Nerf battles with the best Nerf gun that could shoot the farthest and for those impressive longshots that could also fire with great accuracy.
Be more confident and satisfied in firing those shoots in the distance with these Nerf guns. Nerf has everything that your heart desires and wishes for when it comes to the blaster you'll be needing and to whatever purpose it needs to serve you.