As an Amazon Associate and affiliate with other third parties, HappyGiftsForKids earn from qualifying purchases and display advertisements.
Top 100 Amazon Best Sellers Toys and Games
Amazon Holiday Toy List
Cheap Discount Toys Online (Valid until Friday 10/08/2021)
Exploding Kittens original also comes in a party-pack version that's also a highly-strategic, kitty-powered version of Russian roulette. 
The Party Pack version of Exploding Kittens has enough cards to cover 2 -10 players, and the box plays kitty-themed dance music every time you open it that needs 3 Lithium Metal batteries.
This new set of cards would Double the players, double the strategy! It's been awarded the game of the year for its fun-filled cared game with a surprising rarity to it. It's a class on its own with goats, magical enchiladas, and kittens that could kill you.
Truly an explosive funny game!
Pros:
It's a fine addition to your game collection
They match all expansion sets
Easy to learn basic gameplay even for smaller kids
All the cards are unique and funny
It is different in the sense that you don't necessarily have to wait your turn to play especially with nope cards around
Great fun game
You could play with just 2 people
The game goes fast, so you can easily play just a game or two with a limited amount of time or unlimited game if you have lots of time
Fun game to play and easy to teach.
It's great for a large group.
It comes with a lot of humor 
Worth every penny.
Cons:
It's not for the sensitive and thin-skinned as they might find some cards vulgar for their taste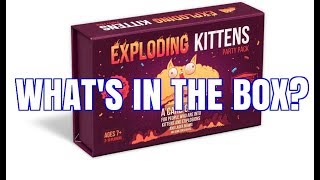 Where to buy: