As an Amazon Associate and affiliate with other third parties, HappyGiftsForKids earn from qualifying purchases and display advertisements.
Top 100 Amazon Best Sellers Toys and Games
Amazon Holiday Toy List
Cheap Discount Toys Online (Valid until Friday 10/08/2021)
Splash Pad vs Pool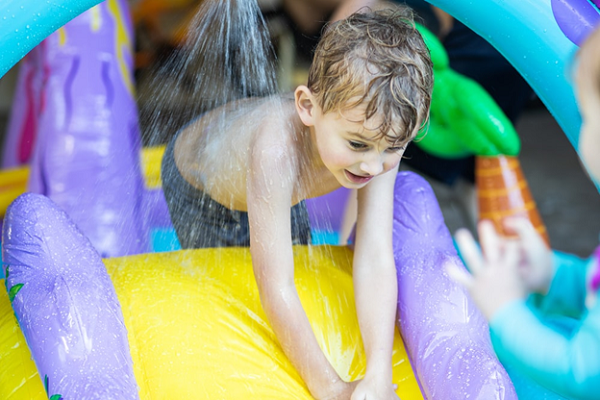 When summertime comes, the kids are rearing to go out and have some fun in the water. What's the best instant solution for this instead of going to the nearest pool or waterpark? Bring it to them right in your backyard!
There are above the ground and inflatable pools, and splash pads you can purchase without spending a lot of money. These alternatives are great ways to cool them off without so much inconvenience.
Splash pads are an option if you don't want to set-up a pool yet that needs more water. They come also in different sizes and would offer a lot of water splashing activities that are smaller in size. You can also fold it and store it easily when not in use.
With a splash pad, you can keep kids of all ages entertained for hours with just shallow waters in it and water spray from the sprinkler. Kids can beat the summer heat and much-needed water fun in the summer.
Splash pads are a fun and affordable addition to your backyard without risk from drowning and can have from simple nozzles to multiple water spray all-around. They're also easy to clean. 
A portable above the ground and the inflatable pool had been a permanent favorite among kids. Portable pools are quick and easy to purchase and to set up. They come in a wide variety of sizes, colors, shapes, and features. And they are lots of fun to have and dip into.
The lower depth of portable pools, the ease of access, and the impression that it's a safer pool make it a big hit all the time. It's also much cheaper and requires lesser maintenance as compared to a traditional man-made inground and above the ground traditional pools.
There are also precautionary measures needed in a portable inflatable pool. Even small inflatable pools with 18″ and up depth can be unsafe in the backyard with unattended kids. It's best to drain the water after each use for inflatable pool safety and it not to be a breeding ground for mosquitoes and insects.
Remember that a child can drown in 6 inches of water, as many bathtub occurrences had been reported. Smaller pools are easily accessed to small children so it's better not to leave any pool with water or without the necessary safety coverings.
Children less than 3 feet tall are at great risk with the soft-sided inflatable pools.
For the best solution, drain or empty the pool. Medium and larger-sized inflatable and plastic pools that cannot be emptied daily should have filters and appropriate disinfection systems that meet the same codes and requirements as full-sized swimming pools and the best safety coverings on them at all times when not in use.
You must clean the pool and allow it to dry. Once the pool is completely dry, leave it under the sun for at least four hours to be sure it's disinfected and free from remnants of dirt. 
As you could see, both are great options for great summer water fun. You can choose what would work best for your kids. 
In reality, your kid can have both as long as you make sure there will always be adult supervision and that your kid would never be left unattended. There are also age-appropriate splash pads and pool for kids and adults alike of all ages.
Make your kid enjoy a memorable summer in the water safely at all costs.
You could also have a DIY project for your kid's backyard spay park. You could imitate the water park surfaces in parks with water play. Here are what you need to do to have swimming parks and recreation feel in your backyard. 
DIY backyard spay park
Choose the best spot that has ample space in your backyard. You could start by putting swimming pads for kids, any blow up large animal or arch with a sprinkler, a slide, or a pool. 
A swimming pool with a cooler fountain, spray nozzles or spray jets could be the center attraction of your splash pad park. You could put the pads with spray alongside the pool.  
You could choose from Amazon's baby swimming pool If you still have a baby that you wish to do a spray paark for.
Community swimming pools also offer water blasters and epic sprinklers that you could adorn your backyard too. You could also design your spray park with a water pad and spray course like the City park fountain Denver, Northpoint park spray deck, or like the Mill Park recreation centre.
What is a splash pad park?
A splash pad park is a recreation area that's more often a public park that's mainly for water play and it has little or no standing water. This is advertised to eliminate the need for lifeguards or other supervision since there is little risk of drowning.
Some parks and recreation swimming including splash pad parks that are government-owned and so there is no splash pad cost for any entrance. These amenities have city park pool hours only.
Like the government managed pools and parks in Texas, the city of Austin swimming pool schedule is observed. 
What is a spray park?
Spray parks are usually larger since they appeal to more people of all ages. These spray parks are commonly designed with separate areas for toddlers and older children to ensure the prevention of accidents.
The water features include static sprays with a variety of spray effects and kinetic features that comes with more animated water displays with user-powered features that would invite the interaction with the sprays through pedalling, cranking or rocking to generate the spraying of water. 
Can I go swimming with a pad?
No, since kids, who might be afraid of swimming pools due to its deepwater, are the ones more inclined to these parks. Unlike swimming pools, wading pools, and water parks, spray pad parks generally have no standing water since it drains away to be either treated, recirculated, or recycled for landscaping purposes.  So you could not swim with a pad at all.
You can find inflatable pool, above the ground pool and splash pad on Amazon.