As an Amazon Associate and affiliate with other third parties, HappyGiftsForKids earn from qualifying purchases and display advertisements.
Top 100 Amazon Best Sellers Toys and Games
Amazon Holiday Toy List
Cheap Discount Toys Online (Valid until Friday 10/08/2021)
When did Nerf guns come out?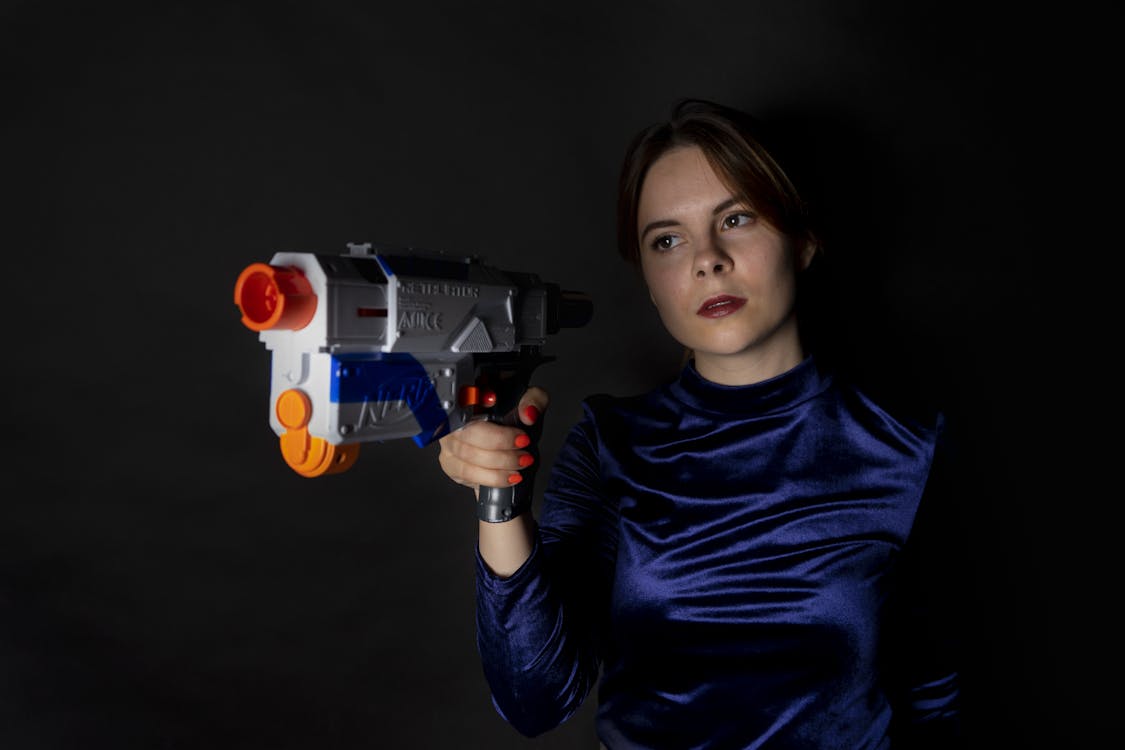 Reyn Guyer in 1969 came to Parker Brothers, one of the established toy companies that are well-known for making some of the most iconic board games of all time, like Monopoly and Clue to name a few.
What was presented by Guyer is a ball that's made out of foam. The ball has a dimension of 4 inches and was marketed as the Nerf ball. It was marketed as a ball that could be thrown indoors that wouldn't damage anything, including your windows and lamps. I t was also tagged as a ball that couldn't hurt babies and older people.
It was received tremendously, and it was a hit as it sold more than four million pieces at the end of that calendar year.
Inspired by the Nerf's ball's overwhelming success, Nerf, in 1970, had a follow-up ball in the market that was bigger and was called the Super Nerf Ball. It was followed in 1972 by the Nerfoop, which is a basketball concept game that could be played indoors. Also that year, they produced the first-ever Nerf football that became their most patronized and popular ball.
Fast forward, in 1991, Nerf merged with Kenner Products, a toy company that specializes in action figures. Hasbro purchased the company in 1991 and became the owner and manufacturer of Nerf products.
Larami Toys was also allowed to produce Nerf products but only focused on the SuperMAXX series of blasters.
In 2002, Hasbro purchased the Super Soaker series, which are water guns, and merged it with their Nerf line-up.
We could say that that the success of Nerf started with those breakthrough foam balls. It paved the way for more products to be developed.
It took 20 years before the introduction of the first NERF gun in 1989. It first came out a bow and arrow set and was followed the year after by the official first Nerf gun or blaster, The Blast-a-Ball that fired balls by pumping its carrying handle forward. In 1992, The first Nerf blaster to use a form of dart was the Sharpshooter, which is the first Nerf gun that fired foam darts that had small fins on its ends. Released in 1992, it proved to be incredibly popular and started Nerf's production of dart blasters from thereon.
Today, Nerf produces not only toy guns but also Nerf balls, frisbees, thunderbolts, drones, footballs, and battle-axes.
How old are Nerf guns?
Nerf guns are around 32 years old. That's more than 3 decades of sustaining power. The Blast-a-Call that was released in 1989 was a huge success. There was a ball blaster produced the following year that held more balls until the introduction of foam darts in Sharpshooter.
Nerf now uses foam darts, discs, and foam balls as the form of ammunition to their countless Nerf guns under their 21 categories. They frequently come out with more innovative models regularly.
After Thoughts
Sometimes great things begin in small packages like the Nerf ball. It began as a simple toy with the concept of using foam to make it safe and kid-friendly.
It started endless possibilities to be able to create more amazing toys to reach a lot of people. Nerf guns are now regular popular fares in the toy industry as they remain solid and strong.
The toy guns with foam pellets are now toys to reckon with.