As an Amazon Associate and affiliate with other third parties, HappyGiftsForKids earn from qualifying purchases and display advertisements.
Top 100 Amazon Best Sellers Toys and Games
Amazon Holiday Toy List
Cheap Discount Toys Online (Valid until Friday 10/08/2021)
How to drain the blow-up pool?
Having a blow-up pool offers a lot of perks and benefits. It's a cheap way for the kids and families to have a great time in the water just in their backyards.
On the other hand, you should also know how to set it up, fill it up with water, how to keep it clean, and lastly, how to drain it efficiently.
For the smaller size kiddie pool with 50 gallons or less, you could just empty it and find a place in your home to flip over the pool where the water would not be stagnant.
There are three ways to be able to drain your blow-up pool properly.
Draining the water through the drain plug
The first option is if your blow-up pool is equipped with a drain plug. You could just remove its cap and drain it, or you could connect it to your garden hose to avoid overwhelming water flow. You could direct the hose to a safe place for water to go.
The next way is by siphoning the water. It would help you drain the water at ten gallons per minute. It's faster than the first option. You just need to insert and connect the siphon in the pool, and then you can shake this tube so that your draining would begin.
You could also connect it to your garden hose with a ½" adapter to make it longer.
Draining using a siphon
This original safety siphon had been in the market since 1977. The size of this siphon is 1/2" that has a flow rate of up to 3.5 gallons per minute. It's 6 feet long, but you could make it longer by connecting it to your garden hose with a 1/2" adapter.
It's equipped with a 100% pure, lead-free copper pump with an industrial-strength glass ball and stainless steel spring.
It could pump 6 gallons per minute that would come in very useful in your home and for your car. Its 100% virgin grade tubing is rated very good for fuel and FDA sanctioned as food grade.
The best easy way to drain water out of flooded basements, your pool, or gas in your car without pumping or electricity needed.
Pros:
Works very well
Super simple to use
It is easy to clean and affordable to pump or dispense water or gas
It makes siphoning so easy and with easy cleanup
You do have to get it started yourself but you could leave it and the rest would be self-siphoning
Great price
Cons:

The hose is quite stiff for some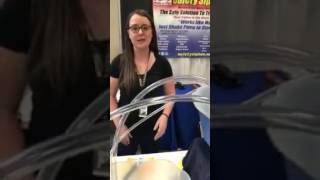 Where to buy:
The last but most certainly not the least is using a submersible pump. This is the easiest and fastest draining method among the three.
Draining your pool using a submersible pump
This little giant is powerful and strong but lightweight. This utility pump includes 1" NPT discharge outlet and garden hose adapter.

It has a maximum capacity of 1,200 gallons per hour. It's a versatile submersible pump for your home, industrial and commercial application. You could transfer and recirculate water or any liquid substance.
It is the fastest and easiest tool for water removal or transfer. Other features include an Epoxy coated die-cast aluminum housing, 1/6 HP oil-filled shaded pole motor with overload protection, and removable inlet screen for easy cleaning, and removes water down to 1/8", is 1/6 HP permanently lubricated, and it's fully automatic.
Pros:
This pump works great
It could greatly cut down your draining time
It has easy directions
Strong and reliable
It could pump out and add water at the same time
Very small and lightweight
Easy to use
Cons:

It would better if the hose is longer, but you could simply attach a garden hose with a hose clamp, and you could send the water anywhere you desire
Where to buy:
After Thoughts
It's necessary to have a clean pool, and even if you do a lot of water testing, adjusting your ph level, putting chlorine, and filtering your water, there will come a time that you have to drain it. You would need to change your water and start fresh.
For his very reason, you need to know how to correctly drain your pool. Remember that kiddie pools' water should be changed every two weeks.  Then if you are not treating your pool, you should drain it every other day the most.
As a general fact, stagnant water without chlorine is only good for at least 2 days. It becomes unhealthy just after 24 hours.
Whatever method you'll choose in the end would ensure that your pool would be properly drained.