As an Amazon Associate and affiliate with other third parties, HappyGiftsForKids earn from qualifying purchases and display advertisements.
Top 100 Amazon Best Sellers Toys and Games
Amazon Holiday Toy List
Cheap Discount Toys Online (Valid until Friday 10/08/2021)
What Nerf guns can be modified?
The popularity of Nerf guns is immensely undeniable. It offers a very wide range of variety, and yes, you could modify them. Modifying or modding Nerf guns are very rampant with the older Nerfers, most especially the adults. 
There are many mod kits and tutorials available online. Nerf guns come in many different styles, models, and designs, but the best Nerf guns to mod or modify are the basic models because they are widely available in the market and come with the cheapest price tags. 
You could start modding a basic spring or flywheel as they are more reasonably cheap. 
What are the two basic categories of Nerf weaponry?
There are two types of Nerf guns. They are the spring blasters and the flywheel blasters.
Spring blasters use a plunger system wherein the mechanic is that it pulls back the spring before it reaches a catch, which then releases the trigger. Under this category, the Nerf Longshot is the most commonly modified spring blaster because it has an enormous direct plunger.


The Longshot CS-6 became rare after Hasbro discontinued producing them; hence they are more costly now. Where to buy:

Here is a modification kit for the Nerf CS-6 Longstrike that you could avail of.
This Longshot mod kit is compatible with Stefan Short darts mags for a CS-6 blaster. I would discuss Stefan's shorts darts later in this article. 
It's made of high-quality metal for durable and long-lasting use that would be safe against scratches. As a result, you'll have a well-constructed with a better bearing capacity gun. 
Your Longshot would be smoother, sleeker, and would even work powerfully and flawlessly. It's a modifying kit for 14 years old and above as it needs some installation skills for assembly of the separate components. 
The blaster is not included in this mod kit for a Longshot.
Pros:
The material is aluminum alloy
It's compatible with Stefan Short darts mags for CS-6 Longstrike blaster. 
It's made of high-quality metal for a durable and long-lasting lifespan
They are extremely well constructed and great against damages
It's a complete kit 
Cons:
It's sold out right now at Amazon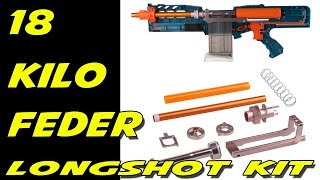 Where to buy:
The next type of Nerp weaponry is the flywheel blasters that use a dart pusher or conveyor belt to push the darts into a flywheel that would increase the speed of the dart that it could be launched out of the blaster. 
The Stryfe is the most commonly modified gun under the flywheel blaster since it has a small size and a very reasonable price.
Where to buy:
Here is a mod kit, especially for the Nerf Stryke guns.
This mod kit is compatible with Nerf Stryfe that's been precisely designed with a suppressor to make it more practical and to boost it to have a high-performance. It would allow it to have faster, more long-range shots, and accurate and precise shots.
It comes with a good Kriss Vector structure that could be very useful in outdoor Nerf war games and battles.
It's the perfect gift for boys and all the Nerf fans out there. This kit does not include the Nerf Stryfe gun. It's for ages 14 years old and above. 
Pros:
It's compatible with Nerf Stryfe
It makes your toy blaster look cooler
This mod kit is for Nerf Stryfe blaster only
It used injection molding and 3D Printing
Made from high-grade ABS materials
Cons: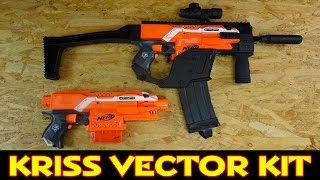 Where to buy:
Does Hasbro approve the modifications of their Nerf guns?
Hasbro discourages modding of their Nerf guns, and they define modification as changing of internals in any way and the painting of blasters. Their way to deter modding is to put warnings on their blasters, releasing blasters with different skins, re-releasing their blasters with more powerful triggers, and not supporting modded Nerf blasters.
But on the contrary, Hasbro shows support for popular modders simply because they help boost Nerf's popularity even more.
Why do Nerfers modify their Nerf guns?
Nerfs modify their blasters for many reasons that include increasing their blaster's performance and enhancing or changing a blaster's appearance to make them cooler and more attractive. 
What are the most common modifications in Nerf guns?
Avid Nerfers change the internal parts and structures of their Nerf guns when they mod them. The most common are:
They remove air restrictors
They add, replace, or reinforce the components for aTHey  stronger internal part
They fill the dead space for the darts to perform better
They integrate one blaster into another
Next is they modify the darts. It involves either removing or adding components to the darts. This would guarantee an increase in their speed, range, and stopping power.
The darts would be made using the right materials, and the most common DIY darts are the Stefans. They usually comprise of 13mm foam, fishing sinkers, and hot glue tips.
Another modification involves the XLR disc. The best and easy way to modify it is to simply insert a small plastic BB in the bottom part of the disc. By doing this, it would add a bit more to the weight of the disc. This would equate to the bb constantly rotating when the disc is fired. In this scenario, the XLR discs rotating with their extra weight, which will make its Centripetal force increase and therefore making the disc fire further.
The last step in modding a Nerf gun is painting it. Users have the freewill to paint their guns according to their taste and liking. Check with the legality of this aspect in your area to be sure.
The minimum requirement for sale in the United States is that it should have an orange tip. However, it is legal in some states or countries to paint over the orange but on the condition that it's for personal use only and you are not reselling it. This safety concern is not to mistake a toy Nerf gun for a real weapon.
Please check the link provided below for an insightful look and know-how on the steps to modify a Nerf gun.
https://www.instructables.com/Nerf-Mods-A-Beginners-Guide/
After Thoughts
Welcome to the wonderful world of the Nerf nation when everything and anything is quite possible. Nerf guns are rewarding and overwhelming toy guns that offer a lot of fun gameplay as well as a lot of room for enhancements and possibilities to even make them better.
Make sure that the kids or even you are guided on how to safely implement and use them to be able to use them in the most positive and endearing ways. Nerf guns are here to foster an enjoyable and safe play, and it does not intend to hurt anyone.