As an Amazon Associate and affiliate with other third parties, HappyGiftsForKids earn from qualifying purchases and display advertisements.
Research
>>
HappyGiftsForKids
>>
Best Crayola Wonder Paper for Finger Paints and Mess Free Painting
Top 100 Amazon Best Sellers Toys and Games
Amazon Holiday Toy List
Cheap Discount Toys Online (Valid until Friday 10/08/2021)
Best Crayola Wonder Paper for Finger Paints and Mess Free Painting
Each time a kid gets a hold of paints, crayons or markers, expect to find some stains or drawings on the wall, carpets, sofa, and even on their skin. This can be very messy and can sometimes be a bit stressful on the parents especially if it stained their favorite dress or their very expensive carpet. As much as parents want to scold their kids, they also know that they are just kids who do not really know what they are doing. Besides exploring and playing with colors are all part of a child's development. The good news is that Crayola had designed a mess free color wonder product line.
What is Crayola Color Wonder?
Color Wonder is a mess free coloring product by Crayola. It is mainly created to make coloring more fun without the mess which is very common with younger children. Color Wonder was first released in the public in 1993. The first products that they introduced were the Crayola Color Wonder Markers and Crayola Color Wonder Paper, and soon after they also released other Color Wonder products like coloring books, paints, stamps and finger paints. The way it works is by using a special clear ink that will only show up on their specialty paper. The Color Wonder Markers will not work on ordinary paper, cloth, skin, etc. The reason for this is because the Color Wonder Paper contains color-triggering compounds that help develop the leuco dye on the markers.
Different Ways to Enjoy Crayola Color Wonder Paper
Without the Color Wonder Paper, Color Wonder markers, finger paints and stamps will not work. However, any paint, markers or stamps will work on Color Wonder paper, even those that use ordinary inks. This what makes Color Wonder paper more enjoyable and fun, because it can be used anytime, anywhere and with any kinds of coloring tools. 
Aside from using different coloring tools, another way to enjoy Crayola Color Wonder paper is by printing your kid's favorite characters or any picture or design. Yes, it also works on printers. Inkjet and laser printers have proven to produce desirable results, and let the ink dry completely before using. 
There is also the Crayola Color Wonder Coloring Book, where kids can color their favorite Disney characters such as Mickey Mouse, Disney Princesses, Toy Story, Finding Dory and so much more. Bring your kids favorite characters to life by coloring these mess free coloring books.
Apart from Crayola Color Wonder Markers, kids can also make use of finger paints on their color wonder paper. The Crayola Color Wonder Paint Paper can be bought separately or as a set which may contain Color Wonder markers, paints, coloring pages and easel.
If the color wonder activity pad is not enough, there is also an available Crayola Wonder paper refill. It is usually sold in 30pcs per pack, where kids can just refill their pads with blank Color Wonder paper. There is also the Crayola Color Wonder Paper roll. It is a 17ft worth of Color Wonder paper that kids can peel and stick. Kids can stick and re-stick it on different surfaces.
Where to Buy Crayola Color Wonder Paper?
Crayola Color Wonder Paper is not that hard to find. A lot of stores sell the Crayola Color Wonder line, it can be bought at toy stores, art and crafts stores, and even online stores like Amazon, Target and Walmart.
Products:
Kids who love Paw Patrol will enjoy receiving this Crayola Color Wonder Mess Free Paw Patrol Bundle. They can recreate their favorite Paw Patrol character by coloring them or drawing them as this set also includes blank pages of Color Wonder Paper. Aside from the mess free coloring pages, blank pages the set also includes 10 mini Color Wonder markers and 6 pots of Color Wonder paints.
Pros:
Non-toxic
Safe for children
No mess drawing and coloring
Helps develop children's imagination and creativity
Cons:
It takes a while before color appears on the paper
Where to buy:
Another activity your kids can do with their Crayola Wonder Paper is by using their Light Up Stamper. Same with other Color Wonder products, the ink on the stamper will only appear on Crayola Color Wonder paper. The handle of the stamper will magically light up to show which color your kid is using.
Another interesting feature of this light up stamper is that 3 of the stamps are scented. This set also includes 12 pages of Color Wonder Paper, 3 pieces of mini Color Wonder markers and 10 stamps that is zoo-themed.
Pros:
Non-toxic
Mess free
Fun and enjoyable 
Nice smelling scented stamps
Great way to learn color recognition
Cons:
Some customers received stamps that do not light up
Some kids lost interest after a few hours of use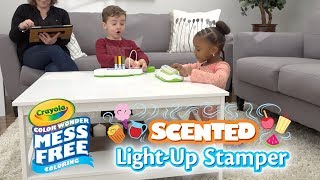 Where to buy:
Get your kids to play around with color and paint without the mess with Crayola Color Wonder Finger Paints and Paper. Do not stop your kids from touching the paint with their bare hands because it will not stain or color their hands and other parts of their body. The paint's color will only appear on Color Wonder paper that is included in this set.
This Color Wonder Fingerpaints and Paper set includes 5 Color Wonder Fingerpaints and 12 double-wide sheets of Color Wonder Paper. Red, orange, green, yellow and blue are the shades included. If you wish to add more colors, the fingerpaints can also be bought separately.
Pros:
Mess free coloring
Non-toxic paints
Color Wonder Paper included
Contains 5 different colors of fingerpaints
Cons:
Some users experienced some staining on their kid's hands
Where to buy: