As an Amazon Associate and affiliate with other third parties, HappyGiftsForKids earn from qualifying purchases and display advertisements.
Top 100 Amazon Best Sellers Toys and Games
Amazon Holiday Toy List
Cheap Discount Toys Online (Valid until Friday 10/08/2021)
How to make a cardboard marble maze
You could try to make a marble maze out of improvised materials that are readily available at your home.
One of the most popular is to learn how to make your own cardboard maze. It's easy to DIY a marble maze from cardboard.
How to make a cardboard marble maze
The following items would be needed to create the cardboard maze.
• Cardboard 
• Marbles
• Glue gun
• Popsicle sticks
• Scissors
• Colored markers
First, take the cardboard and stick on the popsicle sticks using a glue gun. Shape the cardboard in a shallow box with walls around to ensure the marble won't go out. Then, put on the holes for the marble using the scissors. 
You could ask your kid to color the board using the markers once the marble maze is set-up and erected
It's now time for your kid to play and enjoy the cardboard marble maze.
Watch how a cardboard marble maze is done in the link below.
Another widely used in a DIY marble maze is a cereal box.
How to make a cereal box marble maze
The fun could be economical. An empty cereal box could be turned into a simple marble maze run at home.
Just cut out the box on one side in 3 pieces, then make holes for the marble to pass and try to double its ends by attaching them to the main box with tape. And your kid is ready to roll marbles!
Watch how to make a cereal maze in this Youtube video.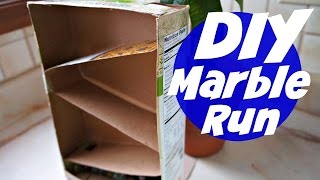 Check the Amazon marble maze link.
There are also building marble maze toys that are available wherein it offers a lot of possibilities for your kid to build and create some wonderful marble mazes and runs.
This educational  Battop marble building set is for kids both boys and girls from ages 3 and u. Kids could enjoy building various tracks and see marbles go up, down,all around,and fast.
It helps in developing the intellect, hand-eye coordination, logical thinking, creativity, color and shape recognition, spatial imagination ability, patience, and problem-solving skills of kids.
It is an interactive game that kids could build their own marble maze with this deluxe set of 97 pieces that contains 4 balls. It would let your kid create his or her maze model by using his or her imagination and watch the marbles race through the track. 
Pros:
It's compatible and interchangeable with big-name blocks like Duplo
This toy is the perfect combination of the building blocks and marble run
The quality of the toys is very good
This is a great marble run that's good for free building
They fit together well
It is also possible to make the maze on the picture using all the pieces
Cons:
There might be a tendency for the pieces not fit together firmly to a few
Where to buy: