As an Amazon Associate and affiliate with other third parties, HappyGiftsForKids earn from qualifying purchases and display advertisements.
Top 100 Amazon Best Sellers Toys and Games
Amazon Holiday Toy List
Cheap Discount Toys Online (Valid until Friday 10/08/2021)
What Nerf guns are automatic?
Nerf automatic blasters could fire darts repeatedly that only needs very little or no priming needed in-between darts. They are, more often than not, battery-powered or air-powered.
Nerf has 65 automatic guns listed, and here's a link to all of them.
https://nerf.fandom.com/wiki/Category:Automatic_blasters
If you love power in your Nerf gun, then automatic is the way to go. You'll have the firepower but just make sure you have all your batteries energized or new!
The advantages of automatic Nerf guns
Automatic Nerf guns don't need any pumping, cocking, or any manual function 
You'll have an edge when time is a concern as you would be ahead when pitted against someone with a manually operated Nerf gun
They are touted to have larger capacities, more rapid firing, and more advanced designs them
Many Nerf guns would all under semi-automatic as they could be fired with a single bullet every time you pull the trigger, but they won't require you to pull back a pump action. 
If your blaster operates using batteries, then you are assured of having a much better rate of fire than the manual ones
Automatic Nerf guns that use Nerf Elite darts could provide better range and excellent ammo capacity
You could quickly shoot darts at your opponents in Nerf battles
Disadvantages of automatic Nerf guns
They tend to be heavier because of the batteries, and their accuracy is often much lesser than the manually-operated blasters
You always have to have batteries when using a motorized Nerf blaster
In conclusion, one type of Nerf blaster is not necessarily above the other. You just need to know which Nerf gun to choose to suit and match your needs.
This is our pick as the best automatic Nerf gun for all times and seasons.
The Nerf N-Strike Elite Mega Mega Mastodon is the first motorized Nerf Mega blaster with a 24-dart rotating drum and contains 24 Mega Whistler darts. The Mega darts are one of the most accurate darts to fire.
This is a mean machine that could fire darts up to 100 feet, plus it includes 3 pieces of  24-dart drum, drum cage, 2 drum covers, handles, strap, 24 darts, and instructions.
It would require 6 D batteries that you have to purchase separately.
Pros:
You'll be able to dominate the Nerf wars using this
This beast could send foam darts whistling in great distance
It has heavy gunfire sound-effect overlaid on the Nerf motor whine with each shot
It is fun to shoot
It is such a cool gun
Its rapid-fire is awesome and works great
The gun is huge and heavy, but it doesn't bother anyone because of too much fun using it
One of the best Nerf guns produced
 It shoots fully automatic and fires 24 Nerf Mega darts
It could fires the rounds pretty quickly 
This whistles and launches a long way
Fun and powerful
Cons:
It might be heavy for some kids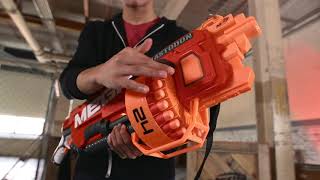 Where to buy:
Here are more automatic Nerf guns that are all highly-rated that you might also want to consider purchasing.
After Thoughts
The Nerf N-Strike Elite Mega Mega Mastodon is our best bet for Automatic Nerf Blaster as it's powerful, fires fast, could fire accurately, and you could fire it forever for its fast reloading too.
Aside from being easy to reload, it's easy to use, and you could carry this around. It also boasts of a very impressive performance, and you have a strap for more convenient handling too. 
Nerf guns are generally spelled awesome, and they won't let you down. You'll never be shortchanged with Nerf guns!