As an Amazon Associate and affiliate with other third parties, HappyGiftsForKids earn from qualifying purchases and display advertisements.
Top 100 Amazon Best Sellers Toys and Games
Amazon Holiday Toy List
Cheap Discount Toys Online (Valid until Friday 10/08/2021)
Best Toddler Writing Toys
Choose a toy that could help you kids with their writing skills. It's one of the must-have educational tools for 3-year-olds.
Toddler writing toys




The VTech Write & Learn Creative Center is a magnetic writing and drawing board that would make learning how to write, drawing, and doodling fun for any toddler. It has animated demonstrations that would show the kids and would enable them to follow along and learn the proper strokes in writing using order the capital and small letters.

A well-thought educational aid that you could program your child's name to teach them how to write their name step-by-step. They could also be guided by 26 stencils so they could learn how to draw too.


It includes 2 AA batteries for demo use only, and you need 2 new batteries for regular use. It has a stylus pen for doing their fun writing activities. This toddler writing toy is for ages 3 to 6 years.

Pros:
The most fantastic part of this toy is that toddlers would learn their ABC's and how to write them properly
The screen gives exceptional directions on how to form and write each letter and it has the right speed for the little ones to follow the instructions
Perfect for learning how to write
The best part is you could easily program your child's name into it and it would  teach him or her how to write their name letter by letter
It's also a really fun tool to teach them how to draw sans the mess
It's an amazing helpful toy
Cons:
Kids could easily remove batteries that could be harmful. They should be monitored and briefed not to open it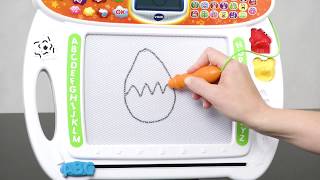 Where to buy: