As an Amazon Associate and affiliate with other third parties, HappyGiftsForKids earn from qualifying purchases and display advertisements.
Top 100 Amazon Best Sellers Toys and Games
Amazon Holiday Toy List
Cheap Discount Toys Online (Valid until Friday 10/08/2021)
What Nerf Guns Are the Best?
It's Nerf or nothin' as its tagline says. Nerf is a brand name for toys that specializes in toy guns and blasters that fires foam darts, discs, or foam balls by Parker Bros. that's now owned by Hasbro. Most of its weaponry is foam-based that also includes balls.
There are the best Nerf guns and blasters for every kid and even for the adults that are a kid at heart. The active and adventurous spirits joined the Nerf nation that offers numerous guns and blasters with accessories that also includes.
Nowadays, a Nerf gun is often used to describe any foam dart blaster, whether it's from the Nerf brand name.
The Nerf gun blaster has a very extensive line of 21 different kinds such as N-Strike Elite, Alien Menace, Dart Tag, Vortex, Zombie Strike, Modulus, N-Strike Mega, N-Strike, RIVAL, Doomlands, Super Soaker, N-Strike Elite Accustrike, Rebelle, Modulus Ghost Ops, Laser Ops Pro, Micro Shots, Ultra, Elite 2.0, Alpha Strike, and N-Strike Mega Accustrike.
There have been collaborations with  Marvel Comics, Star Wars, G.I. Joe, Fortnite, Transformers, Overwatch, and Halo Infinite as well. That's how popular and in-demand Nerf guns are.
All Nerf guns come with darts in like Elite, Rival, and Mega. Other ammunition types could also be used and fired using these guns. The guns have their clips and magazine to be filled. There is refill ammunition that could be bought separately.
Most of the Nerf guns and blasters would work well with the different foam darts that are available, while the magazine type ones could only be used with Streamline darts that have smaller tips.
In 2013, Elite darts became the new standard darts since they are compatible with both regular and Magazine type blasters.
Some Nerf guns are expandable and could be customized using accessories like holders and attachments to improve their overall look and functionality.
Nerf guns are just toys and don't use any bullets, and it's better addressed as blasters since they have foams to fire that are relatively safe and unharmful.
Since there are lots of different models, you could choose what would be best for your kid and the recommended age for every Nerf gun. If your kid is the type who likes to take his time, a sniper or rifle blaster with a tripod stand would be best for him. Some kids are quick and more active; therefore, a Nerf gun that's faster to fire would suit them.
Can you imagine there are Nerf rifles, Nerf shotguns, manual Nerf blasters, automatic Nerf blasters, and even some Nerf blasters that look like nail guns to choose from?
Some build their collection and use different Nerf guns for different plays. What we could provide you are suggestions of Nerf guns that excel in areas that you might want to consider.
| | | | | |
| --- | --- | --- | --- | --- |
| Name | Price Point | Age Recommendation | How many darts, discs, or foam balls | Best Feature |
| Nerf Ultra One Motorized Blaster | Moderately-priced | 8 years old and up | 25 ground-breaking Nerf Ultra darts | The farthest flying Nerf darts with accuracy, and speed |
| Nerf N-Strike Elite HyperFire Blaster | Moderately-priced | 8 years old and up | 25 Elite darts | The Fastest-firing Nerf dart blaster  that fires darts up to 90 feet or 27 meters, and an Amazon exclusive |
| Longstrike Nerf Modulus Toy Blaster | Quite costly | 8 years old and up | 18 Official Nerf modulus Elite darts and 3 six dart clips | Fire 6 darts in a row from this bolt action blaster before it's time to reload this exclusive version of the Nerf long strike blaster that features Nerf modulus Deco, you could customize it, and an Amazon exclusive |
| Nerf Rival Artemis XVII | Moderately-priced | 14 years  old and up | 30 rounds | It holds 30 high-impact rounds and fires them at a velocity of 100 feet per second or 30 meters per second and slam-fire action |
| Nerf Rival Prometheus MXVIII-20K | Expensive | 14 years  old and up | 200 rubber balls | Advanced Acceleration System fires up to 8 rounds per second and rechargeable NiMh battery and charger |
| Nerf Elite 2.0 Shockwave RD-15 Blaster | Reasonably-priced | 8 years old and up | 30 darts | The Nerf Elite 2.0 Shockwave RD-15 blaster features customizing capabilities that include 3 tactical rails, barrel attachment point, and stock attachment point to optimize for battle. |
This Nerf gun has the best distance of the farthest flying darts ever.
Best Nerf Gun for the Farthest Shot
The Nerf Ultra One Motorized blaster has 25 Nerf ultra darts, and it's the farthest flying ones ever that are only compatible with this model.  The recommended age for this blater is 8 years old and above.
It has a good standard in terms of extreme distance, accuracy, and speed for a good playtime using its advanced features. It's considered the farthest flying Nerf darts that could go up to 120 feet or 37 meters far.
It's equipped with a high capacity drum that could hold up to 25 Nerf Ultra darts. They are lightweight that are made from Aerofin technology, and have new flight tips.
Pros:
It's a gorgeously beautiful gun
It could fit the hands well
It could be loaded in the front
Its darts perform better than the typical Nerf Elite darts by a lot
The darts are designed well
It has a nice paint job to it
This gun is great
Fun for kids and adults
Cons:

The gun is semi-automatic only
It requires expensive C batteries that are quite heavy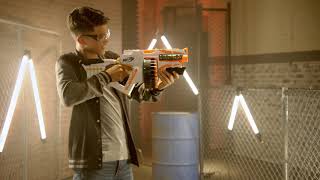 Where to buy:
This Nerf gun could be aimed and fired the fastest.
Fastest Nerf Gun
The Nerf N-Strike Elite Hyperfire blaster is for Ages 8 and up. It could fire up to 5 darts per second with fresh batteries up to 90 feet or 27 meters far. It has a 25-dart drum that comes with 25 Elite darts.
It requires 4 D batteries that you need to buy separately. With Nerf N strike, you'll experience a different level of the game and excitement coupled with the energy and right attitude that go with it. If you are into Nerf battles, then this is for you as you could aim using this motorized HyperFire blaster and challenge opponents with awesome speed! This is the fastest-firing Nerf dart blaster that could unleash up to 5 darts per second.
Let the game begin!

Pros:
This one shoots significantly faster, and it is rather accurate
It works with the standard Nerf darts, and it does accept all of the other clips for that size
The mechanized firing is super-elevated to a traditional pump action
Its drum magazine is amazing
Awesome Nerf blaster
This is a machine gun, battery-powered blaster of darts
The drum holds about 25 darts and can fire out well under 1 per second
One of the best Nerf guns available
Great for Nerf war games
Cons:

It uses 4 D-sized batteries that are mounted in the front, thus making its front side heavy
You have to stop and reload so quickly and frequently because it's fast
Where to buy:
The next Nerf gun could be customized according to your desire.
Nerf Gun with Most Components
This Longstrike Nerf Modulus is an Amazon exclusive. You could customize this long strike CS 6 blaster for any battle or games with the following: a barrel extension, bipod, and scope that could be attached to the blaster.
This is an exclusive version blater that comes with 18 Official Nerf modulus Elite darts and 3 six dart clips.
Simply load 1 clip in the blaster and store the other 2 clips in the shoulder stock to keep them within your reach anytime. You have the option to fire 6 darts in a row from this bolt action blaster before it's time to reload this blaster that features Nerf modulus Deco.
Pros:
It is one of the best looking Nerf long-guns
There were improvements made from the original like the priming bar unscrews, making it easier to open the blaster for maintenance and enhancements
This gun is very accurate, and the barrel adds a range to your shots
It's completely worth it
It has a solid built, and it has an awesome reskin of probably the coolest Nerf gun ever
It's easy to assemble
Very powerful and it's easy to detach and reattach parts, and lots of ammo can be stored in the gun
Great long-range accuracy and is a lot of fun.
It has legs you could pull out, so it is just like a regular sniper rifle.
Cons:

The bi-pod, although it's adjustable, could be wobbly and might not assure you of a completely stable shot.
It might have a weak firing mechanism for some
This gun is better for people ages 11 and up
Where to buy:
This Nerf gun has a reputation as the most accurate of them all.
Most Accurate Nerf Gun
The Nerf Rival Artemis XVII is a high capacity blaster that holds 30 high-impact rounds that has a rotating barrel, easy-load integrated magazine feature, and could give you slam-fire action with accuracy.
You could choose between this blue model or a red one for battle games involving two teams composed of blue and red Artemis. You could unleash its rounds quickly with precise shots during an intense game or competition.

It's great for precision battling for its accuracy and for having quick release of shots. It's designed and recommended for 14 years old and up.
Pros:
It comes with an easy-feed magazine with a 30-round capacity
It uses dense ball-shaped foam ammo
It gives slam-fire action
It has the ultimate precision and accuracy
You could hold the trigger after firing, and you could have a constant semi-auto effect known as slam fire that equals more and faster shots
Comes in a compact size for easier maneuverability
The best Nerf gun ever made to most Nerf fans with a powerful impact
Cons:

It's not suitable for young children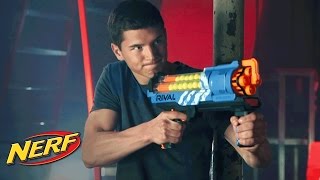 Where to buy:
Most Nerf guns are designed for ages 8 and up. The high-powered models are recommended and suitable for ages 14 and over. If you're buying a Nerf gun for your kid, always remember to check the age recommendation before purchasing.
Best Nerf Gun for Adults
A lot of Nerf players before are still enjoying the game and thrill as adults. Most of them have their Nerf gun collections. The latest and best Nerf gun for adults is the Nerf Rival Prometheus MXVIII 20k. Although it's recommended for 14 years and up, it's better for 17 years and up.
It's one of the strongest Nerf guns made as it could hold up to 200 rubber balls, and you could fire up to eight of them per second at a velocity of 100 feet per second. And that's very fast!
It's also huge, heavy enough that you'll need a shoulder strap, and it is best held at the hip as Rambo did in his movies.  It has an Advanced Acceleration System that could fire up to 8 rounds per second, and it's better handled by grown-ups.
This fully motorized Nerf Rival toy blaster comes with a rechargeable NiMH battery and a wall charger, so there's no need to stock up on batteries at all.
Pros:
It has an unmatched rate of fire
Excellent velocity as this one has both a rate of fire and good power to it
It can hold 275 rounds
Includes 200 balls
Includes rechargeable battery
It looks like a monster
Cons:

This is a volume of fire blaster and not a precision instrument since it's harder to aim
Your shots might go high at times and not hitting your targets
Where to buy:
If you're looking for something with a little bit of everything, then this is the best all-around Nerf gun to purchase.
Best All-Around Nerf Gun
The Nerf Elite 2.0 Shockwave RD-15 Blaster is pegged as the latest and greatest Nerf gun as it has a little bit of everything of all the above. It's the all-around gun of the bunch.
Its 15-dart drum with an effective range of 90 feet has advanced pump action that would ensure there would be less jamming as compared to other electronic options, and it has only a slight setback in its speed.
It comes with three rails, a barrel attachment point, and a stock attachment point to add and enhance with various accessories to make it more powerful.
You could customize it by adding accessories to its 3 tactical rails, barrel attachment point, and stock attachment point. It includes 20 Nerf darts to load its 15 capacity rotating drum and the rest of the 15 for reloading.
Fire 1 dart at a time from this pump-action blaster and blast any battle, and fire 15 darts in a row after. It's has a recommended age of 8 years old and up.
Pros:
The gun looks super cool, and It is perfect
This blaster shoots great accuracy,  great range,  no jams or malfunctions
This is an amazing Nerf gun for any nerf player
Perfect size nice toy
Great gun for a great price
It has great aim and could shot far
It's easy to pull its trigger
Cons:

It has no slam fire and it might not fire very consistently at times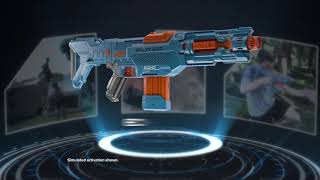 Where to buy:
After Thoughts
There's an extensive line-up of Nerf guns. All of them have very good quality. All you have to do is to find out which one would suit your kid and their personality. Nerf guns are safe and very inspiring and motivating for kids and adults to be more active and to enhance spatial awareness and motor skills development.
Hasbro continuously produces guns and blasters that have innovative aerodynamics for each Nerf guns. They offer the most impressive Nerf toy weaponry that makes every Nerf games exciting, fulfilling, and rewarding.