As an Amazon Associate and affiliate with other third parties, HappyGiftsForKids earn from qualifying purchases and display advertisements.
Top 100 Amazon Best Sellers Toys and Games
Amazon Holiday Toy List
Cheap Discount Toys Online (Valid until Friday 10/08/2021)
LeapFrog - How to Download Apps?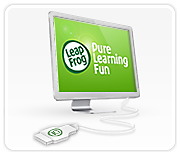 LeapFrog has so many apps that both children and parents can use. The apps could be games or educational activities, while many others are both.
Let's talk about the apps that are on your LeapFrog devices like the LeapPad. Here are the steps to connect it to LeapFrog so that you can download various content and even some upgrades:
1.    Attach your device to the computer.
2.    Download the LeapFrog Connect, a link of which can be seen on the screen. You are   officially setting up the device.
3.    There is a Parent Account section in the LeapFrog connect, register the device.
4.    You can now start downloading content to your device as well as personalizing it.
5.    Children can now start playing and learning.
Notice that it says Parent Account. LeapFrog devices are used by kids, but it is always a given that parents will be monitoring them.

There are hundreds of activities that children can download. These are available in the LeapFrog App Center. Children can enjoy activities involving their favorite characters, which include Disney Frozen Learning Game, PJ Masks Time to Be a Hero Learning Game, PAW Patrol: Ready for Action!, and Disney·Pixar Finding Dory: Mathematical Memories, among many others.

Plus, there are app bundles that children can enjoy at a much lower price. Some of these bundles were also created by age, like preschool bundles, pre-kindergarten bundles, kindergarten bundles, and first grade and beyond bundles.

There are also over 2,000 games and activities that children can enjoy through the LeapFrog Academy. These are also activities that they can enjoy even without a LeapFrog device. The academy can be experienced on Windows or macOS computers, Amazon Fire tablets, and most Android or iOS tablets and phones.
It's called LeapFrog Academy because it's like a school where children get a certificate for achievements.

You can find LeapFrog products at Amazon.