As an Amazon Associate and affiliate with other third parties, HappyGiftsForKids earn from qualifying purchases and display advertisements.
Top 100 Amazon Best Sellers Toys and Games
Amazon Holiday Toy List
Cheap Discount Toys Online (Valid until Friday 10/08/2021)
Where was Jenga Invented and Made?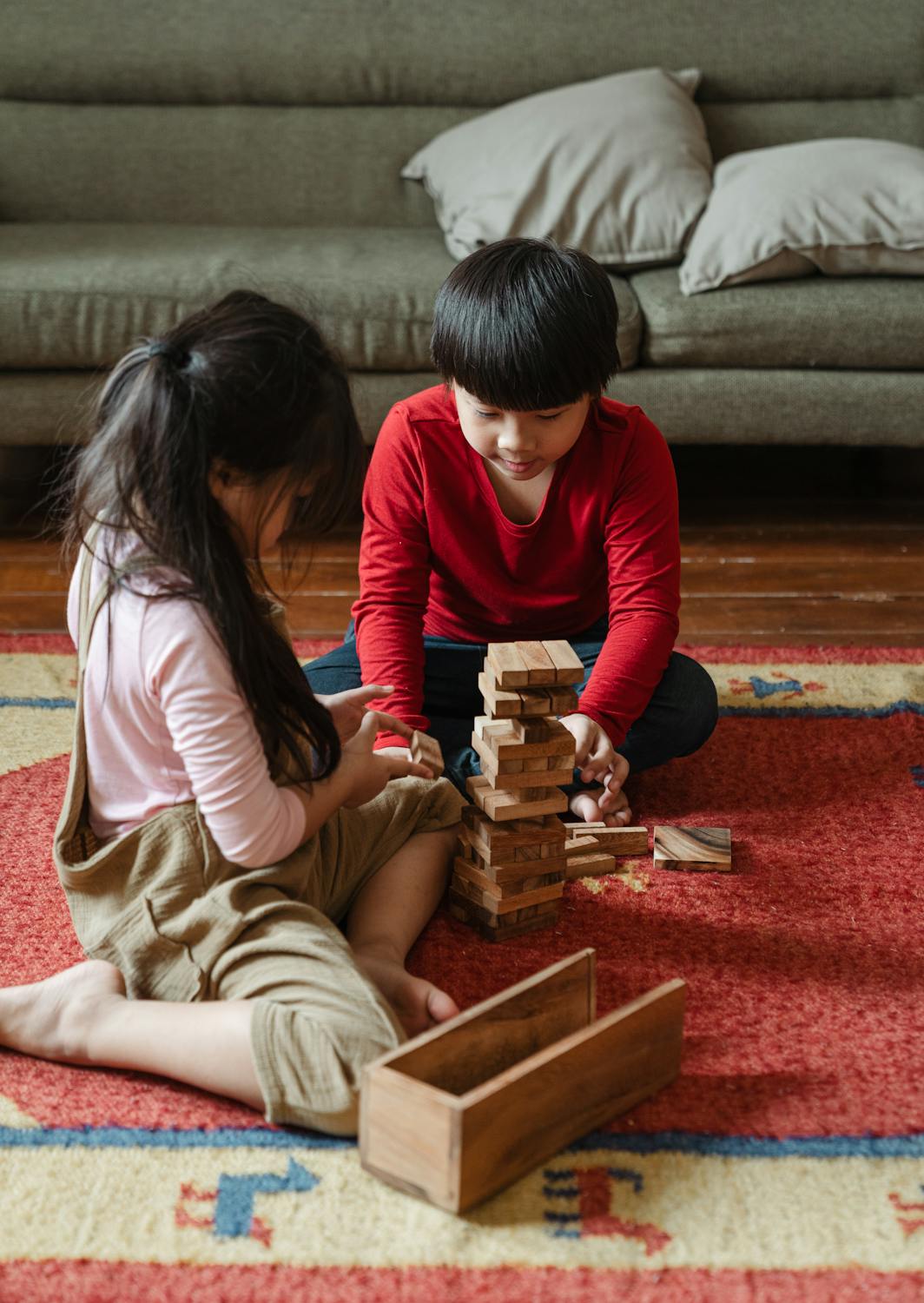 Leslie Scott, the inventor of Jenga first thought of the idea while she was trying to sell a pile of small wooden blocks in the '70s and it was sold commercially in the time wherein the computer games era was just stating in 1986.
When Leslie was 18, their family moved to Ghana where wood was abundant. She would often play a game along with her family using small wooden blocks courtesy of the local sawmill.
She brought with her a few sets when she went off to Oxford in her 20's. She began playing it with her friends who found it very entertaining and fun that they were obsessed with it!
Everybody loved the game and she would bring it to every occasion she was invited by her friends. She has a hit in her hands without realizing nothing is quite like it in the market.  Leslie decided to share it for everybody to enjoy.
The early start of Jenga
At her early 20's with no toy business background up her sleeves, Leslie embarked on her bravest leap and started producing her first 100 sets with a small woodworking shop specializing in cabinets.
The shop agreed provided that, if the game was a success, she needs to find an alternative manufacturer for its mass production. Her first step to introduce Jenga to the public was in 1983. It was at a toy show in London. Unfortunately, she didn't make even a single sale in that event.
She met a man from Harrod's that day that gave her a chance. The man said they'd take some if I agreed to do a demonstration in the store. It was Christmas, and the shop was so busy with people. People stopped and played the game, the blocks would fall over, and they'd walk off, leaving Leslie on her hands and knees, passed on by shoppers as she picked and gathered the pieces up.
The game started to sell but Lelie was indebted but things unfolded that saved her. Out of the blue, her friend's brother called and asked if he could be her agent.
He demonstrated it at a mall in Toronto that caught the attention of a salesman from Irwin Toys that got very excited. Irwin fell in love with the game and a deal was signed for them to produce it in Canada.
It's a great game for Irwin but they didn't think the name Jenga was.
Jenga was a hit in Canada
Jenga was a tremendous hit at the 1986 Toronto toy fair. It gained 400,000 orders from that! Irwin had a good relationship with Hasbro that who would become the key to Jenga's success worldwide.
Both Irwin and Hasbro didn't like its name, Jenga. But Leslie felt Jenga would do it since this word would make everyone think of the game and nothing else.
Jenga took the world by storm
It was a success and a big hit in Canada and the US. Leslie Scott then witnessed its success in Great Britain when she went into a toy shop near Oxford with my sister one day. There was a Jenga on the shelf. People started buying it and it's now a certified hit!
How Jenga evolved to what it is now
George Irwin a seven-year-old toy businessman produced Jenga in Canada rang up Allan Hassenfield of Hasbro a one day. And we may say, the rest is history.
Hasbro fell in love with the game and fully launched it in 1986 amid Atari and other video games at that time.
One point that Jenga clicked was that you could open up the box and just start playing immediately. And it played so well and nothing beats the thrill of not wanting the tower to collapse!
And if you have a good game it would prevail because being good would be its lasting testimony to make it last.
Jenga is a great game.
After Thoughts
Jenga is a fun game that offers a lot of physical, mental, ad psychological benefits. It could be played by people of all ages and backgrounds, anytime, anywhere and that makes it, even more, a game to beat!
Jenga would always be a fun game, and that is reason enough to play it. There is no comparison for the sheer enjoyment it brings.
Play the Jenga, amuse and entertain yourself, and have a super time!
Check all the wonderful Jenga on Amazon.