As an Amazon Associate and affiliate with other third parties, HappyGiftsForKids earn from qualifying purchases and display advertisements.
Top 100 Amazon Best Sellers Toys and Games
Amazon Holiday Toy List
Cheap Discount Toys Online (Valid until Friday 10/08/2021)
What is an Intex Prism frame?
Intex is the leading producer of the best and coolest above ground pools in the market today around the world. There are many kinds of Intex pools in designs and sizes. They have baby pools, easy set pools, metal frame pool, Ultra XTR Frame Pools, which is their top-of-the-line pool sets, and lastly, their updated metal frame pools in the premium Prism line.
Intex's Premium Prism Frame Pool Sets come in different shapes such as rectangular, oval, and round.
An Intex Prism frame is made with powder-coated steel tubing that comes with a great looking liner. The liner comes in stronger since it's made from 3 ply materials, which are more durable against puncture. It's a frame that's more stable and stylish that's easy to assemble without any tools needed.
It's a high-end combination of a metal frame pool and an easy set into one that's affordable.
The Prism pool frame pools come in these sizes: 12ft X 30in, 14ft X 42in, 15ft X 48in, 16.5ft X 9ft X 48in, 18ft X 48in, and 20ft X 10ft X 48inches in oval, round, and rectangular shapes.
Here's a closer look into one of its sizes.
What's good with the Premium Prism pool from Intex is that there are six sizes you could choose from and it includes this 15" x 48" pool. You'll get a complete package since the pool includes 110-120V Krystal Clear cartridge filter pump, a pool ladder, and ground cloth and pool cover.
It's a great deal for its inexpensive price. Choose the best place in your backyard and make sure you have a level ground to put it on. This size would hold 4,440 gallons of water thus it gives a great combination of size and water volume for a great backyard pool.
This upgraded premium pool has awesome features that include quality powder-coated steel frames, a durable 3-ply material liner, and an elegantly beautiful design.
Bring on the fun in your family especially on those hot summer days with this perfect above the ground pool for your family.
Pros:
The liner is super durable and it won't fold over on itself
It becomes sturdier once it's filled with water
It's a good quality pool and easy to set up
Very sturdy and easy to maintain
Assembly is super easy
Great and inexpensive pool
Cons:

The instructions on the pump might tend to be a little confusing but overall it's not bad at all
It needs at least two people to set it up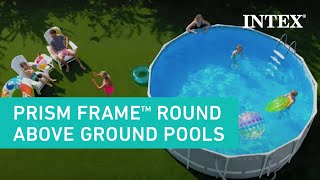 Where to buy: