As an Amazon Associate and affiliate with other third parties, HappyGiftsForKids earn from qualifying purchases and display advertisements.
Top 100 Amazon Best Sellers Toys and Games
Amazon Holiday Toy List
Cheap Discount Toys Online (Valid until Friday 10/08/2021)
Are LeapFrog Toys Good?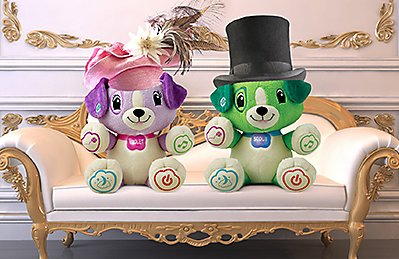 The majority of LeapFrog products are really good. The brand's specialty is electronic learning toys. Electronic and learning are the keywords here. The main goal of the brand is to incorporate innovative solutions in creating toys. This goes back to its origin when Michael Wood founded LeapFrog Enterprises. It was originally because he wanted to teach his child how to read and learned that phonics is essential in the process. This is why he created the Phonics Desk, which happened to be the brand's first product.
Phonics has become a major part of most of LeapFrog's products, particularly the toys targeting preschoolers. These toys are really effective in teaching children how to read. Toys like the LeapStart Preschool Success, LeapReader Learn-to-Read 10-Book Bundle, and so much more are really good.
For older children, LeapFrog has a number of tablets. If you are hesitant to give your child a tablet, you won't feel the same way with LeapFrog's products like the LeapPad Academy and LeapFrog Epic, among others. These are real tablets, but only LeapFrog apps can be downloaded. There are more than a thousand apps waiting to be downloaded. These apps can teach children how to play and how to read. Some are also focused on math and other subjects. LeapFrog tablets are pricey, but they are really good.
LeapFrog also has a bunch of generic toys—toys that don't have academic learning. Some of these products are the Scoop & Learn Ice Cream Cart, Learn & Groove Shakin' Colors Maracas, and Scrub 'n Play Smart Sink, among others. These could entertain children, but perhaps there are similar toys from other brands that are cheaper. These are good toys, but if you have to buy LeapFrog toys, you should just purchase the products that the brand is really known for electronic learning toys.