As an Amazon Associate and affiliate with other third parties, HappyGiftsForKids earn from qualifying purchases and display advertisements.
Top 100 Amazon Best Sellers Toys and Games
Amazon Holiday Toy List
Cheap Discount Toys Online (Valid until Friday 10/08/2021)
Best Electronic Learning Toys for 3-year-olds
In most cases, three years old is a child's transition from toddler to preschooler. At three, children start learning things even if they have yet to go to school. This is the age where the kids' attention span becomes longer, which is great because then you can already give them something more extravagant without fear that it will be thrown away. There is still that danger, but it is lessened as the child knows more about things. At this age, children have more words in their vocabulary, and they can now listen and follow instructions.
A three-year-old kid is a perfect age to have an electronic learning toy as they are already learning the basics—123s, ABCs, colors and shapes. There are actually many benefits to giving children electronic toys. However, many parents immediately think about the cellphone and the tablet when someone mentions electronic toys. That's not actually the case. Electronic toys refer to devices made especially for children that have electronic components. A lot of these electronic learning toys actually add to a child's growth.
A lot of the electronic toys prompt auditory stimulation because of the fun sounds the toys emit, and develop a child's cognitive development, among other benefits. Here are some of the best electronic learning toys for 3-year-olds:
Writing is one of the most difficult activities to teach children. Between the ages of three and four, children start to write. This is when they already develop grip and understand the appropriate way to hold a pencil in order to write properly. In some cases, they might not be able to get the grip right, but they are still able to write or draw or scribble. It's kind of hard to teach them how to write, though. It could really test your patience.
The Vtech Write & Learn Creative Center is actually a fun writing teacher. The electronic learning toy features animated demonstrations on how to write properly. The tech will teach children the proper strokes to make a letter—both upper case and lower case. When the child is tired of learning letters, then they can move on to the drawing. They can start with simple lines and progress to shapes. This will give your child a head start on learning, especially writing.
Vtech Kids is a company that specializes in making electronic toys that are fun while also encouraging children to learn.

Pros:
Good writing teacher
Provides step-by-step instructions
Features music, too
Zero waste (children don't need to draw on papers anymore)
Amazon's Choice
Cons:
Flimsy battery compartment
Low volume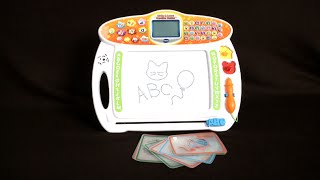 Where to buy:
It doesn't look very much like an electronic toy, but it is. It looks simple. In fact, the child may be able to learn how to operate this by themself. It's an interactive electronic learning product that allows children to learn the basic lessons: 123s and ABCs. They can then progress to learning words, spelling, colors, and shapes, among others. There are also lessons on animals, emotions and weather. The child will also enjoy some music with the Inno Pad.
There are 16 interactive lessons that can be learned from the set. These lessons are in eight plastic learning cards. The child will basically insert the learning card into the pad. This means that the child will have a choice on which card they want to learn and interact with. That will definitely empower them as they practice their decision-making skills.
You know this is a good product since it has received various awards: Family Choice, Mom's Choice Gold Metal, Tillywig Parents' Favorite Products Award Winner 2018 and Creative Child Media of the Year Award Winner 2019. Best Learning was founded in Taiwan in 1984. The company believes in education, and so it created educational toys that are also fun for children.

Pros:
Simple to use
Automatic shut down after 2 minutes
Adjustable volume
Lightweight
Received various awards
Cons:
Learning cards seem weak
No lock for the cards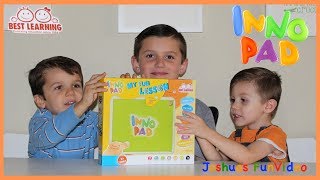 Where to buy:
What kid doesn't like robots? ROYBI Robot is easily going to be a child's best friend. What is truly special about this electronic toy is that it will actually grow with the child—not physically, of course! There are 500 plus lessons that the robot will teach children. The robot is, in fact, the child's teacher. The hundreds of lessons range from those appropriate for three-year-old children to seven-year-old kids and even older. The child will be talking to the robot, which will help in advancing the child's vocabulary. It carries over 70,000 vocabularies, after all. At age three, your child will have around 200 words already. Imagine how much that will increase with the ROYBI robot.
Another thing you should know about ROYBI robot is that it was TIME's Best Invention smart toy particularly because of its advanced lessons. Children will learn STEM (Science, Technology, Engineering and Mathematics) after all. Most toys will offer you the ABCs, but ROYBI prefers the advanced lessons. Don't worry; it's not about stringent lessons. There are also self-care topics so the child will become well-rounded. Since children will definitely enjoy having this portable teacher with them, you will be curtailing their screen time—whether you are talking about the TV or the smartphone or tablet.
ROYBI has been featured on various publications like TIME magazine, Forbes magazine, and CNBC World, among others, for being an innovative gadget for children. It merges what kids want (robot) and what their parents want (education).
Pros:
Fun way to learn for children
Lessens screen time for children
Advance learning
Provides 500+ lessons
Features 70,000 vocabularies
Teaches different languages
Cons:
Slow to reply to child
Limited buttons for options
Pricey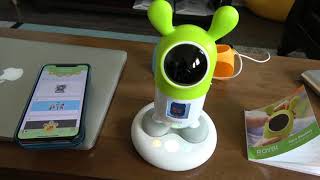 Where to buy:
Related articles: