As an Amazon Associate and affiliate with other third parties, HappyGiftsForKids earn from qualifying purchases and display advertisements.
Top 100 Amazon Best Sellers Toys and Games
Amazon Holiday Toy List
Cheap Discount Toys Online (Valid until Friday 10/08/2021)
Nerf guns that you could buy at Target
Target is one of the trusted that has both a physical store and an online shopping platform. They offer In-store pickup, same-day delivery, buy it at the store, and have reliable shipping services.
Target is a store you could count on for your personal and gifting needs. And that includes Nerf guns that you could purchase from them.
They offer the following Nerf guns that are categorized per type and model.
You would get to experience extreme distance, accuracy, and speed with Nerf Ultra guns that are predominantly white and orange in their design and color.
NERF Elite guns are considered great blasters that are very easy to use and are so much fun. You could easily recognize an Elite gun with its blue and orange color.
Micro Shots are mini take and versions of the classics. Go grab some of these at Target.
Fortnite, a very popular video game, and Nerf merged to produce some of the coolest Nerf guns for your war games and epic battles in the playfield.
The Rival Nerf guns are great for those intense foam blasting and exciting competitions. Experience the thrill to aim and fire those shots to your targets. The Rival guns are designed for ages 14 years old and up. These toy guns are fierce. 
Rival guns come in the blue and orange tip or red and orange tip combinations.
Mega guns could be launched farther and have a blast seeing your dart ammo soar high. They all come in red, and you'll know right away they are Mega Nerf guns.
The Alpha Strike line is great for neophyte battlers in the Nerf nation. Have a fun time and be ready for the battles.
Gear up with guns inspired by your classic comics look. The white, blue, and red combination for this line.
Inspired by Star Wars, they have one gun so you could use it to enter a galaxy far, far away and be able to replicate your favorite scenes in this epic saga.
There are two lines of Nerf guns that are exclusively for Target. It's the Nerf Doomsland and Nerf Icon series.
There are 4 Nerf guns under this collection. They come in two color variations of white and orange and solid orange with black details. Use these guns to be able to save the post-apocalyptic planet with this exclusive collection.
This is the best among the 4 Doomsland Nerf guns.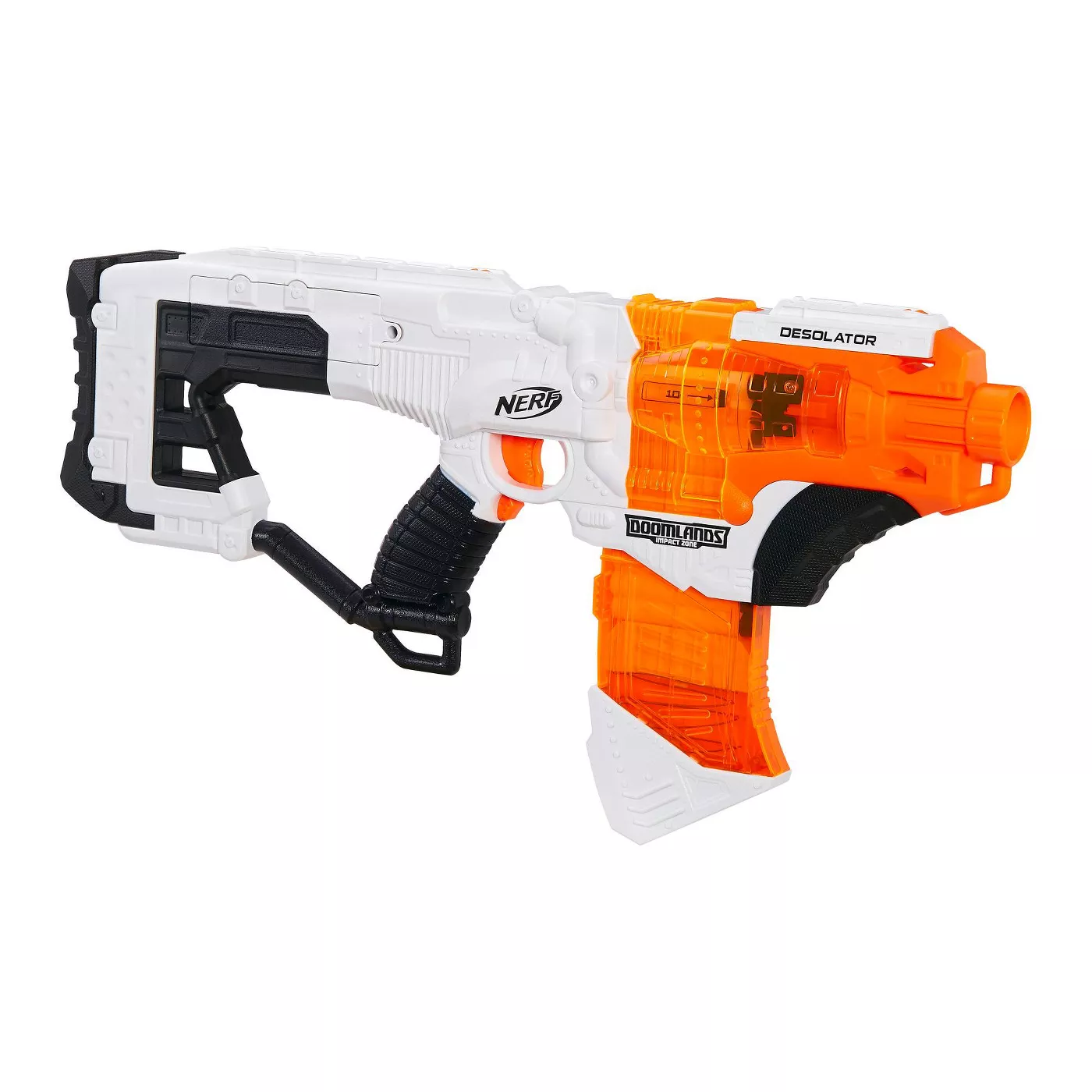 The Nerf Doomsland Desalator gun is one cool piece of weaponry that you could load a dart clip in it. It comes with an accelerator button and just needs to pull the trigger to aim and fire those darts.
It includes10 Elite darts, a 10-dart clip, and instructions as well. The nerf desolator blaster makes a great gift for those endless fun playtime. It's age-appropriate for kids 8 years old and up.
Pros:
It could shoot quickly.
It is a stealthy shooter
Great buy
A great deal that works great and looks great
This blaster ergonomic
Its performance is on par with other stock flywheel blasters like the Stryfe or Modulus ECS-10
You'll be impressed with its configuration
Looks cool
Cons:
There might be bullets jamming from time to time, but it is not a major issue as kids love it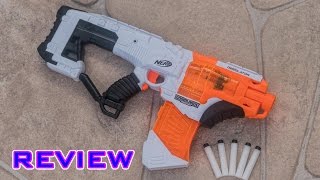 Where to buy:
There is only one Nerf gun under the Icon series at Target.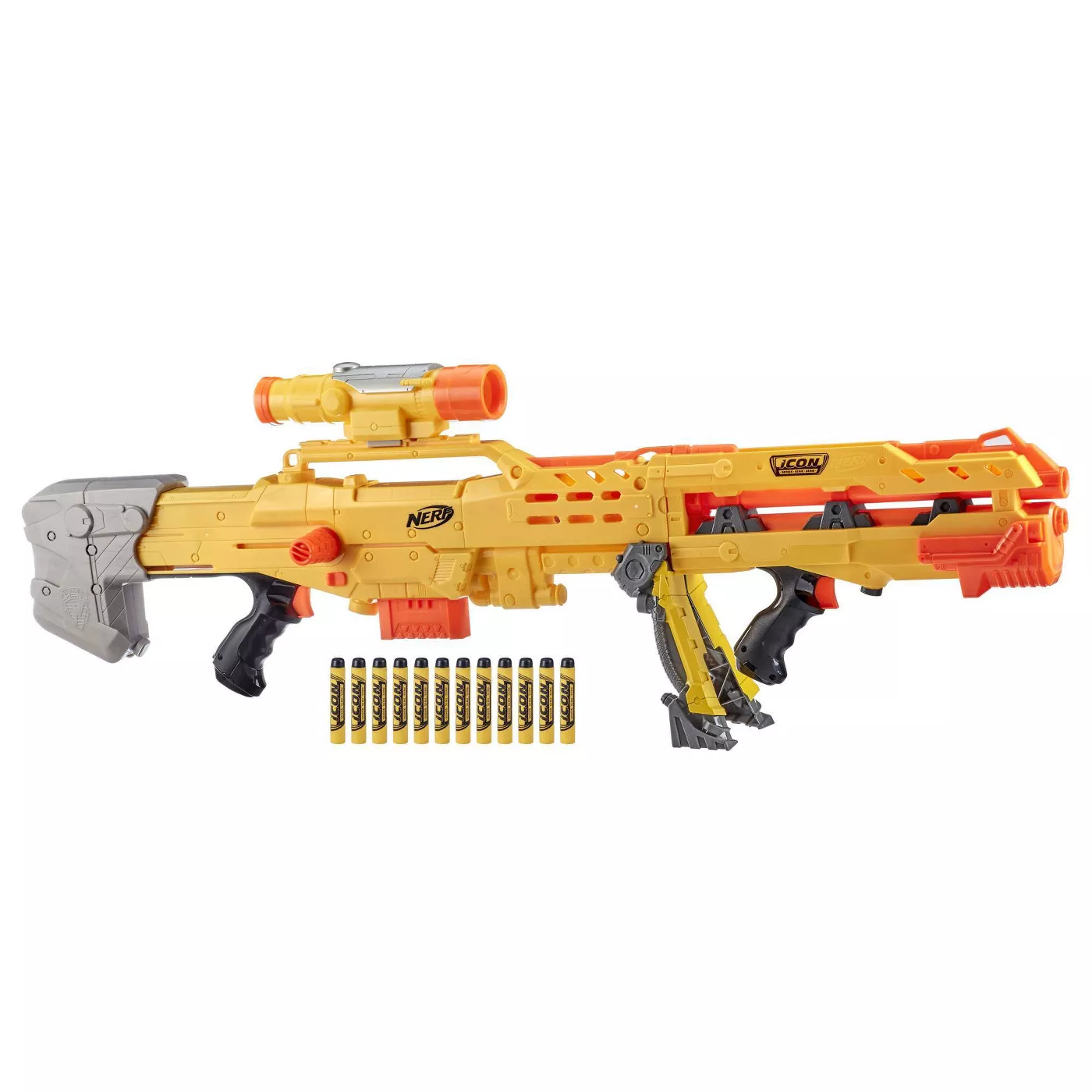 The N-Strike Icon Series Longshot CS-6 is a classic favorite that's been updated for today. The difference is it now comes in a special Icon series colors of predominantly yellow color with orange accents in it.
It's a 3 blaster in 1 as it includes the main blaster, an extension blaster that you could use separately or together to have stronger firepower, and for you to have three different blasting options.
You have a clip-fed main blaster and an extension blaster for your single shot in one! The main baster has bolt-action priming and includes a 6-dart clip, while the Extension blaster has a single-dart capacity for stealthy backup.
It comes loaded and full with features like long-range scope, folding bipod, clip storage, extendable stock. You could use the folding bipod, extendable stock, storage for an extra clip that you have to get separately, and an attachable long-range scope for your main blaster.
It contains 12 Official Nerf Elite darts in special Icon series colors, and this gun is best for 8 years and up.
Pros:
It's huge
The scope is an endearing feature 
The front part could come off to make it a smaller gun
The bullets come at a good speed and go at a distance
Looks awesome
Great for the bigger boys
Another quality nerf gun
Cons:
It's an awesome Nerf gun, although it might be a little heavy in the back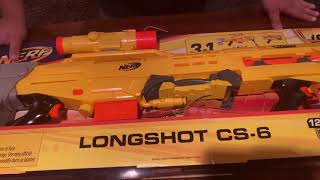 Where to buy: