As an Amazon Associate and affiliate with other third parties, HappyGiftsForKids earn from qualifying purchases and display advertisements.
Top 100 Amazon Best Sellers Toys and Games
Amazon Holiday Toy List
Cheap Discount Toys Online (Valid until Friday 10/08/2021)
Best Toy Fridge with Ice Dispenser
How real could it get with a toy fridge with an ice dispenser too?  There are different materials used in making these cute fridge toys. One special toy fridge with an ice dispenser is from one of the top toymakers, Hape. It's made excellently using wood.
The Hape Gourmet Kitchen Wooden Fridge comes with a built-in ice dispenser that releases wooden cubes for realistic role-play. The cabinet style-refrigerator has a very detailed designed on it.

Aside from the functioning ice dispenser, it's a top-mounted freezer with ample storage inside and a waist-high switch. It's suitable for kids from 3 years old and up.
Children would get to mimic the daily routine of the adults with their fridge toy. It has a pretty good size that would educate the kids in the kitchen, enhance their manipulative ability, creativity, and would ignite their interest in doing housework.
It's the perfect fridge toy for kids to cultivate their social skills by interacting with other kids while playing house and kitchen plays. It's safe, having been made from sustainable wood source and BPA-free plastic handles. The finishing touches are also done with non-toxic materials.
Pros:
It's a nice little play fridge
It's sturdy and great-looking
Very easy to put together
This is also perfect for storing all the pretend food, so it's organized
Very high quality
Worth every penny
The best part is working ice dispenser
Cons:

The doors might stick a bit, so much sure it's assembled properly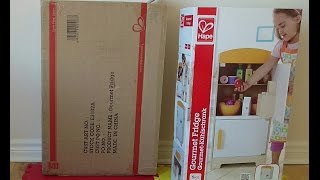 Where to buy:
It's very overwhelming to see a lot of innovative and awesome toys for children to play with nowadays.
Hape is also the only brand of wooden toys that sells the fridge independently to the kitchen that could last forever!
This is one of the best purchases you could ever make.