As an Amazon Associate and affiliate with other third parties, HappyGiftsForKids earn from qualifying purchases and display advertisements.
Top 100 Amazon Best Sellers Toys and Games
Amazon Holiday Toy List
Cheap Discount Toys Online (Valid until Friday 10/08/2021)
Top 10 gifts for 3-year-old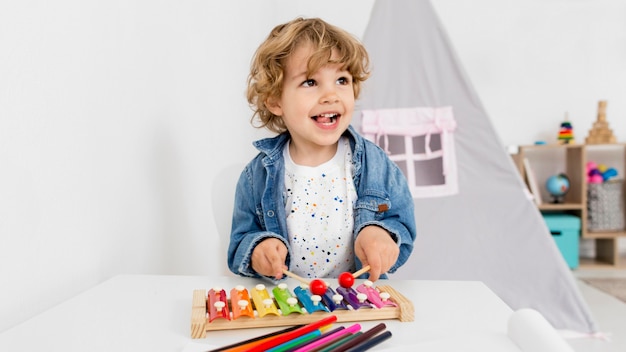 Three-year-old kids have a lot of energy with them, and all they probably want to do is play all day. Finding the right toy might seem challenging because there are a lot of 3-year-old toddlers toys to choose from. The key to finding the right gift is knowing the kid's interests or finding something that will spark curiosity. However, do not stress too much on finding the perfect gift for your 3-year-old kid.
There would always be the right gifts for the little ones.
Here are the top 10 gifts that any 3-year-old kid will definitely love.




Children this age tend to be more active. Many of them prefer games that involve physical activity. One way to keep up with this energy is by giving toys that will allow them to move, just like this Little Tikes First Slide. Kids can enjoy this indoor or outdoor and can share it with their playmates to improve their social skills.

Aside from honing their social skills, this toy can also develop their balance, physical fitness as well as coordination. Designed for kids aged 3 to 6 years old. A Little Tikes in the playground would be a hit.


Pros:
Develops physical fitness
Can be used indoor and outdoor
Easy to assemble
Perfect for small children
Cons:
Plastic used is a bit flimsy
Where to buy:




Another great gift idea from Little Tikes is their Easy Score Basketball Set. It comes with an adjustable stand, 3 junior basketballs and an oversized rim. The height can be adjusted from 2 ½ feet up to 4 feet, so kids can still use them as they grow in height.

This kids' basketball kit is the perfect gift for those aspiring to become basketball players in the future. A nice way to get the kids moving and be more active.


Pros:
Adjustable height
Oversized rim
Easy to assemble
Nice gift to keep kids active
Can be used indoor and outdoor
One of the popular toys for a 3-year old boy
Cons:
Base needs to be weighted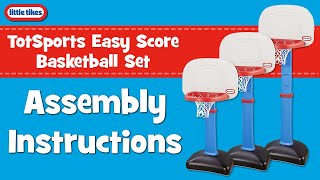 Where to buy:




Wooden blocks set is a classic toy that kids in this generation will find amazing. The Melissa & Doug 100-piece Wood Blocks Set comes in different shapes and colors with sizes that can be easily grasped by kid's little hands.

Children will enjoy building different designs, stacking and letting it collide over and over again. This wooden story 100 piece rainbow blocks also teaches colors, shapes and practice dexterity.

It's one of the best Melissa and Doug toys for 3-year-olds.


Pros:
Made of durable wood material
Safe and non-toxic
Hours of fun
Improves fine motor skills
Cons:
Where to buy:




Teach your three-year-old kids to be handy at home with Vtech Drill & Learn Toolbox. Keep them busy by learning how each tool is used, the sound each tool makes and to recognize numbers and colors too. It's a nice role-playing toy that any kid will enjoy.

The light up buttons will play sounds and happy songs that kids would enjoy listening to. Go play with the kids and let them pretend fixing things at home with this toy.


Pros:
Nice role-play toy
Entertaining and educational
Keeps kids busy for a long time
Best learning tools for 3-year-olds
Cons:
Drill does not work properly
Where to buy:




Who does not love Barbie? Every little girl probably wants a barbie doll and a playset. There are a lot of things a child can do with this play set. It's not just an ordinary barbie doll but it comes with a car, camper and other accessories that little girls can play with and create stories. The Chelsea doll size is the traditional size of Barbie.

There is no limit to what little girls can do with this play set. Best played with other additional accessories that can be purchased separately.

This Barbie club Chelsea dolls are named as one of the most sought ones.


Pros:
Made of durable and non-toxic materials
Provides hours of fun
Nice set for imaginative play
Cons:
Where to buy:


Play-Doh has been providing fun activities to children for years now. It is not just a simple clay that children can create things with, but it had evolved by adding accessories where kids can use as mold. Just like this Stamp n' Top Pizza Oven set, it consists of 5 Play-Doh cans that comes in different colors plus 6 accessories to make it more enjoyable Play-Doh super tools.

Children who love to cook and create things with clay will definitely love this Play-Doh set. Let their imagination run and strengthen their interest in cooking.


Pros:
Provides imaginative and creative play
Contains non-toxic clays
Has accessories to create different toppings
Cons:
Tend to be a bit boring overtime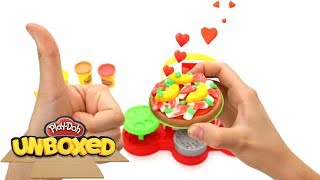 Where to buy:




Let kids' imagination run wild with this Imaginext Shark Bite Pirate Ship from Fisher-Price. Find the hidden treasure, release the prisoners and don't let the shark ship get you! This toy will keep your children busy for hours of play.

Their imagination will surely run free with all the adventures they can come up with this toy. Nice gift for kids aged 3 to 8 years old.


Pros:
Hours of adventure and imaginative play
Made of durable materials
Keeps child interested
These Fisher-price toys for 3-year-olds boys should be included in your hot gift list for the holidays
Cons:
Where to buy:


Promoting imaginative play in children hones their creativity and imagination. The Magna-Tiles Metropolis Magnetic Building Tiles for kids is a nice gift to enhance kid's imagination. Aside from creativity and imagination, this toy also promotes STEM learning, color and shape recognition.


The set includes 110 pieces of magnetic tiles that are colorful and translucent. Kids can design and create their very own metropolis.


Pros:
Made from durable materials
Plastic used is free of phthalates, BPA and latex
Promotes STEM learning
One of the great toy ideas for a 3-year-old
Cons:
Magnets are a bit weak
A bit expensive
Where to buy:




Keep kids busy with this Color Wonder Mess Free Coloring Pages and Markers from Crayola. Parents no need to worry about staining their clothes, skin or even their walls, because the ink will only appear on the special paper provided. The set includes 5 markers and 18 coloring pages of Mickey and the roadster racers.


This toy can be given as a gift to both boys and girls. It comes in a nice reusable folder, so kids can keep their markers and other coloring books or pages.


Pros:
Non-toxic markers
Markers do not leave stains on other surfaces
Handy and easy to organize
It's a good alternative to the extra-large crayons for toddlers by Crayola
Cons:
Drawings are not on a single page but side by side
Where to buy:




Support your child's love for music and piano with this Hape Happy Grand Piano. This grand piano looks like the real deal, kids will be inspired to learn how to play the instrument. Made of durable wood and produces great sounds.

Ask your kid to play a song for the whole family. A nice toy to improve children's music skills, performing skills and confidence.

Hape is one of the prolific toy manufacturers that also produces a wide range of consistently high quality of marble runs.


Pros:
Made of durable wood
Non-toxic materials
Nice resonant sound
Realistic looking
Cons:
Some find the sound a bit terrible
Where to buy:
Here is a list of cool toys and a 3-year-old gift guide to give you more options to choose from in purchasing the best toys for 3-year-olds.